Greek island beach holidays
Water as clear as crystal and magnificent beaches, interspersed by ancient treasures, with glorious sunsets thrown into the mix. Fly with us to Greece for a welcome break in the sun. Below a selection of our suggestions and tips for a spectacular holiday.
Mykonos
Chiefly known for its lively and fun-filled party ambience, the picturesque Greek island of Mykonos has far more to offer than "just" partying. Psarou Beach, for instance, offers a dash of luxury and a touch of glamour, attracting yachtsmen & women, jet-skiers and sun worshippers to the island's alluring white sands and clear blue waters. Those in search of a more idyllic ambience will have their generous share on the delightful beaches of Agios Stefanos, Elia or Ornos (e.g. on the private beach section of Pasaji Mykonos restaurant and bar). Water sports fans, above all windsurfers, can look forward to good wind on Kalafatis Beach. Needless to say, when on Mykonos, a visit to the island's iconic windmills should not be missed!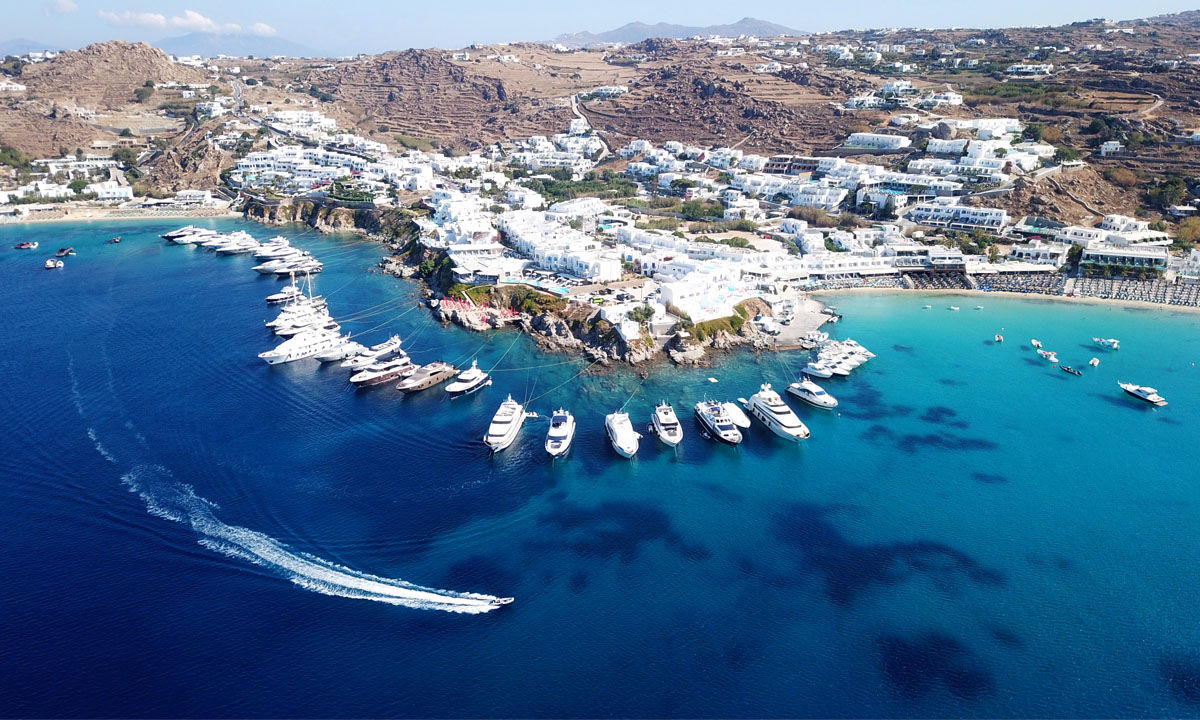 Corfu
Deservedly referred to as "The Green Island", Corfu is blessed with an extraordinary variety of plants and a very balanced climate by Mediterranean standards. The island is also graced with picturesque bays and magnificent beaches, including Ipsos Beach that shelves gently into the crystal-clear sea and is very easy to reach. Paleokastritsa Beach offers a quieter alternative, with several bays lined by turquoise water and soft sand to relax on. A drink enjoyed in the Akron Beach Bar is a great way to end the day. And to add a magical note: if legend is to be believed, women who swim across the Canal d'Amour (French for channel of love) will find true love.
Crete (Heraklion & Chania)
The largest of the Greek islands, Crete is ideal for combining a relaxing holiday in the sun with getting to know Greek history. The famous beach of Matala, for instance, is one of many places where history meets beach life. Back in the 1960s and 1970s, Matala was a popular venue for hippies who housed in the Neolithic caves carved into the cliff of the bay. An excursion to the islet of Elafonisi is highly recommended and likely to conjure up romantic Caribbean vibes: beaches fringed by crystal-clear waters and blanketed in pink sand (resulting from tiny coral and shell particles) are nothing short of a tropical paradise. A private beach with white sand and azure waters in the east of Hersonissos makes for an inviting spot to enjoy the sun. Our tip: King Scorpio Beach Bar.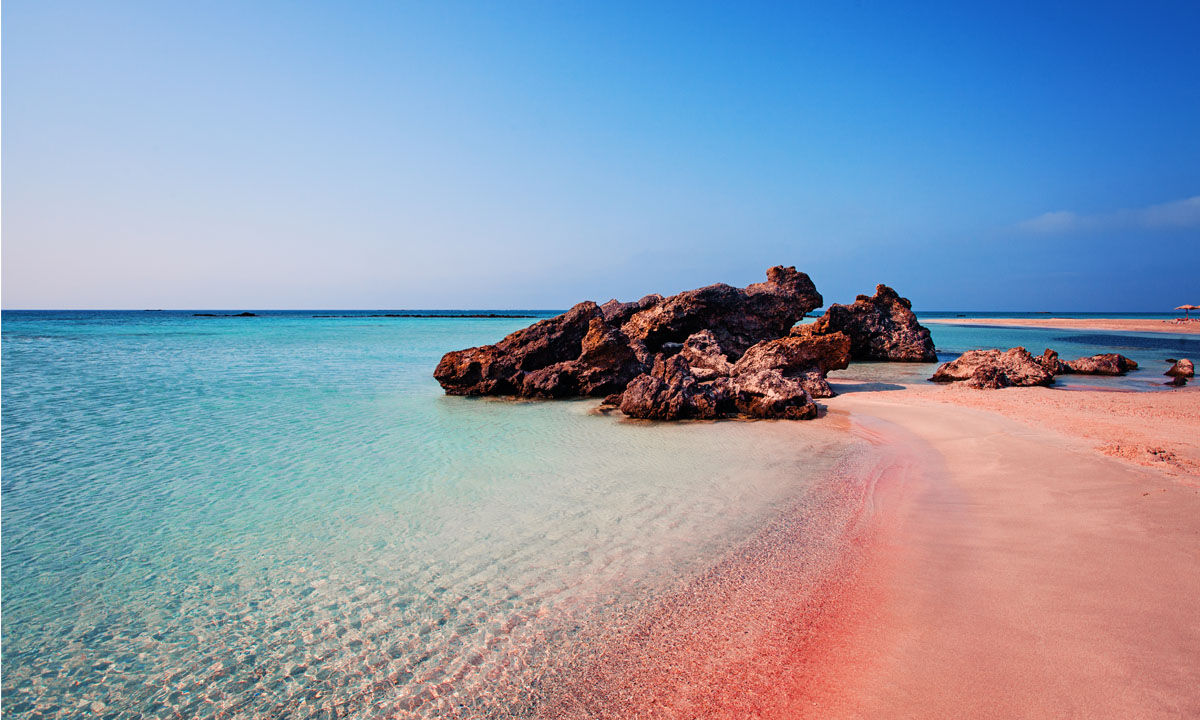 Kalamata
Located on the southern Peloponnese coast, Kalamata is home to the charming three-mile-long (5 km) Verga beach. Those in search of peaceful holiday moments away from it all will want to head to Elafonisos: this seven-square-mile (19 km2) islet sits in the cerulean Ionian Sea and can only be reached by ferry. It is the perfect place to while away idyllic hours at the beach – on Simos beach for instance: bordered by clear blue waters and sporting an endless supply of white sand, Simos is beach widely believed to be one of the nicest beaches of the Mediterranean. When there, Cervi, housed on neighbouring Small Simos beach, is the recommended go-to for snacks and cocktails.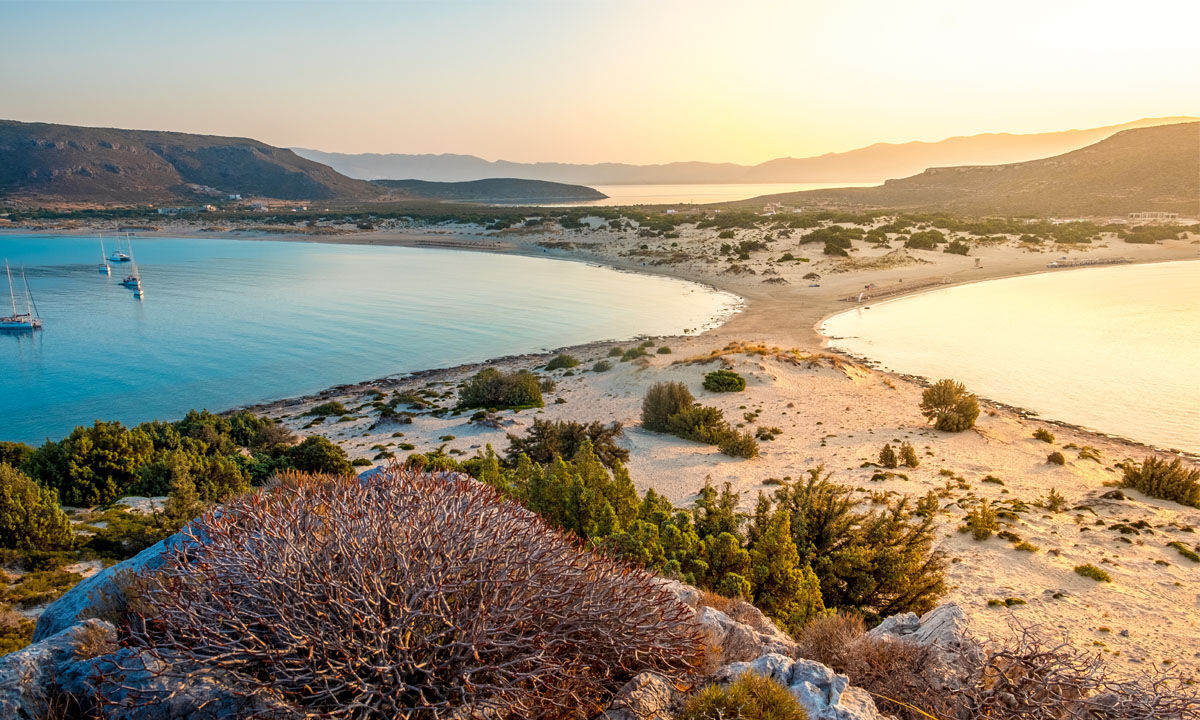 Kos
Though small in size, Kos has everything a holidaymaker's heart could wish for: splendid beaches, fascinating sights and a wide selection of good restaurants and bars to choose from. When it comes to beaches, Paradise Beach, Blue Beach and Cavo Paradise Beach merit particular mention, as do Kardamena in the island's south and Tigaki in the north. The perfect way to bring a glorious beach day to a close? An aperitif in the Ammos Beach Bar in Psalidi!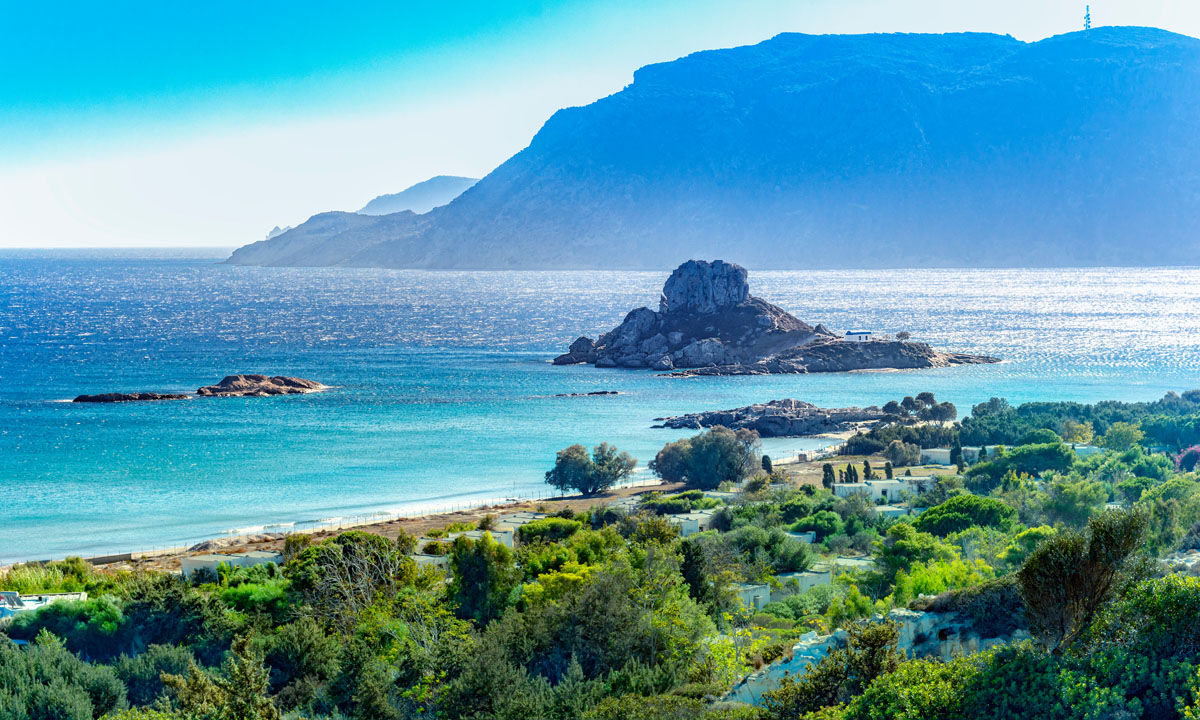 Rhodes
Home primarily to pretty pebble beaches in the west, Rhodes also boasts some wonderful sandy beaches along the island's east coast. The gently sloping beach of Tsambika is one of the nicest, and ideally suited for a family holiday. A beach resort with a famed nightlife scene, Faliraki is, above all, a magnet for younger holidaymakers. But Rhodes also offers visitors a wealth of ancient history, such as the Kameiros archaeological site, the Thermas Kalithea spa baths and the Acropolis of Lindos. When in Rhodes Town, a visit to the stylish Ronda Restaurant & Beach Bar is recommended: this delightful venue by the beach has a modern décor and is the perfect place to enjoy fine food and drinks with a sea view.
Samos
Sun worshippers looking for long sandy beaches will search in vain on Samos. Instead, the island stuns with beguilingly beautiful natural coves and hot, dry weather from April to October. Bathers eager to swim near the town of Samos can do so at the lovely cove of Agia Paraskevi. The alluring crystal-blue sea can also be enjoyed at Tsamadou Beach, with drinks at the Navagos Beach Bar recommended. Surfers will love breaking the waves by the beach of Kokkari: the former fishing village is a popular holiday resort with long pebble beaches and charming bathing coves that offer good opportunities for water sports.
Santorini

Widely popular not only with honeymooners, the spectacular and uniquely picturesque island of Santorini is arguably one of the most beautiful backdrops in the world. Santorini is famous for magical sunset views, best enjoyed in a stunning location like the town of Oia or in Imerovigli (in the Buddha Bar, for instance). Featuring red sand and a rock face, Red Beach is a lovely place to swim and while away the day. Santorini also happens to be a mere three-hour ferry ride away from Mykonos, making Santorini and Mykonos a great island combination.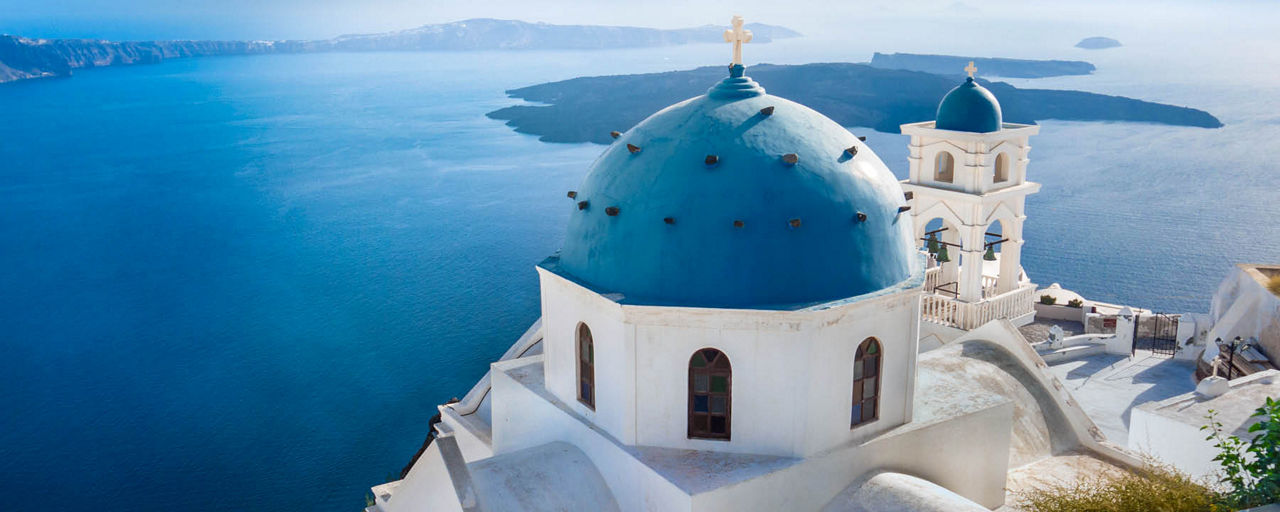 Zakynthos
Zakynthos boasts a slew of small, gently shelving beaches, which make it an excellent destination for a family-friendly beach holiday. Kalamaki, for instance, features soft white sand, dunes and some cliffs. Renowned for cliff diving, Porto Zorro's underwater world is also a great site for snorkelling and scuba diving with a good selection of delicious food and drinks available nearby (our favourite: Porto Azzuro Beach Bar & Restaurant). Visitors who prefer a quieter ambience will gravitate to the island's west coast: many of the beaches there can only be accessed by boat, which means that, even during the peak season, they are not overcrowded.