Of sea turtles and smugglers
Appreciated as the sunniest island in the Mediterranean, Zakynthos has far more to offer than just sun, fun and relaxation. This Greek isle offers a slice of paradise to cave divers, families and animal lovers as well.
But, clearly, the spots most favoured by Zakynthos visitors and locals are the island's beautiful beaches, many of which are gently-shelving, and therefore particularly suitable for family holidays.
Facts & figures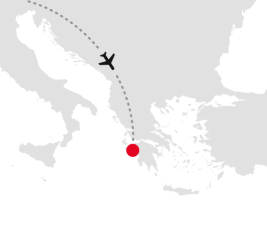 Flight time

2:05 h

Distance

1480 km

Country Code

+30

Airport
Language

Greek

Currency

EUR
Edelweiss tips for Zakynthos
Sightseeing in your Zakynthos holidays
Kalamaki, for instance, has fine, white sand beaches, dunes and cliffs on offer. Surfers are more likely to be drawn to the island's northeast coast. Many of the beaches on the west coast can only be accessed by boat which means that even during the high season they are not overcrowded.

View in maps

Zakynthos is also a popular starting point for cruises and boat trips. The most sought-after destination is Navagio, also known as Smugglers Cove. Navagio is home to a boat that shipwrecked in 1980 with contraband cigarettes and alcohol on board.

View in maps

If you want to combine beach vacations and nightlife, stay in Laganas. The popular vacation town offers, besides a mile-long sandy beach, countless taverns where you can enjoy typical Greek food. Well then: "Jamas"!

View in maps
Related holiday destinations