Home to beaches and ancient ruins
As one of Greece's southernmost islands, Crete is equipped with the ideal beach holiday climate. But that is only one of many Cretan attributes. The island capital of Heraklion and, indeed, the island per se are a treasure trove for history buffs. Crete features beaches to suit every taste. Be it sand or pebbles, calm or lively, for families or good swimmers: this picturesque Greek island has something for everyone.
Besides beautiful beaches, Crete also boasts a wealth of excavation sites, including the famous ruins of Knossos near Heraklion. For those longing for an adventure in their holidays, the Samaría Gorge in the eponymous national park provides a special highlight especially for hiking fans. Spanning a length of nearly 11 miles, the gorge is one of the longest in Europe and can be hiked from one end to the other.
Facts & figures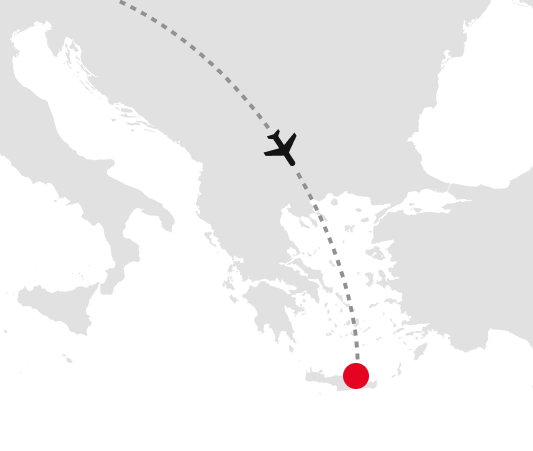 Flight time

02:35 h

Distance

1920 km

Country Code

+30

Airport
Language

Greek

Currency

EUR
Edelweiss tips for Heraklion (Crete)
Sightseeing in your Crete holidays
The Samaria Gorge, with its 17 kilometres in length, is considered one of the main attractions in Crete. Walking through it is an absolute experience. However, you should plan on 4-7 hours, depending on the speed of the trek.

View in maps

Heraklion's most famous beach is called Matala and was a popular venue for hippies in the 1960s and 1970s.

View in maps

Frequently referred to as the "Caribbean of Crete", the islet of Elafonissi in the west boasts one of its most beautiful sand beaches.

View in maps
Flights to Heraklion (Crete)
Related holiday destinations