Holiday Feeling on a "Mamma Mia!" Island
The old harbor of Skiathos Town is famous from the comedy-musical production "Mamma Mia!". The two neighbouring islands of Skiathos and Skopelos were the key shooting locations for the fictional town of Kalokairi, in which the cult musical is set. This little town has a clear understanding of good entertainment and not just on screen. The cultural events on the small peninsula of Bourtzi, the numerous bars and nightlife options ensure long and cheerful summer evenings and hence, entertainment well into the night.
Skiathos with its 48 km² is the smallest inhabited island of the Sporades in the Aegean Sea. Its idyllic bays, enchanting shorelines, and sparkling turquoise waters make it an excellent place for a relaxing beach vacation. However, more than 60 bays can be discovered via waterways only, as they are otherwise inaccessible due to the surrounding rocks. A good way to explore those breathtaking beaches is during a sailing trip or a boat excursion.
Facts & figures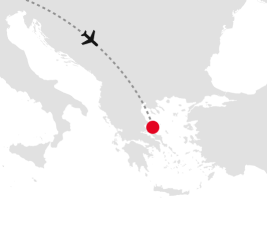 Flight time

02:35 h

Distance

1670 km

Country Code

+30

Airport
Language

Greek

Currency

EUR
Edelweiss tips for Skiathos
Sightseeing in your Skiathos holidays
Related holiday destinations