In the footsteps of Pythagoras
Boasting an enchanting fusion of island bliss and cultural wealth, Samos is an island for adventurers and bon vivants alike: sun, sea and countless sights provide ideal prerequisites for a multi-facetted and action-filled dream holiday.
The Greek island in the Aegean Sea, north of the Dodecanese islands, is the birthplace of mathematician Pythagoras. With a plethora of ancient architectural ruins on offer, it is a treasure trove for fans of Greek antiquity. Sun worshippers looking for long, sandy beaches will search in vain on Samos. Instead, the island stuns with beguilingly beautiful natural coves and hot, dry weather from April to October. Those who want to swim near Samos city should visit the beautiful bay of Agia Paraskevi.
Facts & figures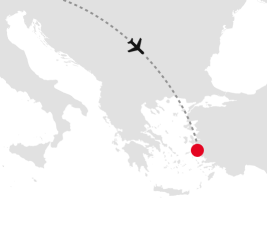 Flight time

2:50 h

Distance

1945 km

Country Code

+30

Airport
Language

Greek

Currency

EUR
Sightseeing in your Samos holidays
Samos is home to Heraion, a significant antique sanctuary dedicated to the goddess Hera. The Hera Temple, of which sadly only few ruins remain, was one the largest temples of antiquity. Together with the town of Pythagorio, Heraion has been declared a UNESCO World Heritage Site.

View in maps

The harbour town on the north coast is the second largest town on Samos with almost 7,000 inhabitants and is worth visiting for a daytrip.

View in maps

Energetic water sports enthusiasts, such as surfers, will love breaking the waves on Kokkari beach. If you like it a bit more relaxed, you can visit the Balos Beach in the northeast of the island.

View in maps
Related holiday destinations