Art, culture and beach life
Covering an area of 198 square miles, Djerba is the largest island of Tunisia and where tradition and modernity are not mutually excluded. It is also where dolce far niente at the beach can be complemented effortlessly with exciting excursions into history and culture.
Djerba's sights include a host of mosques, among others Al Katib, which is a reduced imitation of the Hagia Sophia mosque in Istanbul. Al Katib is located near Midoun: framed by date palms and orchards. In Sedouikech there is an underground mosque, which is very rare. Apart from the cultural highlights, many tourists do not shy away from adventure and go to the park Djerba Explore, where the largest crocodile farm in the Mediterranean - with its 400 reptiles - can be found. After this visit its time for some relaxation at the beach. With a substantial number of charming beaches on offer, Djerba is, of course, an attractive beach holiday destination. The most famous is probably the 17-kilometre-long Plage de Sidi Mahrez beach. It is gently sloping and ideal for families with small children.
Facts & figures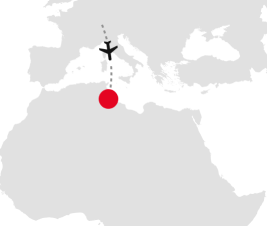 Flight time

2:35 h

Distance

1668 km

Country Code

+216

Airport
Language

Arabic

Currency

TND
Edelweiss tips for Djerba
Sightseeing in your Djerba holidays
The name of the capital Houmt Souk means "market district". One of the biggest attractions of the small town of 65,000 inhabitants is the colourful and lively weekly market on Fridays.

View in maps

A nice holiday souvenir can certainly be found on the market: from ceramic plates to oriental carpets - here you can find everything your heart desires.

View in maps

On Djerba, a multitude of beaches invite you to spend your bathing holidays; from miles of sandy beaches to romantic bays. Recommendable in addition to Plage de Sidi Mahrez: Plage de la Seguia near Aghir and Plage El Hachen.

View in maps
Related holiday destinations