Diving Facts
Dive shops within 50 km

Best time to travel

Recommended diving suit

Flight connection
Edelweiss recommendation
A diving licence that adheres to international standards (e.g. PADI or CMAS) can be obtained within a few days – and is highly recommended for Mauritius. Real subaquatic adventures such as wreck diving, cave diving or deep diving require special courses. The OceanDivers diving centre is a PADI resort and is linked to the local MSDA (Mauritian Scuba Diving Association). Anyone who decides to do a diving course can use the PADI eLearning system to study the theoretical part in advance and then complete their practical training on site with a PADI professional. This saves swotting up on theory while you're on holiday.
Top Diving Spots in Mauritius
Northern Mauritius: Coral garden
The north of Mauritius features some spectacular underwater caves. Large coral formations await experienced divers behind the reefs, including the Coral Garden, which is a short boat ride from Trou aux Biches. Divers here may be lucky enough to encounter dolphins as well as sea turtles. With several dive sites at depths of 16–26 feet (5–11 m), Trou aux Biches also boasts some good options for beginners. Tropical fish, dazzlingly colourful corals and plenty of space provide the perfect setting for unforgettable first diving experiences. The Dodo Divers centre organises daily diving trips to the various dive sites in the region.
Northern Mauritius: Wrecks
Stella Maru is a must-dive for wreck diving enthusiasts! The old Japanese ship was scuttled by the Mauritius Marine Conservation Society to create an artificial reef. The ship lies at a depth of 75 feet (23 m) and is also a suitable dive site for novice wreck divers. To the north of Mauritius, the waters of the uninhabited Île Ronde are littered with reef sharks, bull sharks, tuna and rays. Both the Emperator Diving Center and Ocean Spirit Scuba Diving Mauritius operate diving safaris to the island, which are recommended for experienced advanced divers who want to see sharks up close.
West coast from Flic en Flac to Le Morne
Located off the coast of Flic en Flac, Cathedral is one of Mauritius' most exciting dives. Drawing its name from the naturally formed arches and grottoes that diffuse the natural light like church windows, this extraordinary underwater cave is a habitat for stonefish, morays, lionfish and dolphins, as well as the endangered hammerhead shark. The dive site can be reached by boat, and access to the cave is 60 feet (18 m) under water. Given that the dive involves descending to a depth of 100 feet (30 m), it is only suitable for advanced and experienced divers. The Sundivers diving centre within the complex of the elegant La Pirogue boutique hotel organises three diving trips per day to more than twenty dive sites in the area.
Shark spotting and drift diving in the south of Mauritius
Divers are well catered for on the south coast of Mauritius! The Blue Bay Marine Park includes a fabulous reef that features a splendid variety of fish and is suitable for beginners. Thanks to St. Jacques, drift divers won't be short-changed either: this drift dive starts in a lagoon, from which divers descend with the current, encountering reef sharks, rays and turtles on their way. The maximum depth of this drift dive is roughly 100 feet (30 m).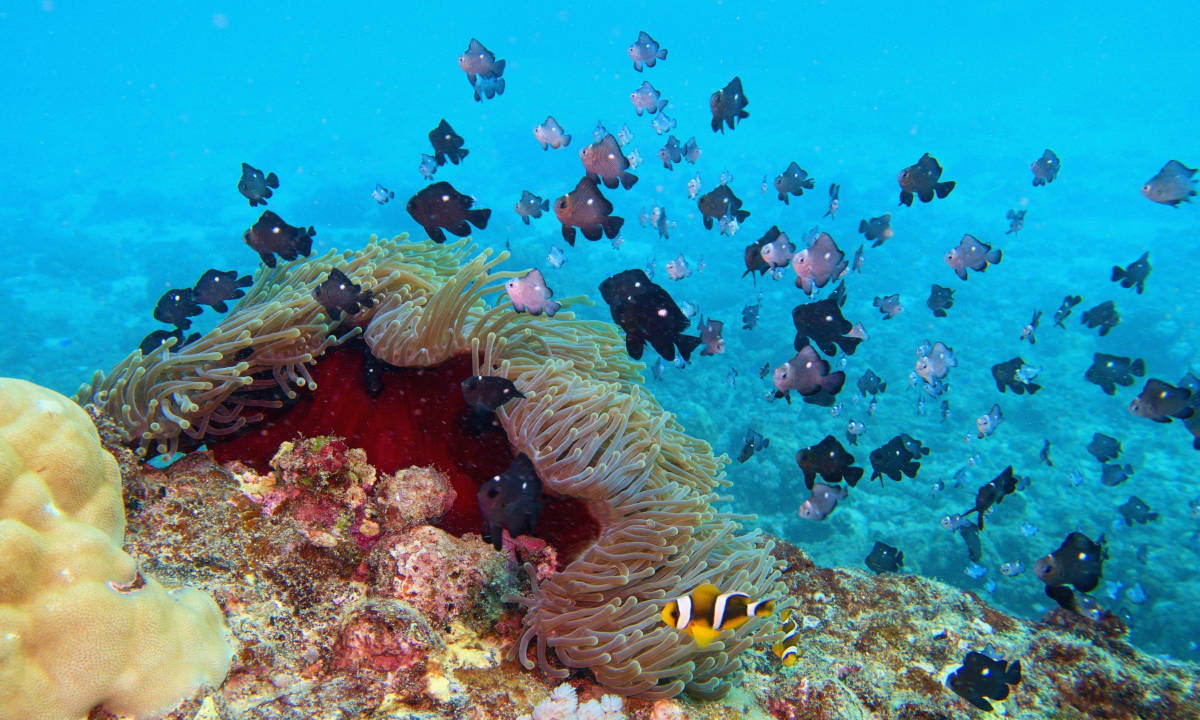 Experience the marine world in the dry
Mauritius' fascinating marine world can also be experienced without getting wet: La Nessée is a glass-bottomed semi-submarine that departs from Grand Bay and takes passengers on an approx. two-hour boat trip to see the dazzlingly colourful coral reef from the safety of the vessel. Excursions also include several stops with opportunities for passengers to snorkel or swim. Blue Safari goes a step further, with 'sub-scooter' rides that allow passengers to explore marine life 10 feet (3 m) beneath the water's surface.
Recommended diving schools
The following schools are the ideal choice for exciting diving lessons and trips:
This may interest you too...