White sand beaches, green palm trees, life in every hue
Mauritius' hallmark is its diversity. A kaleidoscope of cultures makes up this island state in East Africa, as do its miles-long sandy beaches along the magnificent turquoise sea.
The writer Mark Twain once said: "Mauritius was made first, and then heaven, and that heaven was copied after Mauritius." How right he was, even if the weather had been his only criterion. The island is blessed with year-round pleasant temperatures. In winter, which in Mauritius is between June and August, air and water temperatures rarely drop below 20 degrees Celsius.
Facts & figures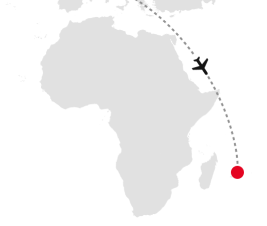 Flight time

11:00 h

Distance

8726 km

Country Code

+230

Airport
Language

French, English

Currency

MUR
Edelweiss tips for Mauritius
A trip to the Chamarel Park is definitely worthwhile! Beside the great landscape there is the big waterfall and the seven colored earth. The best way to make this trip is to rent a car.
Sightseeing in your Mauritius holidays
Related holiday destinations