Mallorca's beautiful little sister
The small Spanish island of Menorca is located east of Mallorca on the edge of the Balearic Islands. The north coast of Menorca is good for surfing and the south of the island is ideal for a beach holiday. Sailors explore the numerous bays from the water.
As Menorca is only 50 kilometres long and 16 kilometres wide, all beaches and places of interest are within easy reach from Mahón, the capital. In total there are 215 kilometres of beach on this dream island. Most beaches offer white sand and crystal-clear water - no wishes are left unfulfilled. If you want to avoid the hustle and bustle of the more famous Balearic Islands, but still don't want to miss out on sun, beach and all the amenities - Menorca is the place to be!
Facts & figures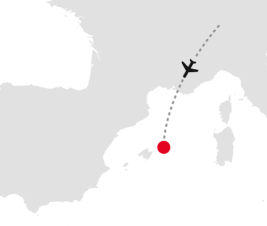 Flight time

01:45 h

Distance

1092 km

Country Code

+34

Airport
Language

Spanish

Currency

EUR
Edelweiss tips for Mahón (Menorca)
Sightseeing in your Menorca holidays
Flights to Mahón (Menorca)
Related holiday destinations