Sun, beach and Cape Verdean island life
Situated off the northwest coast of Africa, Sal is one of ten islands which, together with several islets, constitute the volcanic archipelago of Cape Verde. Graced with a breath-taking combination of miles-long sandy beaches, agreeable temperatures and almost year-round sunshine, the Cape Verde islands tick all the boxes, especially in the way of weather and climate.
The flattest of the Cape Verde islands, Sal boasts crystal-clear water, steady northeast trade winds and a rich diversity of marine flora and fauna, making it a sun worshipper's paradise and a unique setting for scuba divers, wind and wave surfers. The winter months are the best time to visit for those who prefer warm to hot temperatures.
Facts & figures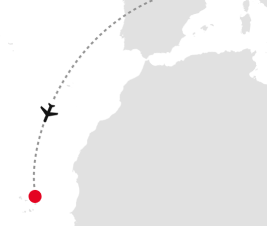 Flight time

06:10 h

Distance

4714 km

Country Code

+238

Airport
Language

Portuguese, Creole

Currency

CVE
Edelweiss tips for Sal (Cape Verde)
Sightseeing in your Cape Verde holidays
Flights to Sal (Cape Verde)
Related holiday destinations