Hiking bliss and flower paradise on Madeira
Hiking enthusiasts are likely to fall in love with Madeira the moment they set eyes on it. The island is decked with mountains and cliffs. Waterfalls seemingly play a game of criss-cross with mountain paths, while striking sea views easily make up for even the steepest of climbs. Pico do Arieiro is the third-highest mountain, which you can either reach by foot or by car.
The romantic municipality of Santana, situated approximately an hour away from Funchal, attracts visitors with typical Madeiran houses that feature straw roofs. When returning to the capital, it is worth taking a detour to Madeira's botanical garden. This is where it becomes blatantly clear why Madeira is also referred to as the "Floating Garden": orchids, magnolias and bird-of-paradise flowers –the botanical symbol of Madeira– bloom here in wonderful abundance. By the way, winter need not be feared. Even if temperatures get a little cooler, the island is always green.
Facts & figures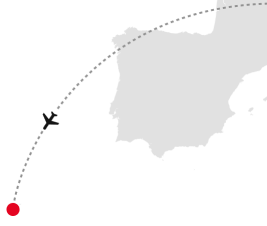 Flight time

03:30 h

Distance

2644 km

Country Code

+351

Airport
Language

Portuguese

Currency

EUR
Edelweiss tips for Funchal (Madeira)
Sightseeing in your Funchal holidays
Flights to Funchal (Madeira)
Related holiday destinations