The green island of Spain
Covering an area of just 273 square miles, La Palma enchants with incredible diversity. Featuring beautiful beaches, crystal-clear water and high mountain peaks, the most north-westerly of the Canary Islands is a holiday haven for beach lovers, cyclists and hikers alike. Divers enjoy an exciting underwater world with lava arches.
La Palma is the greenest of the Canary Islands, which is why it is also referred to as the "Isla Verde" (Green Island). The island's forests and black sand beaches are a result of its volcanic origins. 800 different types of plants grow on the island, of which 45 are endemic to La Palma.
Facts & figures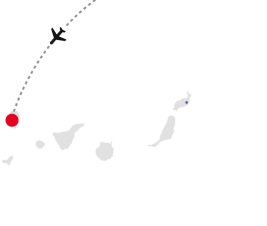 Flight time

4:40 h

Distance

3280 km

Country Code

+34

Airport
Language

Spanish

Currency

EUR
Edelweiss tips for La Palma
Sightseeing in your La Palma holidays
Related holiday destinations