Idyllic beaches on the sunshine island
At first sight windy and barren, the azure blue Atlantic Ocean soon reveals how multifaceted Fuerteventura really is. Fuerteventura is referred to as "the island of eternal spring" – and deservedly so. Owing to its latitude and position in the Atlantic Ocean, temperatures in winter are mild whilst trade winds help cool down the heat in summer.
As well as being a dream destination for sun worshippers, the second largest of the Canary Islands exerts a magical appeal on water sports enthusiasts too. Kite surfers cavort on the water and under the surface divers hope to meet a whale. Also, cyclists get their money's worth on Fuerteventura, as a cycle tour is an excellent way to discover the island's hinterland.
Facts & figures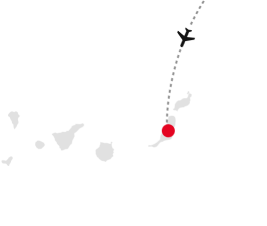 Flight time

03:50 h

Distance

2870 km

Country Code

+34

Airport
Language

Spanish

Currency

EUR
Edelweiss tips for Fuerteventura
Sightseeing in your Fuerteventura holidays
Related holiday destinations