Beach vacations with beautiful views in Cape Verde Islands
The third largest Cape Verde island more than lives up to its name Boa Vista - beautiful view. With year-round pleasantly warm temperatures and around 350 days of sunshine, life on this enchanting island is cozy and unspoiled. Boa Vista enchants those seeking relaxation with its many dreamlike white sandy beaches and the turquoise blue shimmering sea. Sun, wind and waves not only create excellent conditions for bathers, but also for water sports enthusiasts.
If you move away from the coast a bit, you will almost get a Sahara feeling in the midst of wonderful dune landscapes. This can be experienced, for example, during a hike or quad ride in the fine sand dunes of the Deserto de Viana. In addition to the barren desert, there are also flowering oases on the easternmost island of Cape Verde. These diverse and at the same time untouched natural sceneries make Boa Vista something unique.
Facts & figures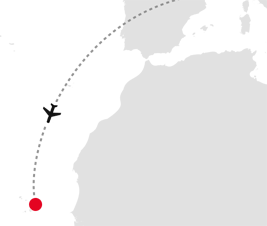 Flight time

6:35 h

Distance

4769 km

Country Code

+238

Airport
Language

Portuguese, Creole

Currency

CVE
Edelweiss tips for Boa Vista
Sightseeing in your Boa Vista holidays
On Boa Vista you will find many extensive, fine sandy and often deserted beaches. The most famous of these is the 22 km long beach of Santa Monica; perfect for endless beach walks, pure relaxation and great bathing fun. Also worth a visit are the beaches of Estoril, Chaves and Cabral.

Sal Rei, the capital of Boa Vista, is known for its large salt deposits and is definitely worth a visit. It is particularly convincing with its pretty city centre, the lively harbour and the colourful fishermen's quarter, where small houses are lined up along the Avenida dos Pescadores.

If you want to get to know Cape Verdean cuisine, you should definitely try the national dish Cachupa. The locals eat this classic stew of corn and vegetables in a wide variety of ways in the morning, at lunchtime and in the evening. In general, rich soups and stews are very popular in Cape Verde.
Related holiday destinations