An Island Paradise in the Middle of the Atlantic
The Azores archipelago, with its nine islands, rises from the middle of the Atlantic Ocean and is a place of impressive natural beauty. With volcanos, hot springs, green countrysides, and steep cliffs along the coast – a trip to the Azores is sure to thrill the hearts of outdoor enthusiasts. São Miguel, with its picturesque capital Ponta Delgada, is the largest of the Azorean islands. It captivates visitors with its numerous crater lakes, nestled in areas of untouched nature, and its breathtaking views. The most beautiful lakes are the "Sete Cidades" in the far west of the island and the "Lagoa do Fogo" in the centre of São Miguel.
Beautiful hiking trails and fascinating flora and fauna can be found on all the islands, as well as golden and black sand beaches, and ideal conditions for diving, sailing, and surfing. For an unforgettable experience, be sure to take a boat trip – the odds of seeing whales and dolphins are very high! The comfortable year-round climate of the Azores makes this a perfect destination any time of year.
Facts & figures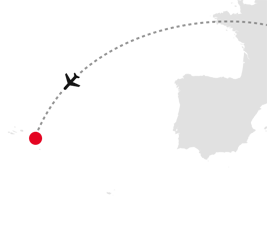 Flight time

04:35 h

Distance

3195 km

Country Code

+351

Airport
Language

Portuguese

Currency

EUR
Edelweiss tips for Ponta Delgada (Azores)
Sightseeing in your Azores holidays
Hikers will find plenty to do in the Azores. For example, on the panoramic circuit around the Caldeira of Sete Cidades on the island of São Miguel, also known as the "Island of the Great Lakes". Thanks to its volcanic origin, you'll find numerous crater lakes such as the Lagoa das Sete Cidades, which belongs to one of the seven natural wonders of Portugal.

View in maps

The Azores islands are a true natural paradise, where many small oases will invite you to relax. Even if the weather doesn't quite play ball, you'll find natural thermal baths and warm iron water springs to enjoy.

View in maps

The Azores also grow tea on the island of São Miguel. The 'Chá Gorreana' plantation is the oldest and last remaining tea plantation in Europe. Several tons of green and black tea as well as other varieties are produced here each year. A circular hiking route gives you the chance to admire this unique plantation.

View in maps
Flights to Ponta Delgada (Azores)
Related holiday destinations