A piece of paradise for sun worshippers, golfers and adventurers
Tampa is situated on Florida's west coast. Owing to the many hours of sunshine per day, it is widely referred to as the "Sunshine City". Splendid beaches in St. Pete/Clearwater, a wide range of leisure activities and a high concentration of golf courses are just some of the pleasures awaiting you in Tampa.
On average, Tampa has just five days of rain per month. The sun shines between seven and ten hours a day. Set in a subtropical climate, this city on the Gulf of Mexico features hot summers and mild winters. And the spectacular sunsets in St. Pete/Clearwater are just the icing on the cake of unforgettable holidays.
Facts & figures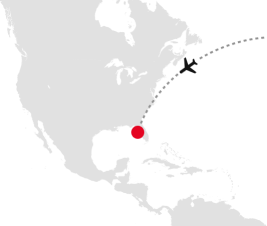 Flight time

10:00 h

Distance

7630 km

Country Code

+1

Airport
Language

English

Currency

USD
Edelweiss tips for Tampa Bay (Florida)
For brunch lovers, breakfast at Oxford Exchange is a must. Whether avocado toasts, pancakes, bowls or scrambled eggs - here every hunger is satisfied and every wish fulfilled.
Sightseeing in your Tampa holidays
The west coast of the "Sunshine State" lures with splendid beaches. For those who like action, Tampa Bay is great for fishing trips, pirate cruises or skimming across the water in a speedboat.

View in maps

Beautiful white sand beaches await visitors in the nearby towns of Clearwater, St. Petersburg and Sarasota. These beaches are considered to be the finest on the Gulf of Mexico.

View in maps

Florida's third-largest city is also a paradise for golfers and adventurers. Nowhere else in the US will you find as many golf courses as in Tampa and the surrounding area.

View in maps
Flights to Tampa Bay (Florida)
Related holiday destinations