Holidaying on the shores of an ancient lake
The town of Ohrid entices visitors with its lovely beaches, gorgeous nature and abundant culture. The pretty town is situated in southwestern North Macedonia, directly on the shores of Lake Ohrid whose history goes back millions of years. The ancient lake is home to an extraordinary fauna, including some very rare species of fish. Ohrid is bordered by delightful beaches of all sizes and preferences: from small and sophisticated to spacious and lively.
The Galičica National Park is one of the most species-rich nature reserves in Europe and a magnet for nature lovers. It is also one of few parks inhabited by wild lynx. Albania's most notable city on Lake Ohrid is Pogradec: situated roughly 25 miles from Ohrid, this lakeside town is lined by some gorgeous beaches. On the opposite side of the lake there are more beaches around Struga.
Facts & figures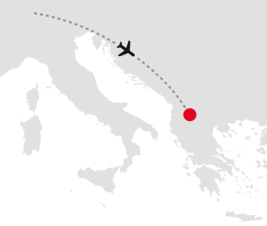 Flight time

02:05 h

Distance

1330 km

Country Code

+389

Airport
Language

Macedonian, Albanian

Currency

MKD
Sightseeing in your Ohrid holidays
Ohrid's many highlights include a host of mosques and churches, such as the eleventh century Church of St. Sophia that stands on the site of an early Christian church.

View in maps

The Sveti Naum Monastery, located less than 20 miles from Ohrid, houses both a hotel and the tomb of Saint Naum.

View in maps

The Galičica National Park is one of the most species-rich nature reserves in Europe and a magnet for nature lovers. It is also one of few parks inhabited by wild lynx.

View in maps
Related holiday destinations