Wild, traditional, urban
Calgary has everything a modern city needs to attract visitors: an impressive skyline, a vibrant nightlife scene, plenty of green spaces, a zoo, an amusement park and the Rock Mountains very close by.
The city's most popular landmark is the Calgary Tower (627 ft), which offers visitors stunning views of the city and the Rocky Mountains. The Canadian Rockies usually offer perfect weather conditions for hiking, camping, fishing, canoeing and kayaking. Given the region's diverse national parks with breath-taking flora and fauna, you will definitely feel spoilt for choice. Banff National Park is right around the corner from Calgary and is home to the famous towns of Banff and Lake Louise and the beautiful Moraine Lake. Glacier National Park and Jasper National Park are also stunningly beautiful. The latter is home to Mount Columbia that peaks at 12,294 feet and is the highest point in Alberta. A trip to Calgary can easily be combined with a visit to Vancouver on the West Coast. The route is an ideal road trip for all nature lovers.
Facts & figures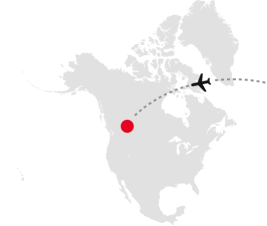 Flight time

10:00 h

Distance

7770 km

Country Code

+1

Airport
Language

English

Currency

CAD
Edelweiss tips for Calgary
Sightseeing in your Calgary holidays
Related holiday destinations