More than a place of pilgrimage
Santiago de Compostela in north-western Spain is one of the world's most famous places of pilgrimage. Every year, the capital of Spain's autonomous community of Galicia draws thousands of pilgrims, as their final destination on the Way of St. James. With origins dating back to the ninth century, this majestic city features a fascinating mix of tradition and modernity, paired with generous green spaces and oodles of Galician charm – all of which make it a great holiday destination for culture fans.
The Mercado de Abastos is a five-minute walk from the Cathedral of Santiago de Compostela: originally built in the early nineteenth century, the market complex features more than 300 stalls and is, today, one of the city's most popular attractions.
Facts & figures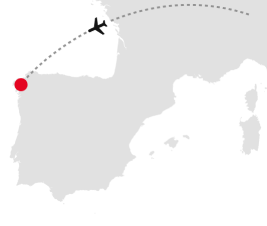 Flight time

2:10 h

Distance

1610 km

Country Code

+34

Airport
Language

Spanish,
Galician

Currency

EUR
Edelweiss tips for Santiago de Compostela
Sightseeing in your Santiago de Compostela holidays
Flights to Santiago de Compostela
Related holiday destinations