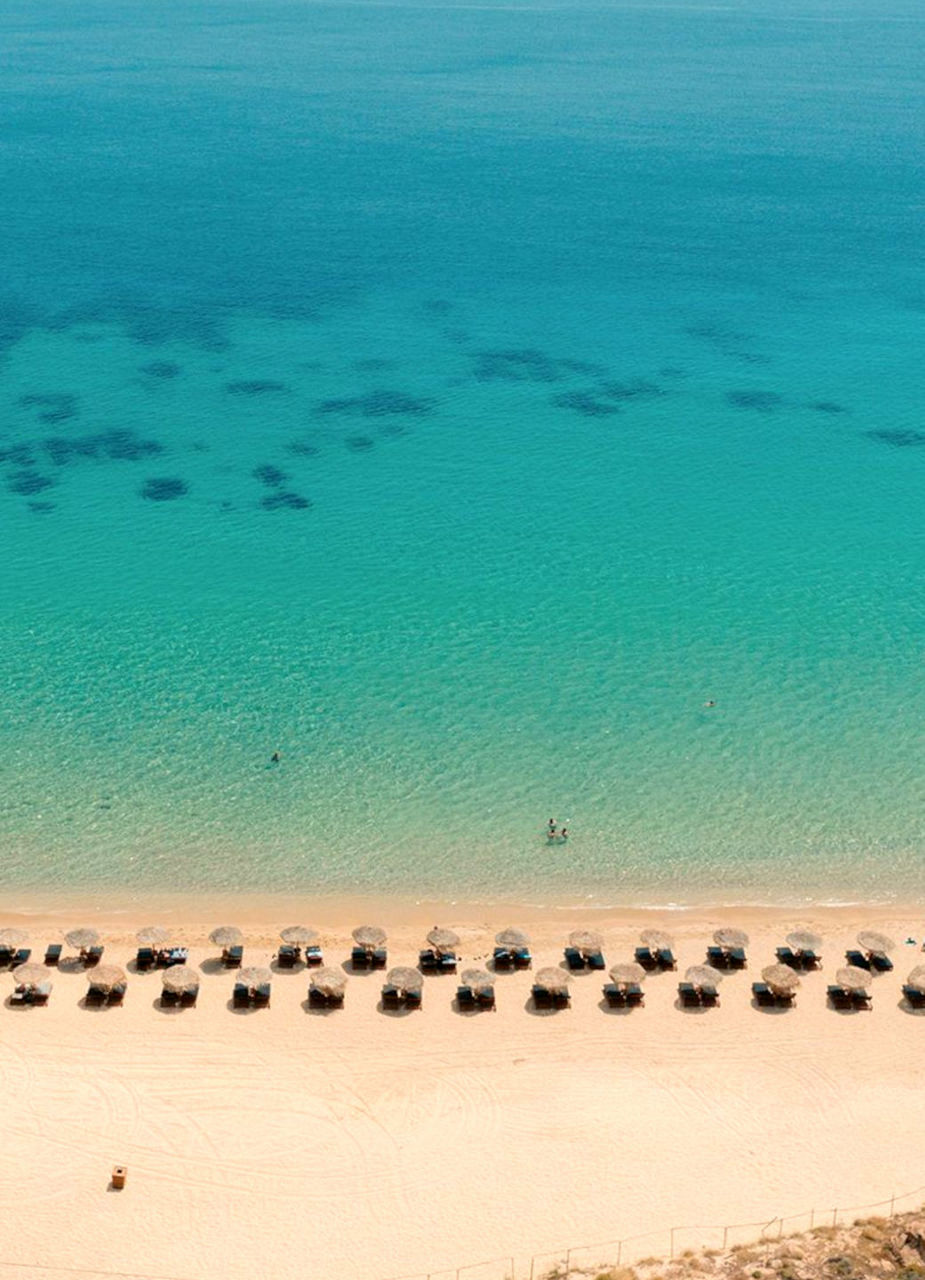 Discovering the Beaches
The beaches of Mykonos are amazing. One of the highlights during a trip to Mykonos is a walk between the five beaches we will tell you more about in a moment. Enjoy the swimming, drinking, and eating along the way. There is always the option to take a boat back in case you have no more energy to continue.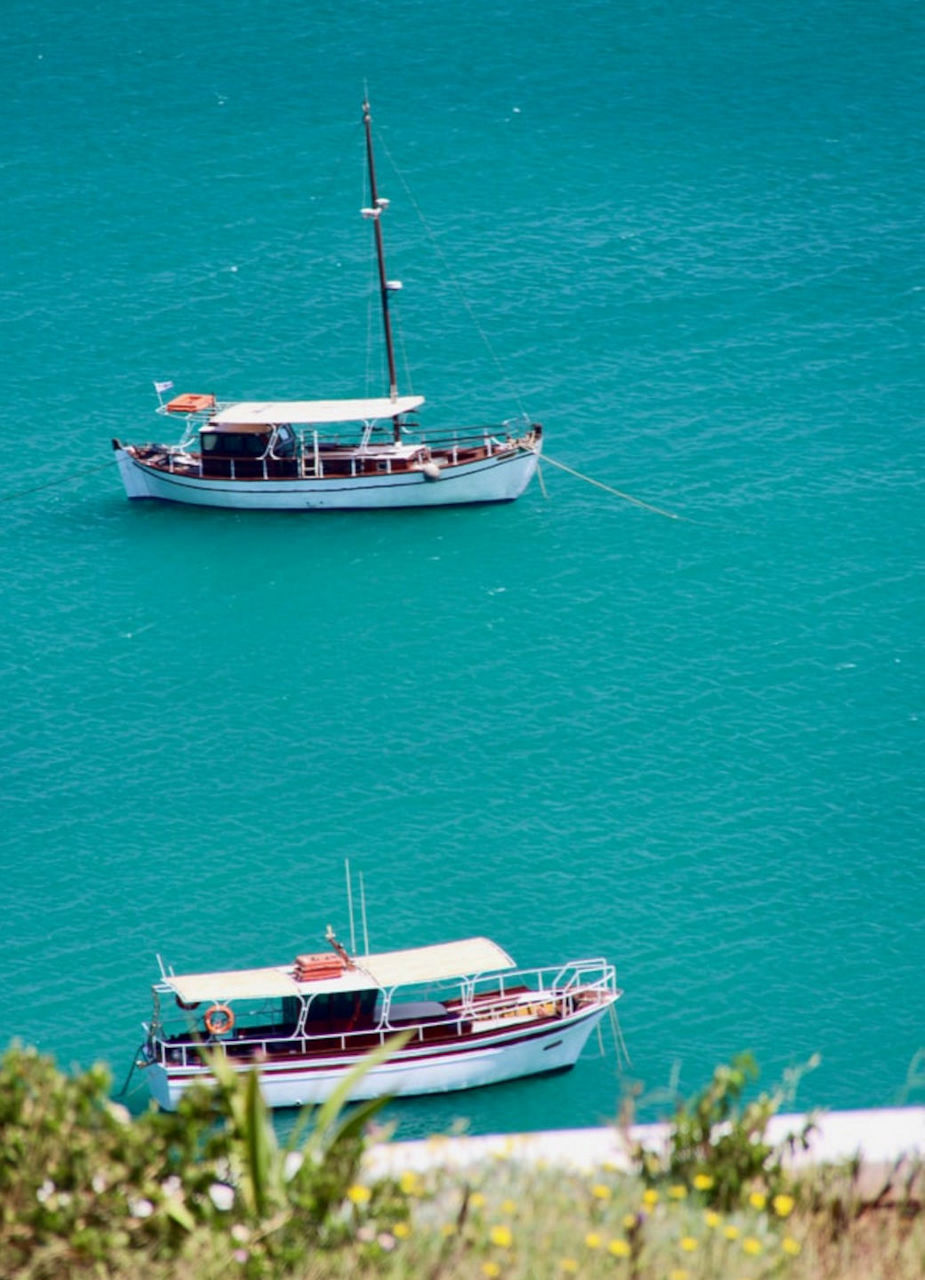 Taking the Water Taxi for Discovery
The Mykonos WaterTaxi runs along the island's south coast and stops to pick up and drop off passengers at seven different beaches along the way. It operates hourly between the late morning and early evening hours. The main departure beach for the water taxi is Platis Gialos which is easily accessible by bus or taxi. These are the beaches on the Mykonos Water Taxi route: Ornos – Platis Gialos –Paraga – Paradise – Super Paradise – Agrari – Elia.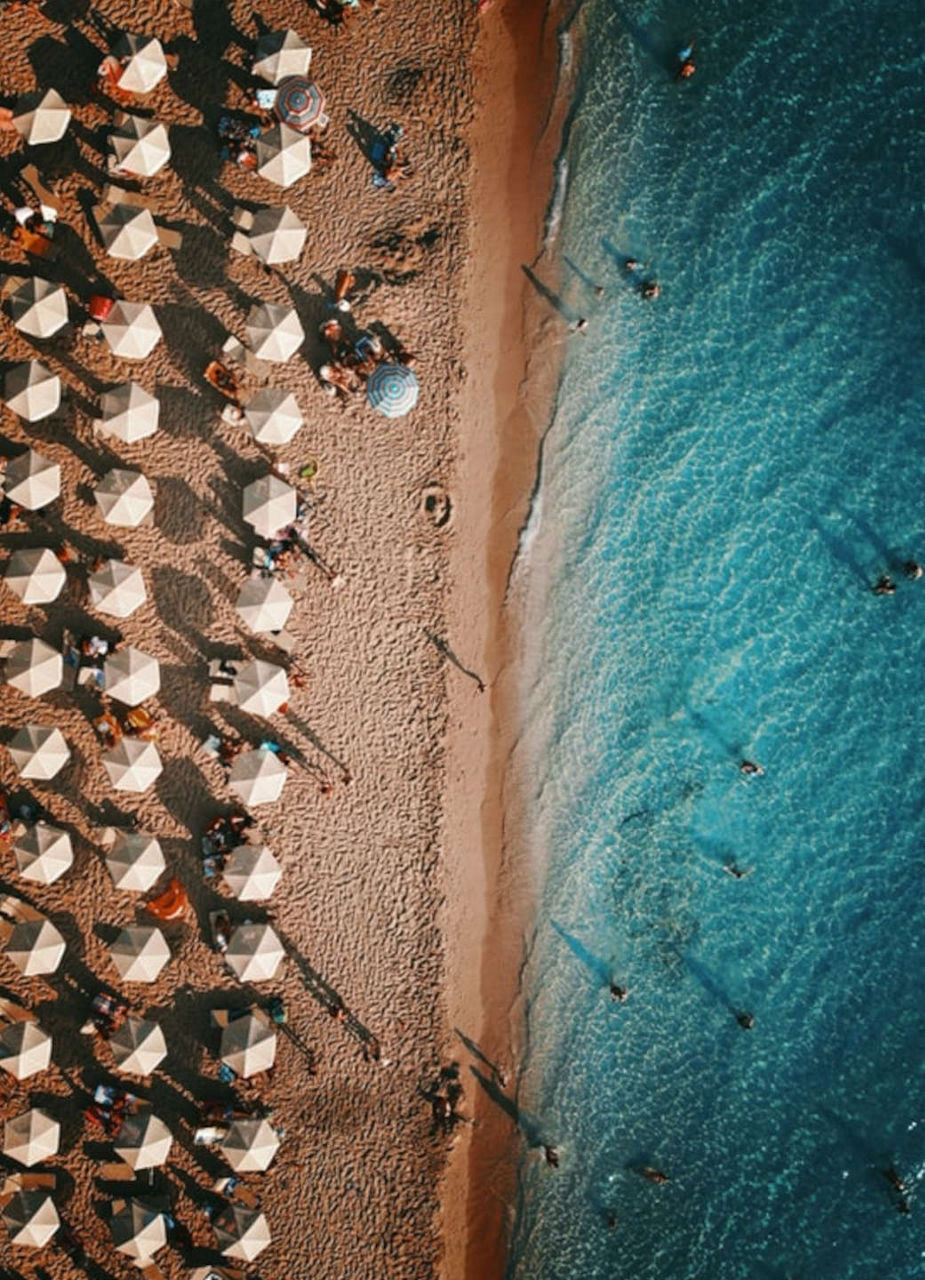 Platis Gialos
This is a convenient starting point to discover other beaches, whether that is on foot or by water taxi. Platys Gialos with its crystal-clear waters is home to some of the best beach hotels on the island. Furthermore, it has restaurants and bars serving meals and drinks throughout the day. This is not a party beach, however it has a lively atmosphere with parasols and loungers covering most of the sand. The shallow waters are not only perfect for a refreshing swim but also very popular with families.
Psarou
No surprise that this is one of the trendiest beaches  - it's great for swimming and offers a stunning scenery. Even though it can get crowded here, it is undoubtedly worth a visit. It becomes evident by the numerous luxurious yachts docked just off the shore that Psarou is the island's most exclusive beach and a fan favourite of the high-society. Furthermore, honeymooners are drawn to this charming location quite often as well.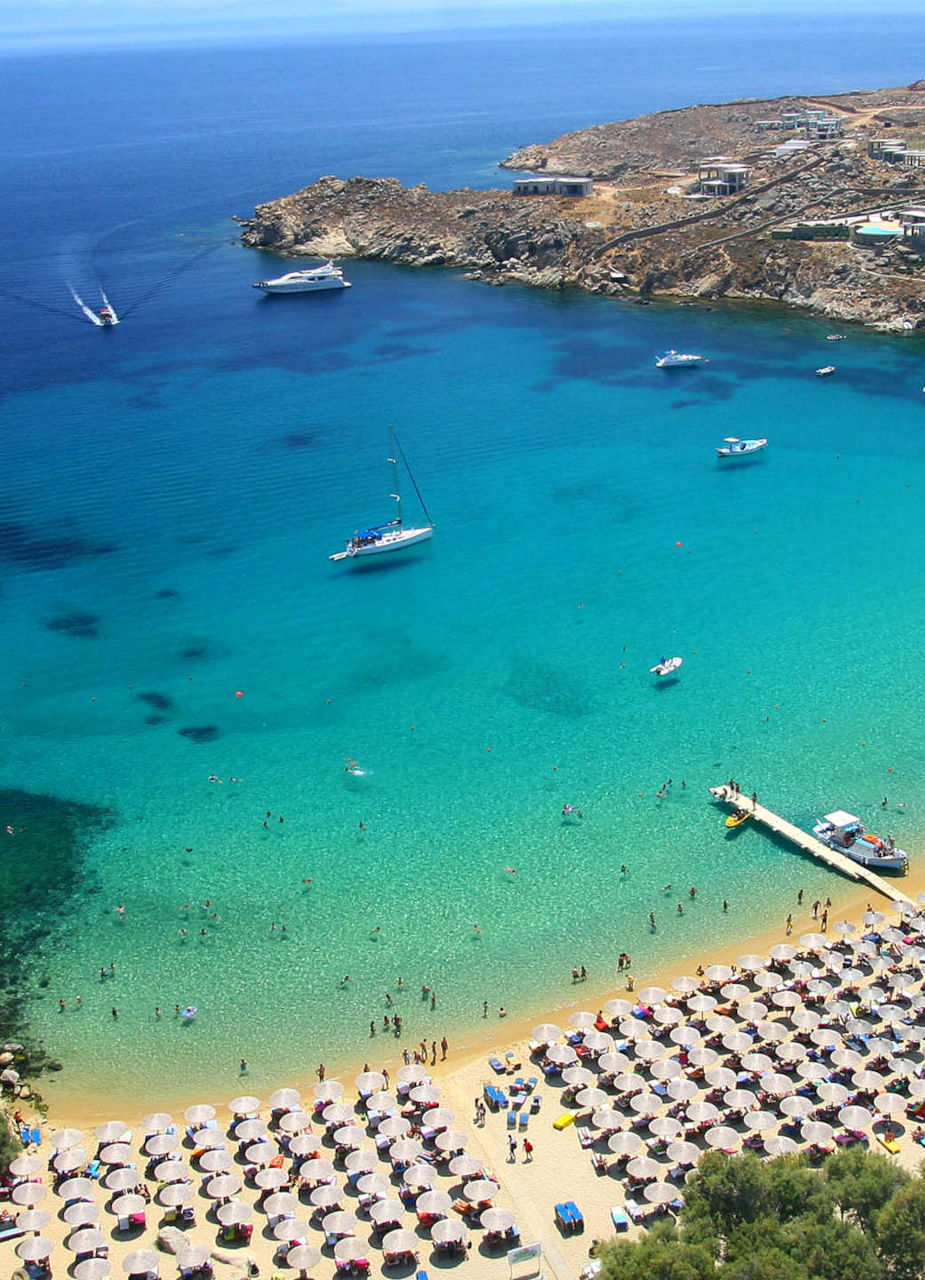 Paradise Beach
Mykonos' famous party beach is filled with bars. It is Paradise Beach where most 20-something want to be at – day and night. It has plenty of places to eat, drink, and shop for beach essentials. Moreover, it is frequented by busses heading to and from Mykonos Town. Here, you can dance, drink, swim and sunbathe – not necessarily in that order. The party moves to the club above the beach after sunset and lasts until the wee hours.
Ornos
It's both the most family-friendly beach in Mykonos and one of the trendiest for young people and couples. Its calm waters are great for swimming. This beach gets regularly frequented by the Mykonos Water Taxi, private boats, and yachts. Ornos offers many places to eat and drink at as well as several attractive hotels and resorts. For this reason, it can get crowded in July and August.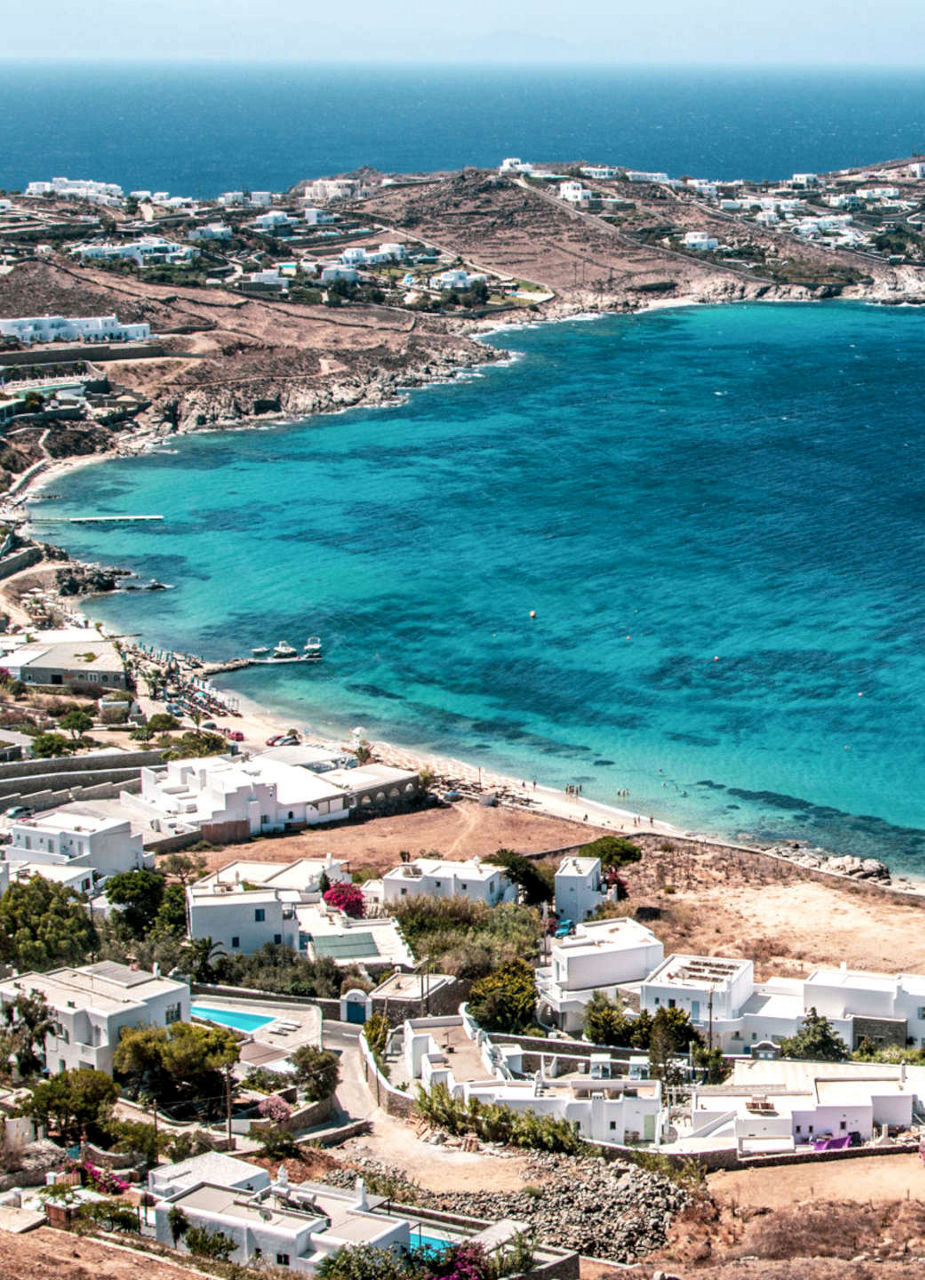 Agios Ioannis
This is a narrow, rather secluded and picturesque beach. Although the shore and is easily reachable by bus and littered with good hotels, it is usually quieter and less crowded than the other major beaches on the island. The clear and shallow waters are good for swimming and snorkelling and are child-friendly.