Discover typical Greek flair on Mykonos
Once upon a time, Hercules vanquished mighty giants and threw their petrified corpses into the sea. According to Greek mythology, those very bodies are what formed the island of Mykonos. Characterised by blue-shuttered, whitewashed houses, narrow streets and inviting tavernas, this island in the Aegean Sea embodies Greece in every way. Mykonos is blessed with a gentle year-round climate. That said, anyone looking to bathe in the sea waters will want to consider visiting the island in summer or autumn.
Water sports enthusiasts also get their money's worth in Mykonos. Whether snorkelling, diving, kiting, windsurfing or jet skiing - everyone will find the right beach here. And on a sailing trip you can discover the most beautiful sides of the island from the water.
Facts & figures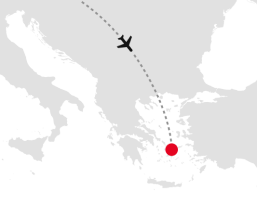 Flight time

02:25 h

Distance

1770 km

Country Code

+30

Airport
Language

Greek

Currency

EUR
Edelweiss tips for Mykonos
Sightseeing in your Mykonos holidays
Related holiday destinations