Port city reminiscent of a fairy tale
The Omani capital of Muscat was once one of the most important port cities in the ancient Near East, serving as an ideal trading hub for goods from Arabia, India and Europe. Still today, the Muttrah Souk offers a glimpse into the city's past and erstwhile bustling market scene. The souk is also a great place to get a feel for local life, customs and traditions. How about a cup of tea along with some gentle haggling for frankincense and spices?
Apart from the enchanting city of Muscat, holidays in Oman are also worthwhile because of its fascinating nature. Whether it be exploring fascinating desert landscapes on a desert safari or succumbing to the lure of gorgeous wadis and stunning beaches fringed by protected bays: Oman's natural scenery surprises and captivates visitors at every turn.
Facts & figures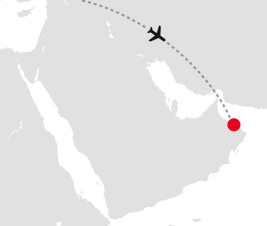 Flight time

07:25 h

Distance

5986 km

Country Code

+968

Airport
Language

Arabic

Currency

OMR
Edelweiss tips for Muscat
Sightseeing in your Oman holidays
Related holiday destinations