Holiday at the toe of the boot
The western part of Calabria entices with dream beaches, impressive cliffs and hot springs. But also many pretty little towns - such as Catanzaro, Reggio Calabria and Amantea - attract visitors with typical southern Italian charm, fine food and the odd sight.
There's little risk of meeting crowds of tourists at the toe of the boot that makes Italy. Widely considered an insider tip, Calabria is, above all, a holiday destination enjoyed by the Italians themselves. Lamezia Terme Airport is an ideal starting point for travel in Calabria – to suit one's personal taste.
Facts & figures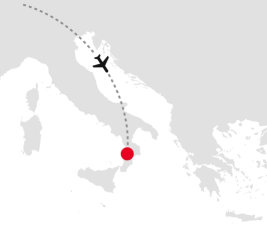 Flight time

01:50 h

Distance

1060 km

Country Code

+39

Airport
Language

Italian

Currency

EUR
Edelweiss tips for Lamezia (Calabria)
Sightseeing in your Lamezia holidays
Calabria's diversity of landscapes makes it to a wonderful hiking destination. Its coastline is braided with exciting cliffs, while the mountain ranges of Sila, Serre, Aspromonte in the hinterland offer some wonderfully challenging trails.

View in maps

Hikers boasting the time and the energy can walk right across Calabria – in other words, from the Tyrrhenian to the Ionian Sea. Many routes are also appropriate for cycling. From easy to challenging, there's something to suit all types and preferences.

View in maps

Blessed by more than 300 days of sunshine a year, beach buffs and sun worshippers won't feel short-changed in Calabria. The sea along the Tyrrhenian coast shimmers in hues of turquoise and azure blue, and the beach of the cliff-hugging, wind-protected town of Tropea offers particularly stunning vistas of a rock-hewn church.

View in maps
Flights to Lamezia (Calabria)
Related holiday destinations