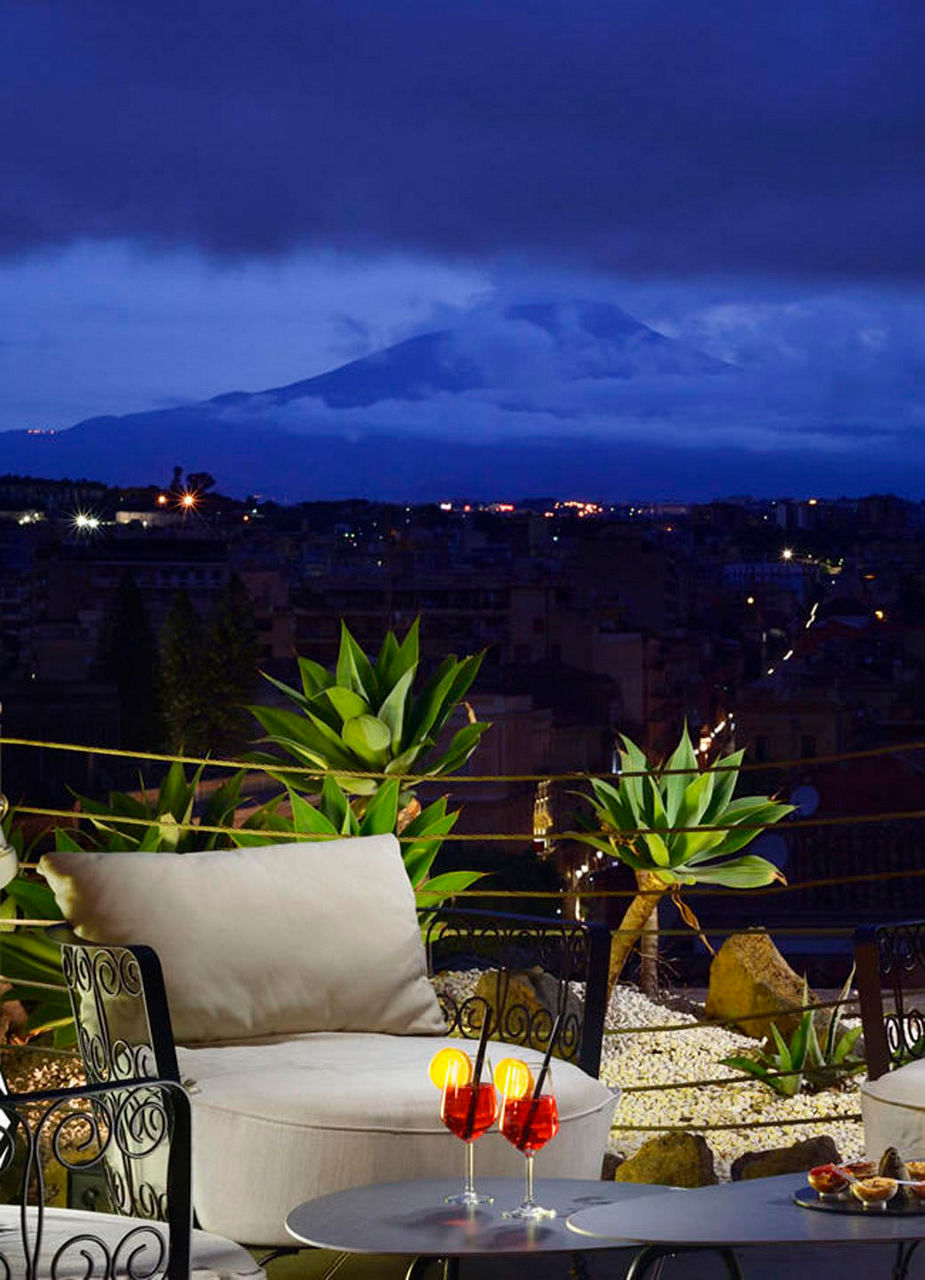 Above the City's Rooftops
Far away from traffic noise, and removed from all the excitement on the piazzas. A warm breeze blows over from the sea. To the north, the clouds pass over Mount Etna, which feels close enough to touch here. And your "granita", the typical Sicilian sorbet made from sugar syrup and lemon juice, is slowly melting on your spoon. Che bella serata! This is the kind of evening you could enjoy in an elegant ambience at the Etnea Roof Bar on the seventh floor of the Hotel Palace Catania. The historical building, which was constructed at the start of the 20th century, is situated just a few minutes from Catania Cathedral and the Massimo Bellini opera house.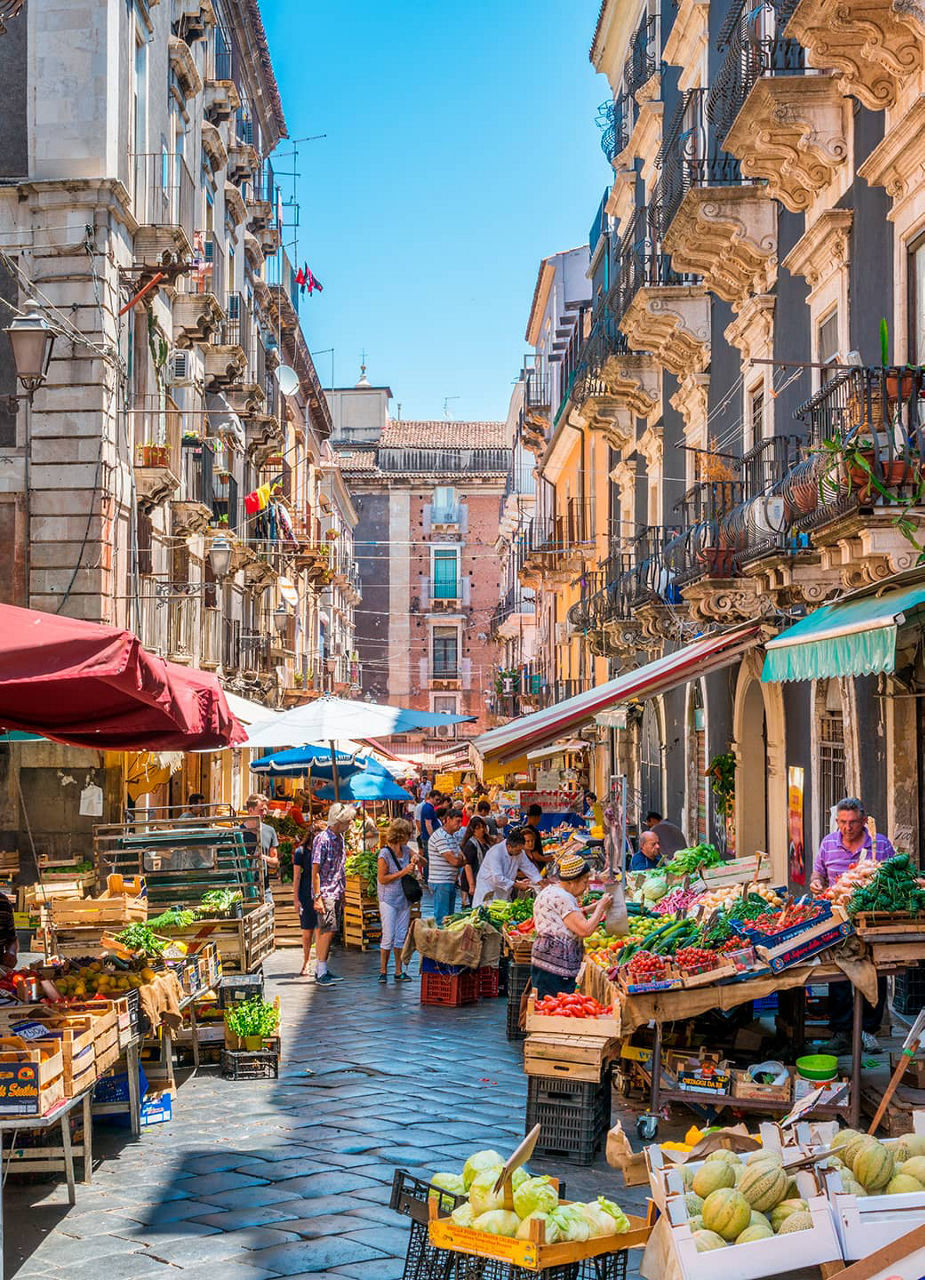 Friends of Fish
The restaurant serves Sicilian haute cuisine, which stands out from the food you'll find on the Italian mainland through its nuances: Agrodolce, a sweet and sour taste, characterises many Sicilian dishes. The different cultural influences, which have also significantly influenced the island's culinary history, have embedded ingredients such as cinnamon, saffron, raisins, and pomegranate into the local cuisine. Instead of basil, Sicilians often use mint as seasoning – and instead of meat, the Mediterranean island prefers to eat fish, especially tuna, swordfish, and sea bass, but also anchovies and sardines, fried and served as a side dish.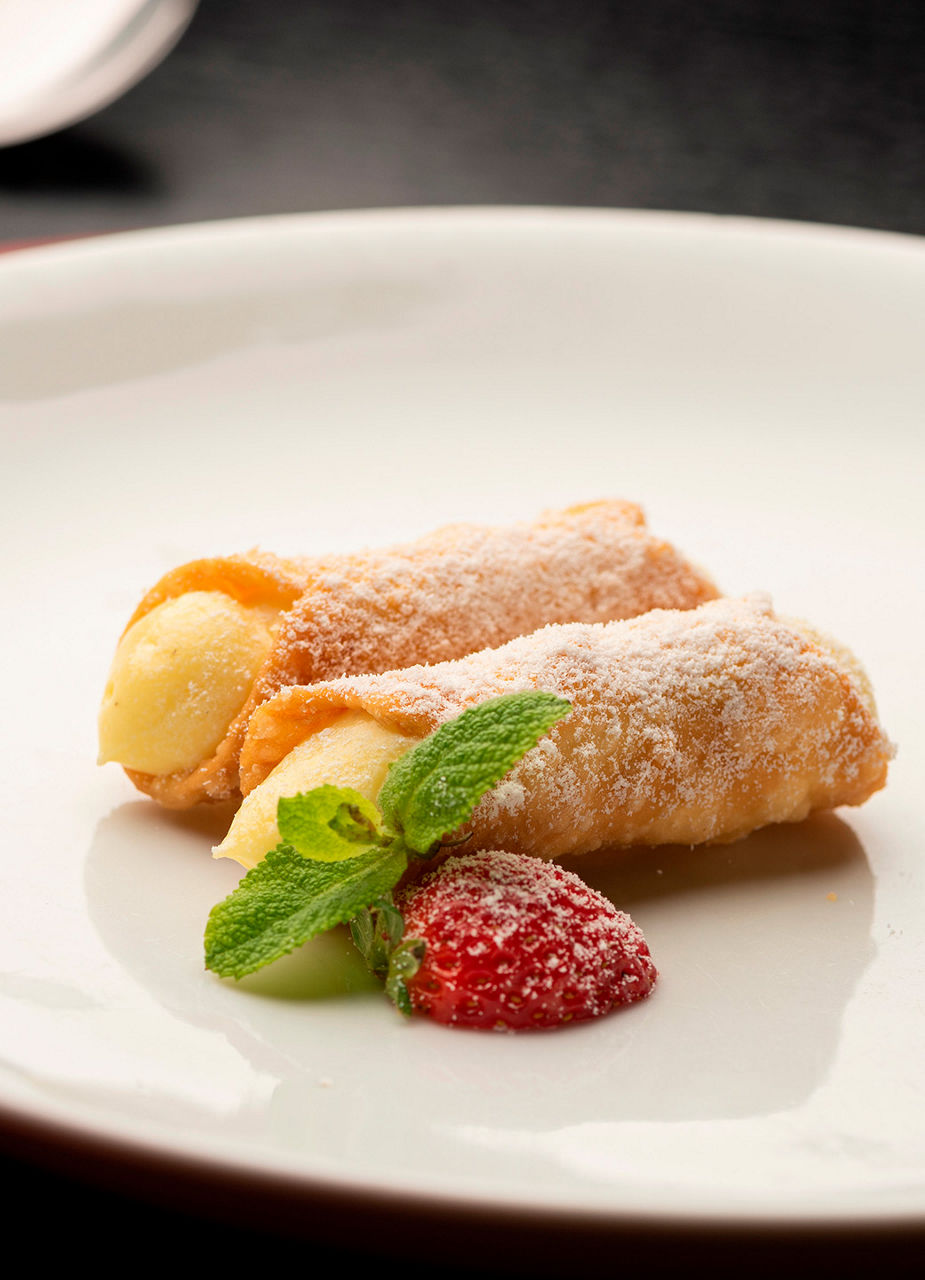 Indulgence with Tradition
At the restaurant Sikulo at Via Antonino Di Sangiuliano 83, you can inspect, choose, order, and enjoy freshly caught fish. Beneath its white arches, the fish restaurant exquisitely prepares nearly all Mediterranean specialities and pairs them with local wines. Another restaurant that serves authentic dishes bears a name you wouldn't expect to find in Italy: "Be Quiet". The modernly furnished restaurant at Via Monte Sant'Agata 6 offers traditional multi-course menus with antipasti, primi, secondi, dolci – and good wine, as you would expect.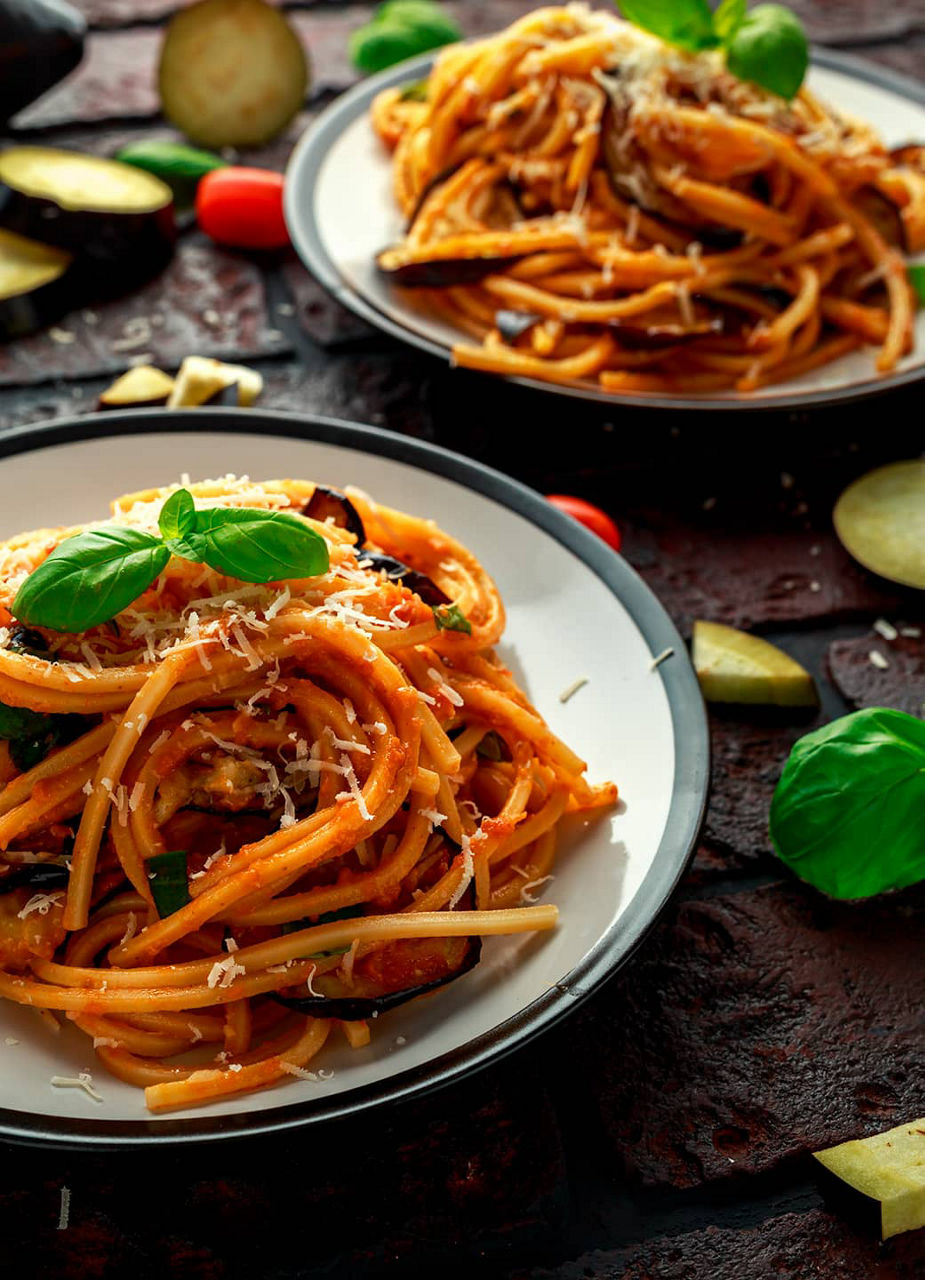 Norma's Legacy
For your primo piatto, the first course – which usually consists of a bowl of pasta in Italy –, Pasta alla Norma comes highly recommended: This recipe from Catania includes macaroni, aubergines, tomatoes, and Ricotta Salata, a typical salty feta cheese. This dish has been around since the 19th century: it was named after the opera "Norma", composed by Catanian-native Vincenzo Bellini. And who knows – perhaps, after a moment of enraptured silence, the taste of the Pasta alla Norma will inspire you to belt out a song of praise.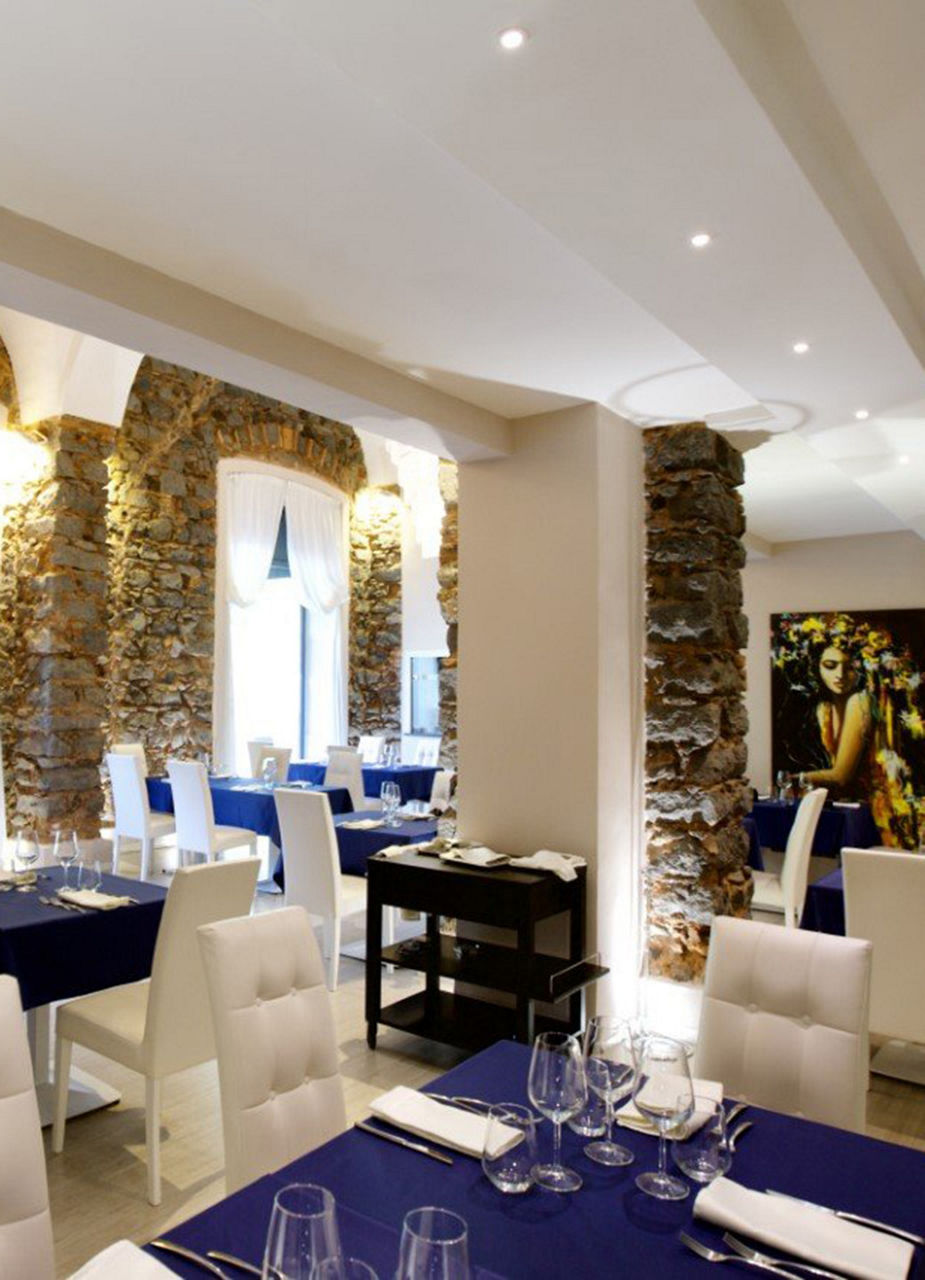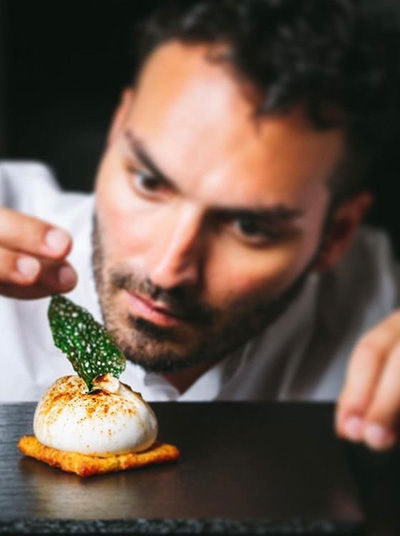 Stylish and Chocolossal
Behind the expansive gardens of the Villa Bellini lies "Due Pistacchi", another restaurant that combines creative experimentation, elegance, warmth, and culinary mastery. Homemade pasta, generous plates of antipasti, astonishing works of art, which the chefs conjure up with often neglected ingredients such as aubergine – all of this turns the menus (meat or fish) into a real pampering experience. As a fantastic side benefit, the arrangements of the plates offer a highly original spectacle. Thanks to the chocolate cake alla casa with pistachios, you're likely to round of the evening with a contented sigh.