In the Realm of the Polar Bears
Latitude 80 is where expeditions are tantamount to a journey into the splendour of nature and to sites steeped in history. During the summer months, the midnight sun hardly ever sets on Svalbard. This is when the ice recedes and ships can travel along the coast. The island group features pristine nature that excites with snow-capped mountains, calving fields of drifting ice and tundra in bloom.
Expeditions on land and by sea are a chance to watch walruses, arctic foxes, whales and (with a bit of luck) the "King of the Arctic", aka polar bear, in their natural habitat. Approximately 2500 polar bears are believed to live on the islands and in the extensive pack ice of the Arctic Ocean. Today, Svalbard is home to more polar bears than people. The latter largely live in research and mining settlements that can be viewed on one of the expeditions.
Facts & figures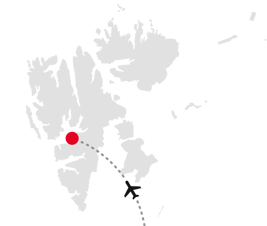 Flight time

4:50 h

Distance

3740 km

Country Code

+47

Airport
Language

Norwegian

Currency

NOK
Edelweiss tips for Svalbard
Related holiday destinations