The Land of Contrasts
The world's largest volcanic island in the North Atlantic comes with unbelievable diversity and untamed nature. Wild, rugged and up close, travel along Iceland's Ring Road, or adventure inland with an off-road vehicle. The countless waterfalls roar and rush over the moss-covered stones. The sulphur springs hiss smoke from the hot earth, and from the majestic Vatnajökull glacier, small and large icebergs calve in the glacial lagoon. Since the beginning of 2021, visitors to Iceland have witnessed a special, natural spectacle: The active Fagradalsfjall volcano, whose lava flows have slowly made its way through nature.
In summer, the lonely lunar landscape of the highlands attracts nature lovers for a discovery tour, who can also watch the cute puffins in the West Fjords and in the south of Iceland. Reykjavík is the ideal starting point to explore all this natural beauty and can be combined perfectly with our holiday destination Akureyri in Northern Iceland. You should also plan a visit to Reykjavík: Thanks to the manageable size, you don't need to rush. Painted houses shape the scene. Cosy cafés invite you to linger, and the capital also has a lot to offer in terms of culinary delights. It is also worth combining your trip with the Golden Circle and a visit to the Blue Lagoon.
Facts & figures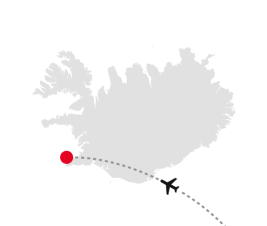 Flight time

03:55 h

Distance

2780 km

Country Code

+354

Airport
Language

Icelandic

Currency

ISK
Edelweiss tips for Reykjavik/Keflavik
Sightseeing in your Iceland holidays
Flights to Reykjavik/Keflavik
Related holiday destinations