Zurich Airport, 13 November 2015
Edelweiss presents new aircraft design
In future, Edelweiss aircraft will be seen in a new design. The new look supports the leading Swiss leisure travel airline's growth course, and underscores its origins. As well as the new aircraft design, Edelweiss will also modernise the interior of its entire Airbus A320 fleet and install a Wireless Inflight Entertainment System.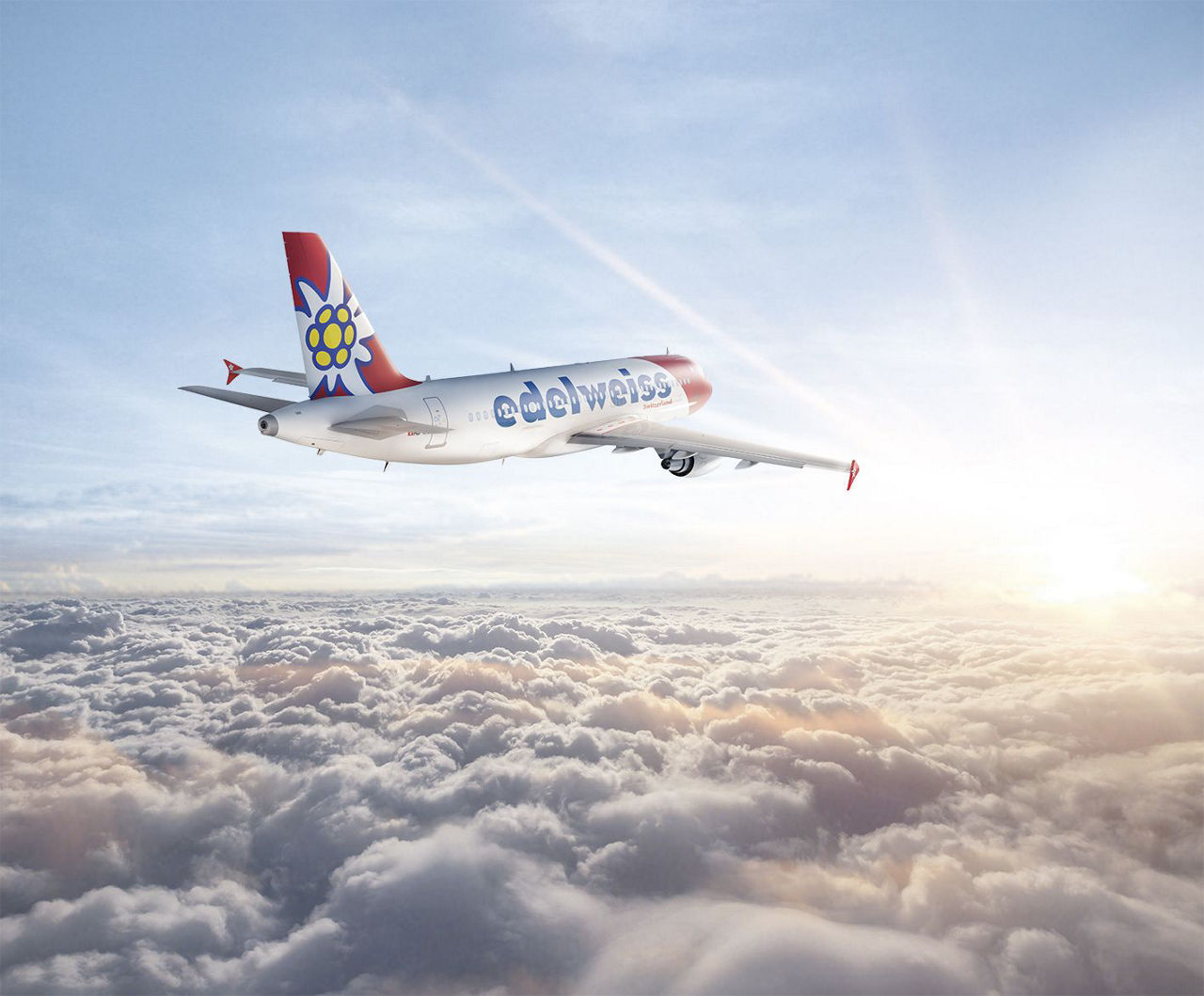 The Edelweiss aircraft will be seen in their new "clothes" in time for the airline's 20th anniversary. The current livery has remained the same since the company was founded. Bernd Bauer, CEO of Edelweiss: "We are proud of what we have achieved in the past, and we are taking this success with us into the future. We chose our new aircraft design to be an evolution, rather than a revolution." Familiar details such as the red noses on the aircraft will be left unchanged.
The most eye-catching details are the oversized Edelweiss flower on the tail fin and the addition of the word "Switzerland" on the aircraft. "We want to clearly express our Swiss origins. We provide connections to the loveliest holiday destinations in Switzerland, and we delight people with Swiss quality. And we want our aircraft to reflect this," he adds. The first Airbus A320 in the new design will start travelling on the Edelweiss network at the end of November 2015.
Wireless Inflight Entertainment System on the entire Airbus A320 fleet
Over the coming months, Edelweiss will also convert all six of its Airbus A320s. They are all being given a new cabin, which will increase people's anticipation of their holiday as soon as they board. The new seats look lighter, and offer greater comfort and more legroom.
At the same time, a Wireless Inflight Entertainment System will also be fitted to the entire Airbus A320 fleet. This will give passengers access to a tremendous range of entertainment options on their own laptop, tablet or smartphone via WLAN. The offer ranges from films, documentaries, TV series and music channels to a digital reading offer.
Edelweiss reintroducing flights to Mauritius on the 2016/17 winter schedule
As well as the new aircraft design, fresh interiors and modern Wireless Inflight Entertainment System, Edelweiss is also announcing a new holiday destination. From autumn 2016, Edelweiss will be flying non-stop to the dream island of Mauritius in the Indian Ocean twice a week. Flights to Mauritius can be booked from January 2016
Further information:
Andreas Meier
Head of Corporate Communications
Edelweiss Air AG
media@flyedelweiss.com