Flamenco, tapas and fiery hospitality
It is hard to conceive of a more picturesque sight: Seville with its abundant towers and palatial buildings offers a feast for the eyes. Mild temperatures, including winter, allow for plants such as date palms and olive trees to flourish, giving the city its tropical flair. Seville owes its port-city aura to the navigable river of Guadalquivir that runs through the city.
The capital of Andalusia is considered the cradle of flamenco, with daily dance performances staged in pubs, in the streets and at festivals. It is also said to be the birthplace of tapas which the sociable Spaniards like to serve with a glass of wine or a beer. A city trip to Seville is therefore an excellent way to recharge your batteries and unwind. It is also the ideal starting or end point for a round trip of Andalusia. There are many great places to discover such as Málaga, Ronda, Cádiz, and Jerez de la Frontera.
Facts & figures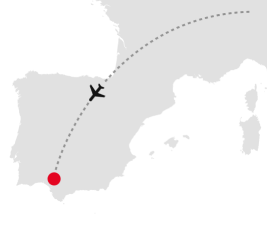 Flight time

02:30 h

Distance

1850 km

Country Code

+34

Airport
Language

Spanish

Currency

EUR
Edelweiss tips for Seville
Sightseeing in your Sevilla holidays
Related holiday destinations