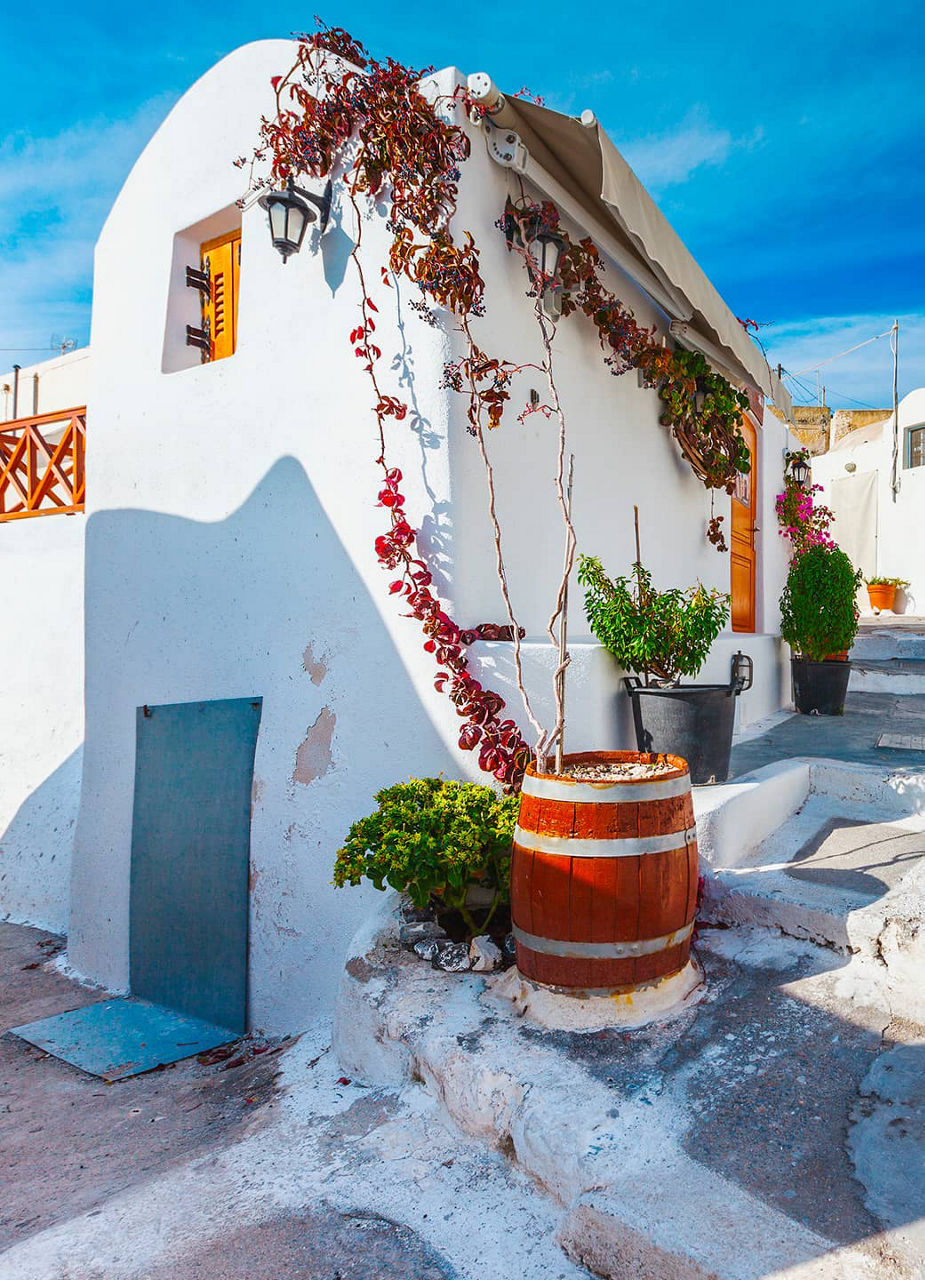 A Dream Made of Tuff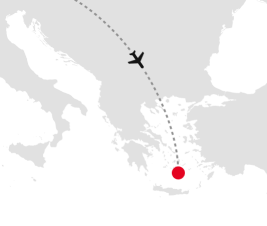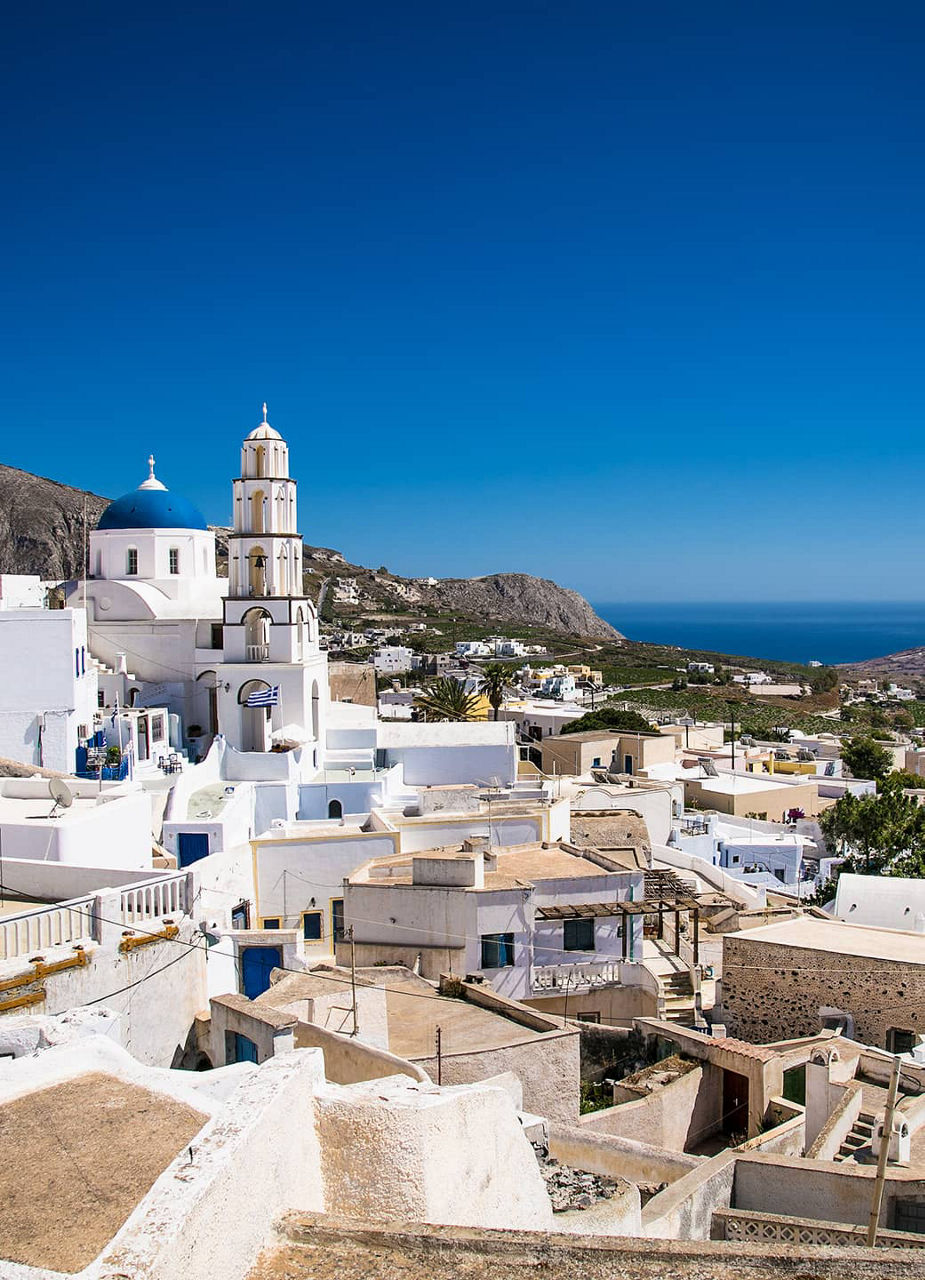 Cavernous Homes
You don't want to miss out on the beautiful sights featured on postcards, but you could really do without other travellers on your holiday photos? Then the village of Emporio in the south of the volcanic island of Santorini, which is just cautiously opening up to tourism, might be just the right spot for you. You may notice that the ground here is a little different. That's because it consists almost exclusively of tuff: volcanic igneous rock which, although solidified, is considered a soft stone. Due to these special circumstances, Emporio's early residents hardly ever built traditional houses, mostly opting for caves in the rocks instead.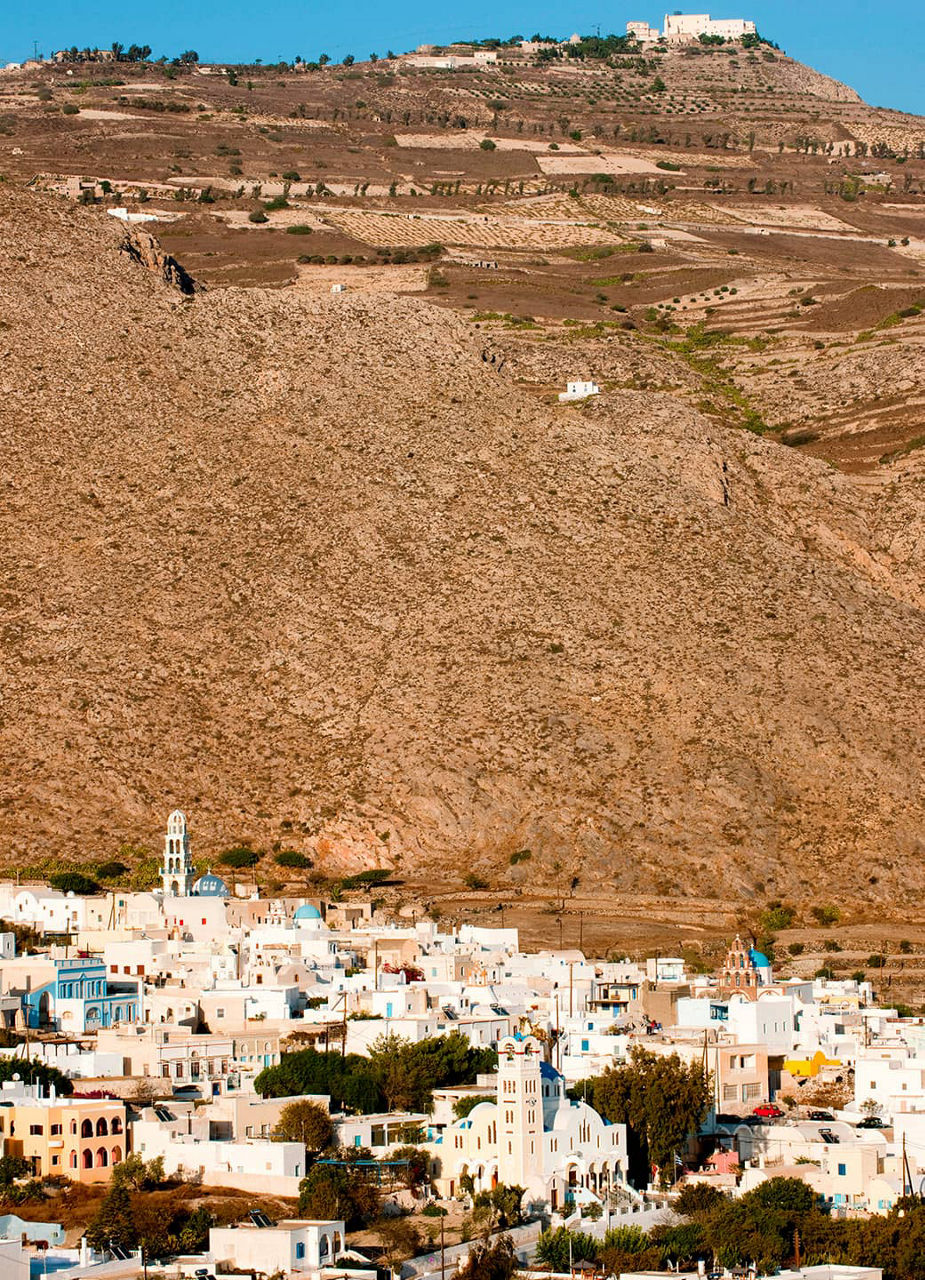 A Fairytale Ensemble
Later on, home construction moved outdoors as needed and storeys were added. Today, the town appears enchanted with its twisting alleys, hidden courtyards, and winding staircases. Emporio lies embedded between the mountain Profitis Ilias, the highest point on the archipelago, and the Aegean Sea, just 3 kilometres away. A Venetian fortress from the 15th century rises from the centre, with walls that exude the traditional charm of a Greek village. Here, crimson bougainvillea creep up the limestone-white walls in the summer months.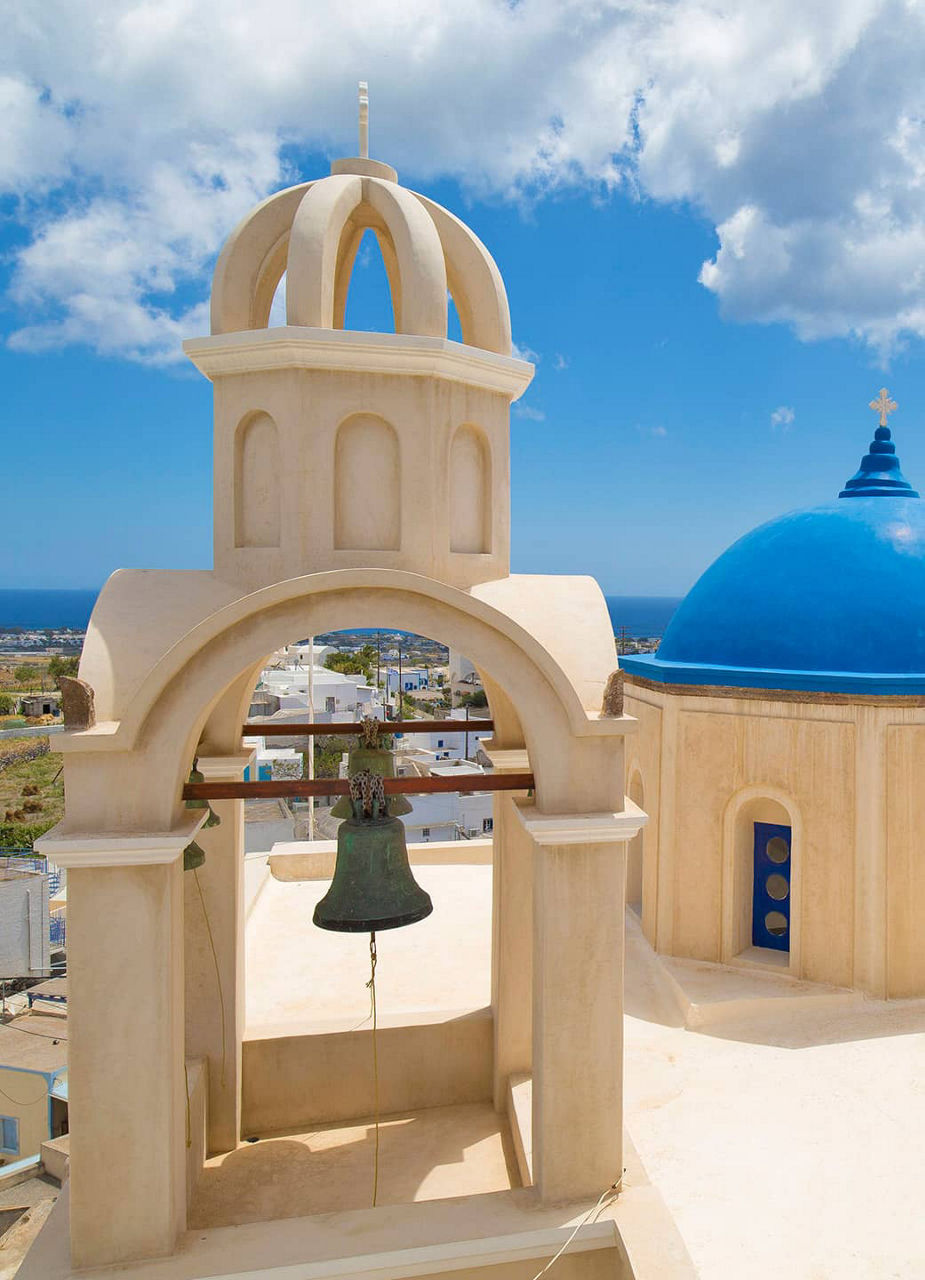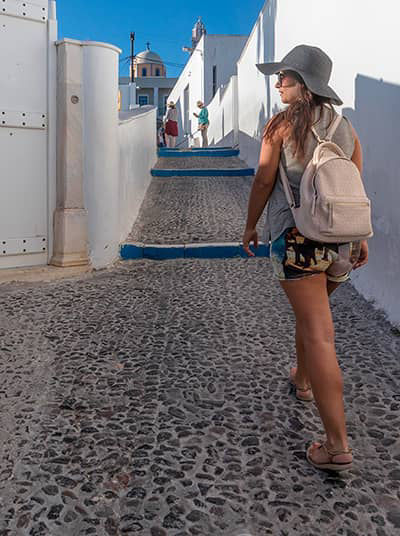 Storm and Heat Protection
The surroundings are aptly underlined by the hanging bells of the orthodox churches with their blue domes, transporting you back in time. It would hardly feel surprising if, instead of a human being, a little creature from Greek mythology walked out of one of the wooden cave doors and whisper "kali mera". The town's architecture boasts not only aesthetic, but also practical advantages. The narrow alleyways offer protection from island storms, the walls, painted white and up to 80 centimetres thick, ensure cool temperatures inside during the summer months.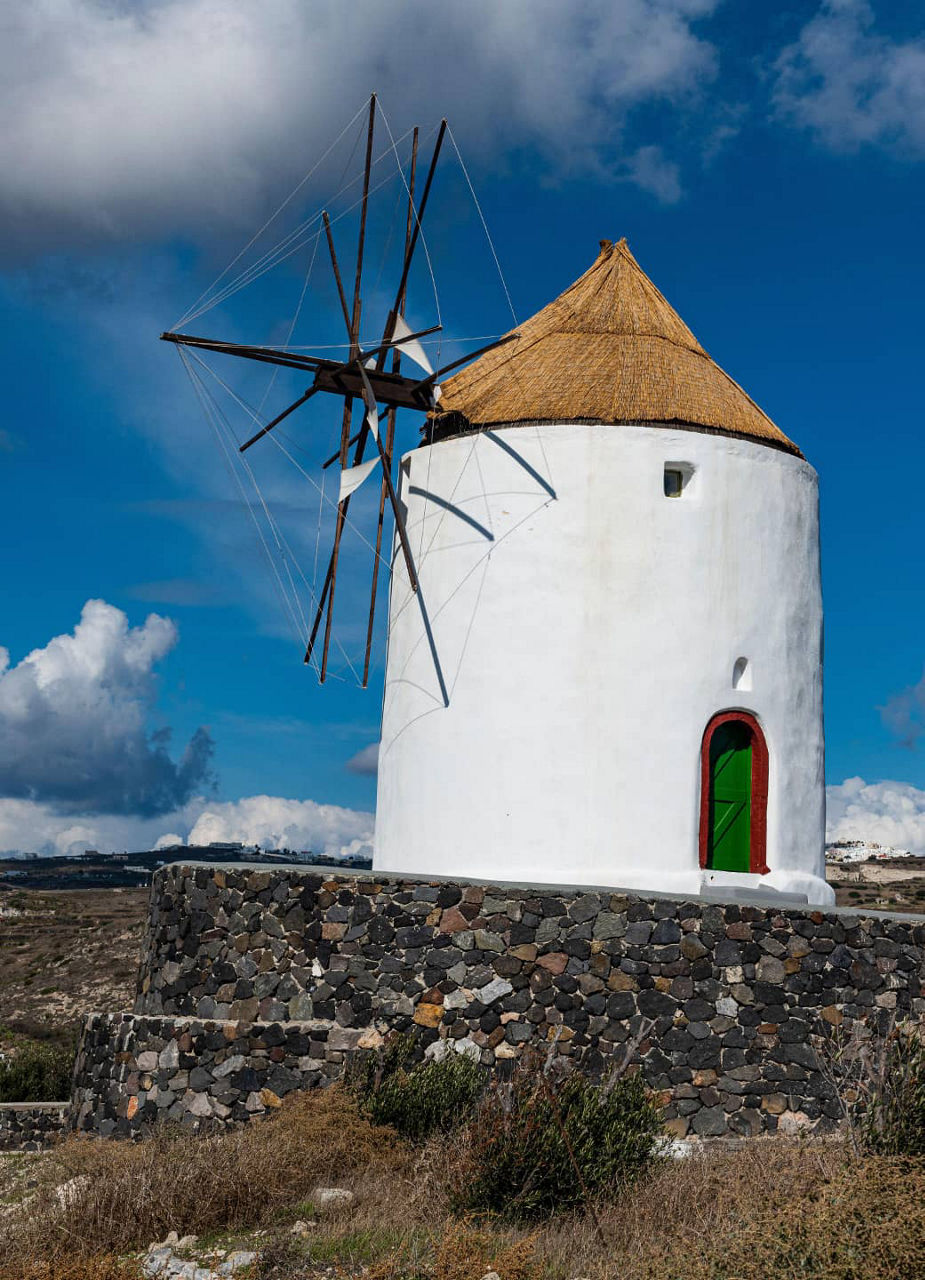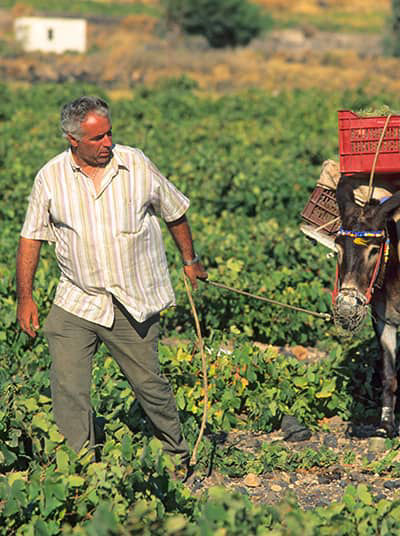 A Bonus for Vegetarians
If you do find the heat is getting to you, you can stop by one of the tavernas or kafenias for a refreshment. They prepare primarily vegetarian dishes – quite unusual for Greek cuisine –, partly because the volcanic ground on Santorini isn't suitable for livestock breeding. Mostly field crops such as tomatoes or beans, but also grains are cultivated here. Eight windmills in front of the gates of Emporio serve as a reminder of the way products used to be produced in the region. While the windmills are no longer operational, they help create a friendly and nostalgic ambience when visitors arrive at the village entrance.