Waves, mountains and volcanoes
Costa Rica is hard to match in diversity. Set between two oceans, this surfers' paradise is home to some of the world's most beautiful beaches. A mountain chain with several three-thousanders cuts across the country.
The capital San José is situated at over 1100 metres above sea level. It is an ideal starting point to get to the beaches, mountains and natural parks. In Costa Rica you can find absolute dream beaches on the Pacific as well as on the Caribbean coast. Variety from the beach life is offered by the numerous national parks with their variety of plants and animals, such as the Chirripò National Park. Here is the highest mountain of Costa Rica with 3'820 meters, the Cerro Chirripò. In the south, tropical national parks, such as Piedras Blancas, with springs, rivers, sandy beaches and cliffs, attract visitors.
Facts & figures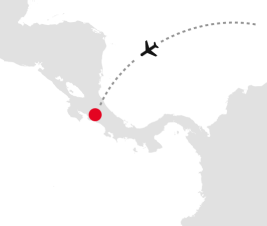 Flight time

12:00 h

Distance

10000 km

Country Code

+506

Airport
Language

Spanish

Currency

CRC
Edelweiss tips for San José (Costa Rica)
Sightseeing in your Costa Rica holidays
Flights to San José (Costa Rica)
Related holiday destinations