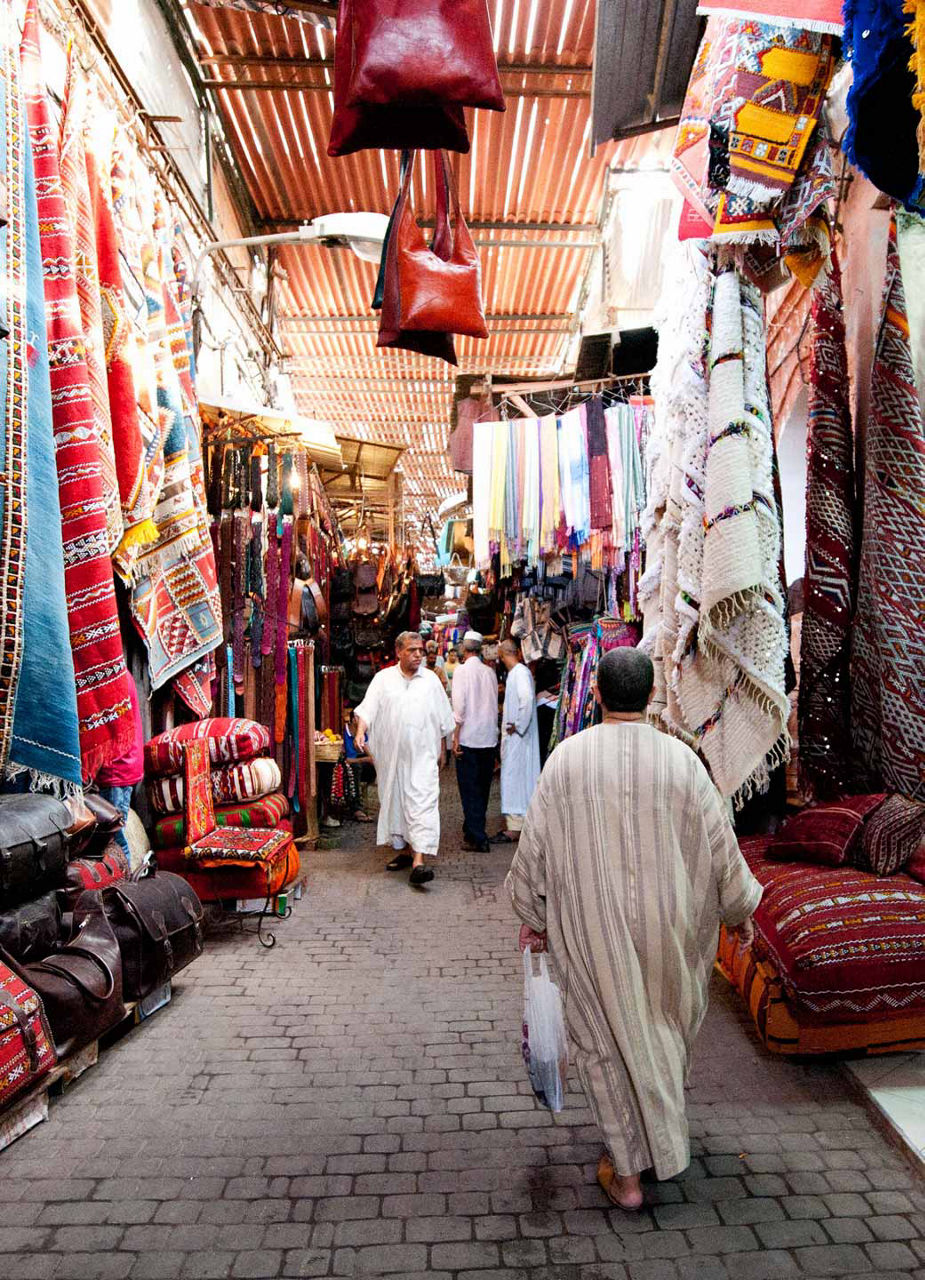 Haggle to Your Heart's Desire
The souqs are the heart and soul of Marrakech: markets that usually take place in narrow alleyways and spread over several quarters of the city. We'll show you the highlights of this magical labyrinth and give you a few tips on how to keep your cool while haggling.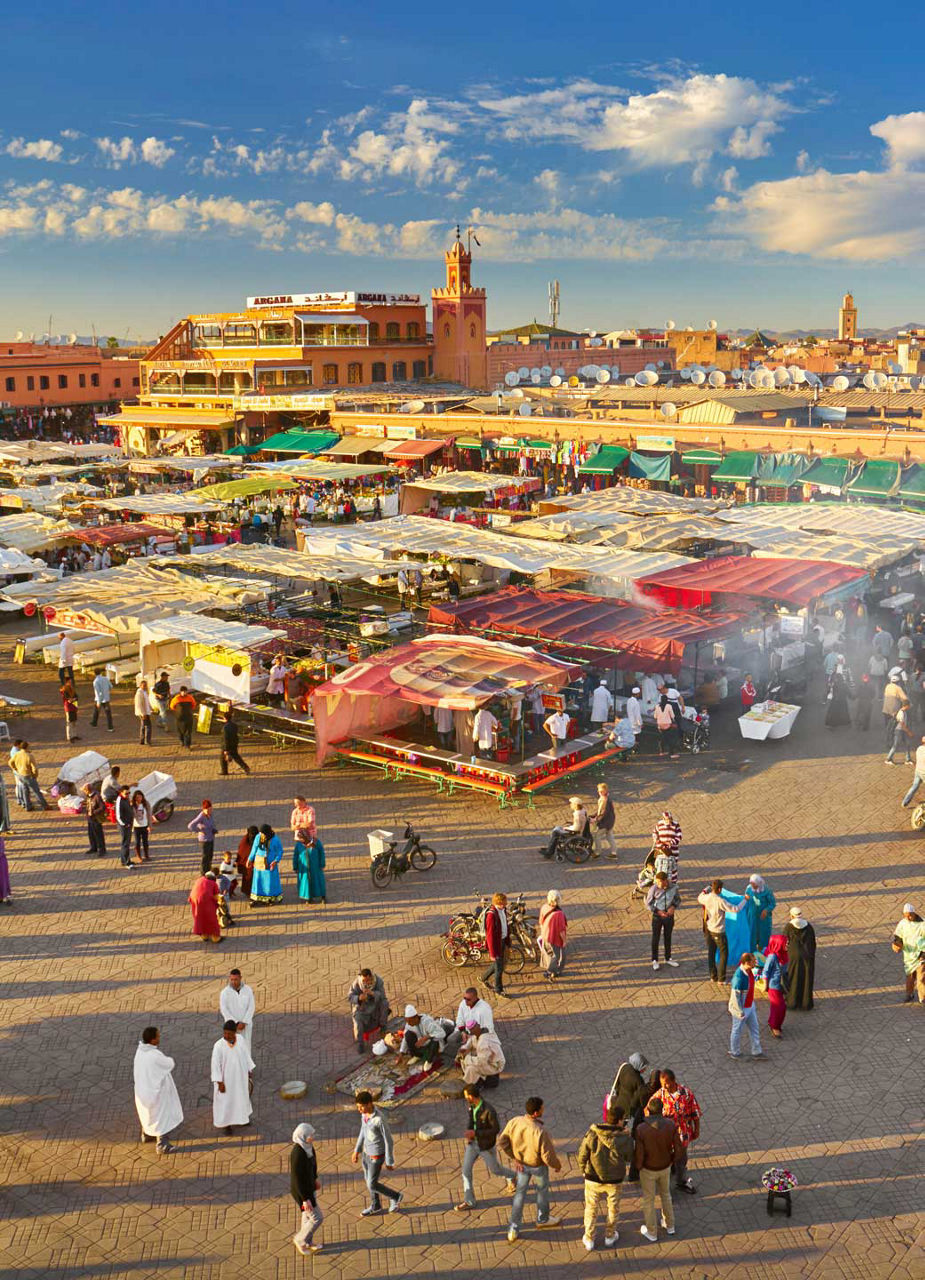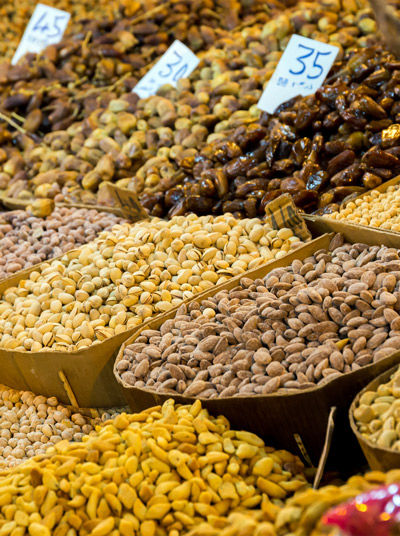 A Snack to Get You Started
Good provisions are the best preparation for an adventure. So stock up on salted almonds and freshly squeezed orange juice at the huge main square, Djemaa el Fna (quite literally: Square of the Hanged Men). This famous square became the first site to be inscribed on UNESCO's list of Masterpieces of the Oral and Intangible Heritage of Humanity back in 2001. This traditional snack will give you the energy to spend hours strolling and browsing — and also to haggle persistently once you have discovered something you would really like to have. A little warm-up exercise: show your confidence here and make sure they're not stretching your juice with sugary water.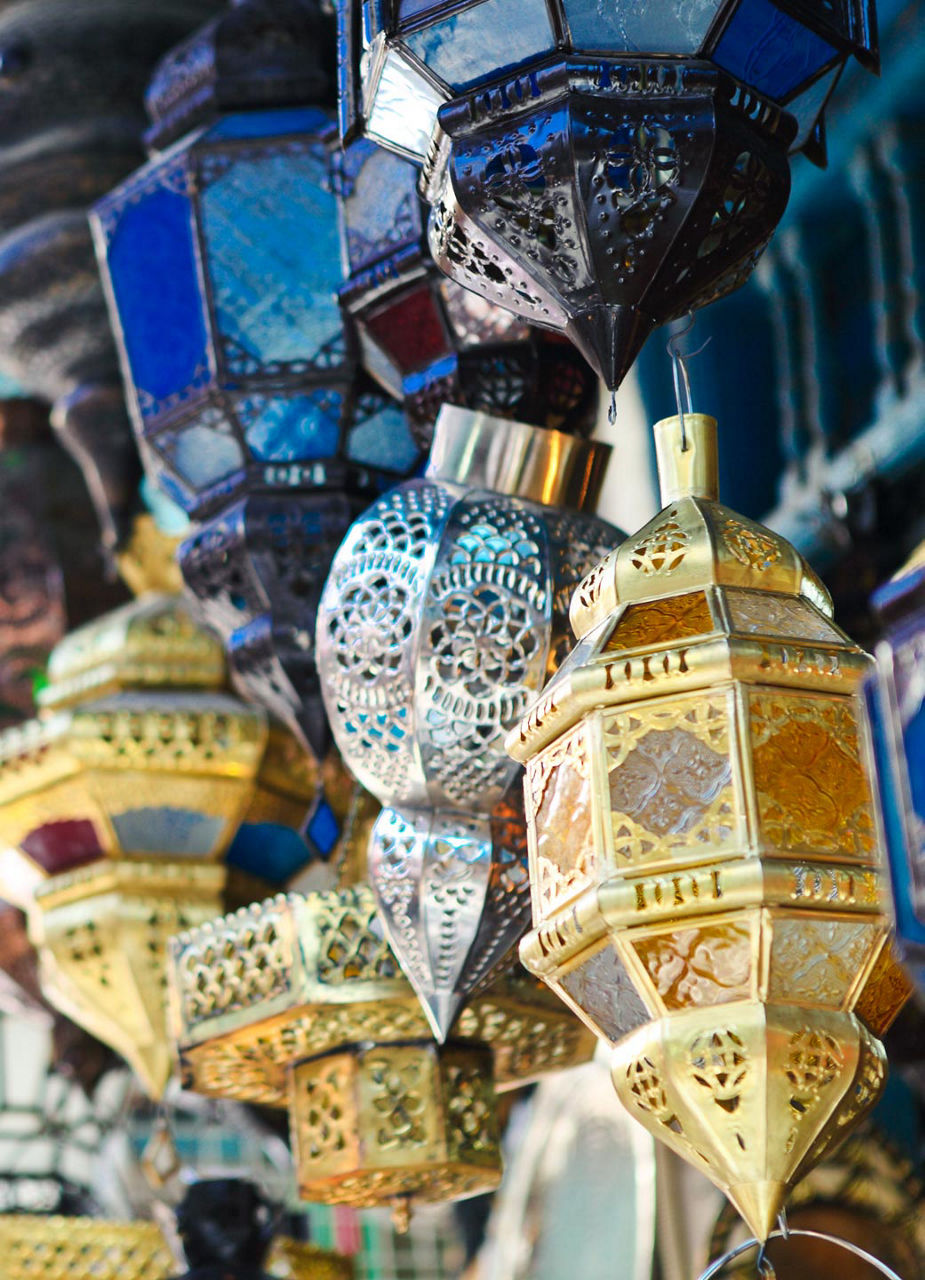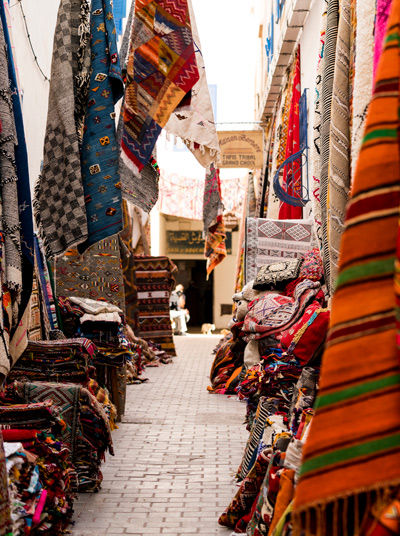 And off We Go!
The souqs are a veritable jungle of temptations: jewellery, shoes, clothes, and food — all squeezed together, glittering, and emitting beautiful scents. The streets selling typical oriental lamps, furniture, and carpets are a particular highlight. Does it remind you of stories from the Arabian Nights? Definitely! In an almost magical way, the most unexpected depths can open up behind many a narrow shop door. Some carpet shops extend underground under entire blocks of houses. So, if you find something you like, be sure to get it while you can as it is unlikely you will manage to find the same shop again — at least not without a local guide.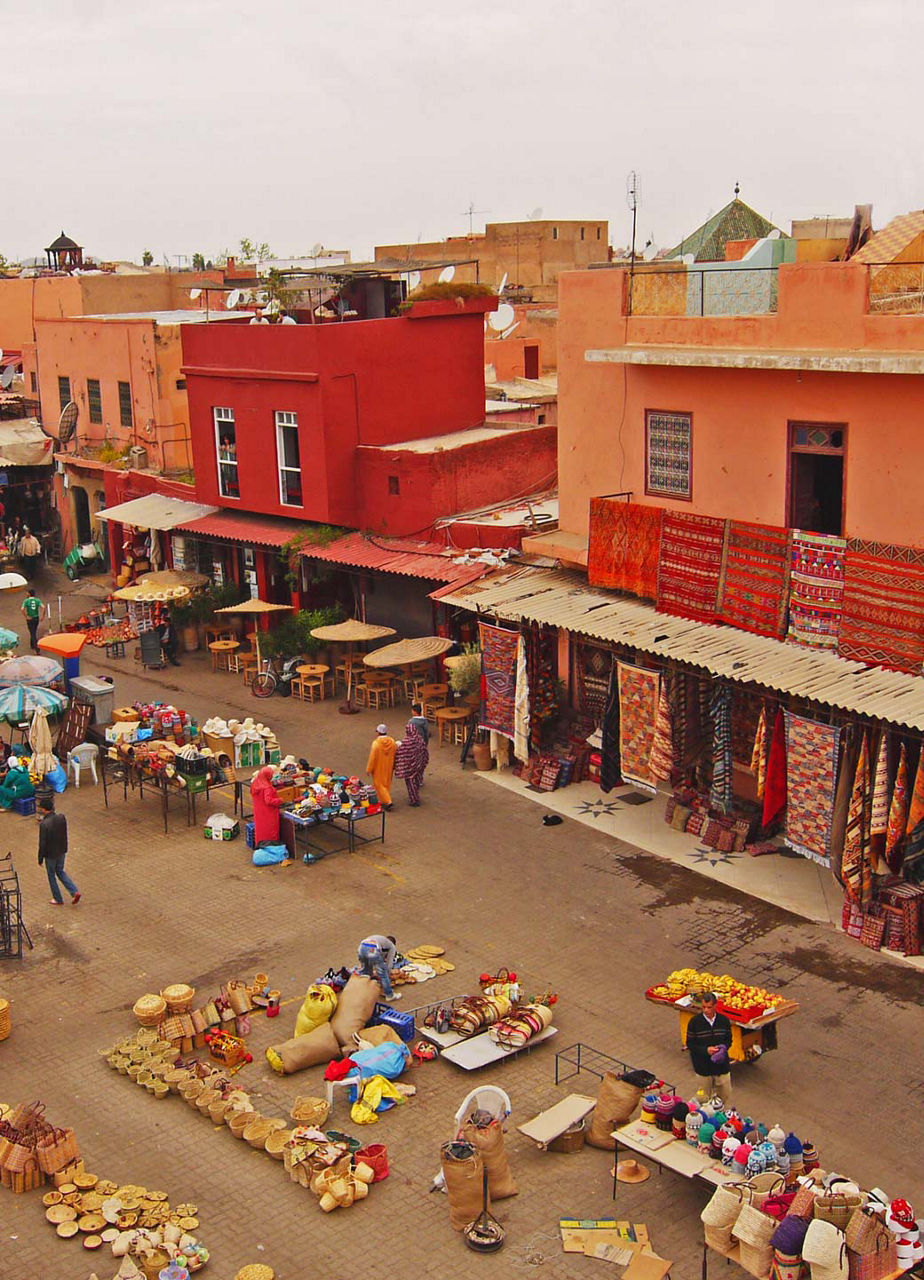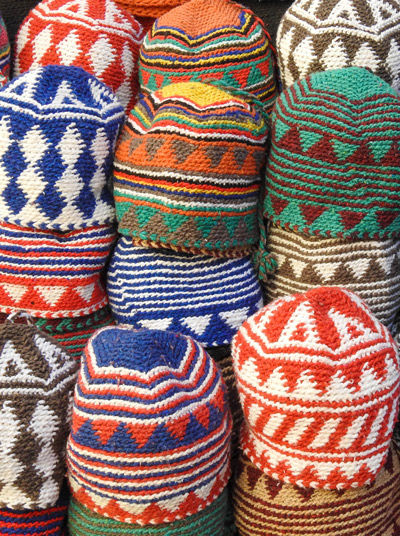 Mountains of Hats and a Lunch Break
Once you've been immersed in the maze and shadows of the bustling alleys, the Derb Rahba Lakdima will seem like an unexpected clearing — with its very own mountain range! That is because the rectangular square features mountains of colourful woollen hats that the traders knit them themselves while loudly advertising their wares. The roof of the Café des Épices is the perfect place from which to watch the hustle and bustle below, all while enjoying a kind of cappuccino known locally as 'mis mis'. If you're in need of a break and refreshment, the tajines, a kind of one-pot stew, are excellent here.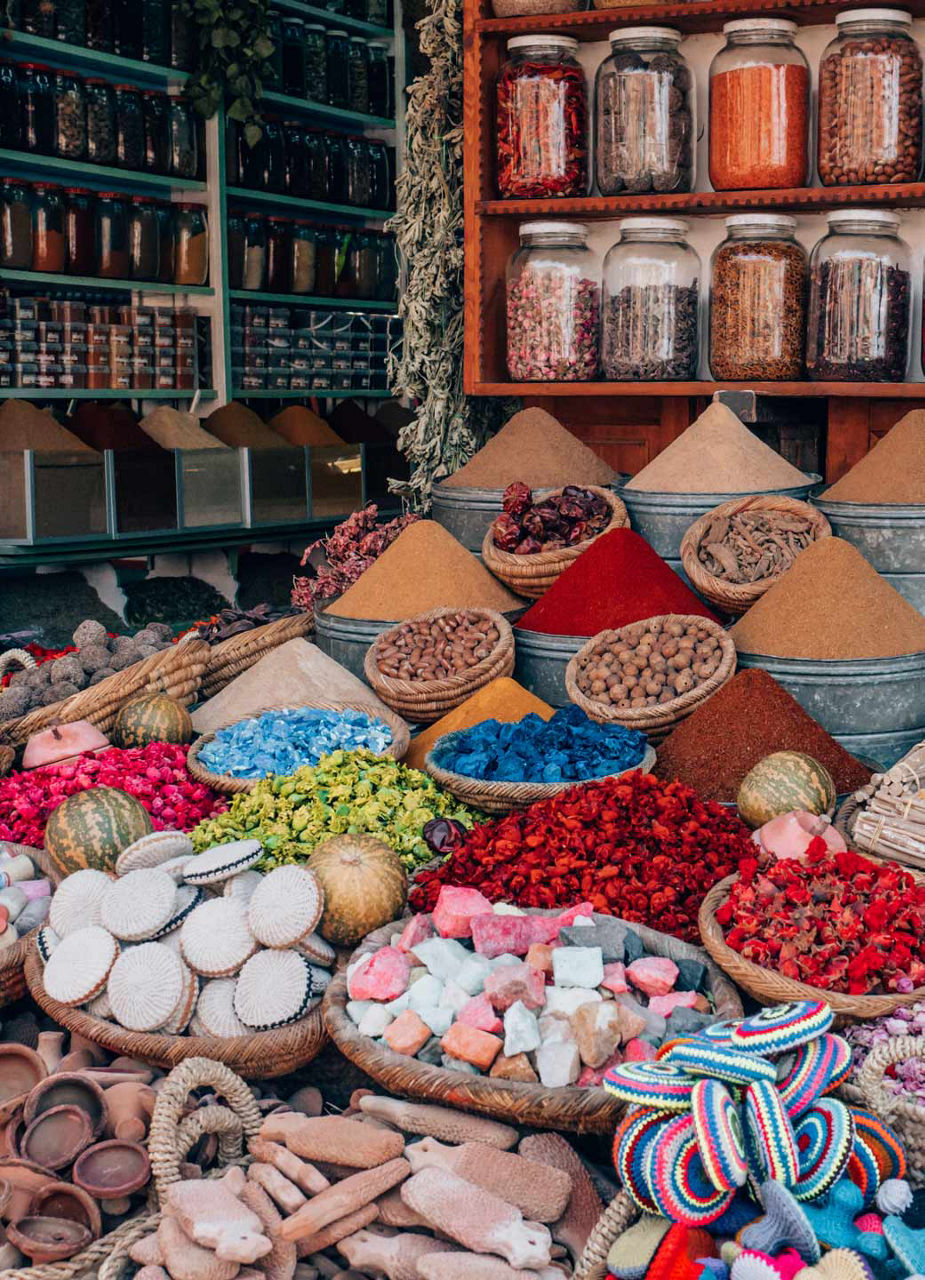 The Art of Haggling
The fragrant and colourful spice shops are a very special sensory experience. But no matter whether you are looking to get a bag of nutmeg, an embroidered scarf, or enough wares to entirely redecorate the inside of your home, one rule always applies: you need to haggle! There is no need to feel guilty, no matter how good an act the trader puts on, and even if you have accepted a free cup of tea. One thing is sure: you are not obliged to buy anything. If in doubt, remember that the real value of the product is usually only about 10-20 per cent of the first price you're given.