Beach, culture and party time
Antalya, situated in southern Türkiye, is a popular destination for seaside holidays – and unsurprisingly so. From relaxed seclusion to pure entertainment: there's a beach to suit every taste and occasion. But besides sun worshippers, Antalya is also a great place for water sports enthusiasts, culture aficionados and partygoers.
Antalya is a good starting point to discover the coast and the natural wonders of southern Türkiye. By sailing ship, boat or car you can reach popular holiday resorts like Belek or Side along the Turkish Riviera. In the hinterland there is the ancient ruined city of Termessos as well as Hierapolis. The white limestone terraces of Pamukkale are an impressive natural spectacle. Or you discover the Taurus Mountains on a jeep safari.
Facts & figures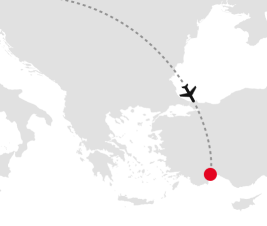 Flight time

02:55 h

Distance

2270 km

Country Code

+90

Airport
Language

Turkish

Currency

TRY
Edelweiss tips for Antalya
Sightseeing in your Antalya holidays
Sightseers won't want to miss Kaleiçi, also known as Old Antalya. The Saat Kulesi clock tower is a popular venue for visitors and residents. And when sauntering along Kaleiçi's narrow cobbled streets, small cafés offer authentic Turkish food to satisfy any potential hunger pangs.

View in maps

The two waterfalls created by the Düden River in Antalya are definitely worth visiting. The Upper Düden Waterfall includes a lovely park and a cave behind the waterfall. On reaching Lara, the Lower Düden Waterfall cascades some 130 feet over high cliffs before reaching the sea.

View in maps

Anyone eager for a dose of action and adrenaline is advised to take to the water: Köprülu Canyon National Park offers great opportunities for white water rafting down the canyon.

View in maps
Related holiday destinations