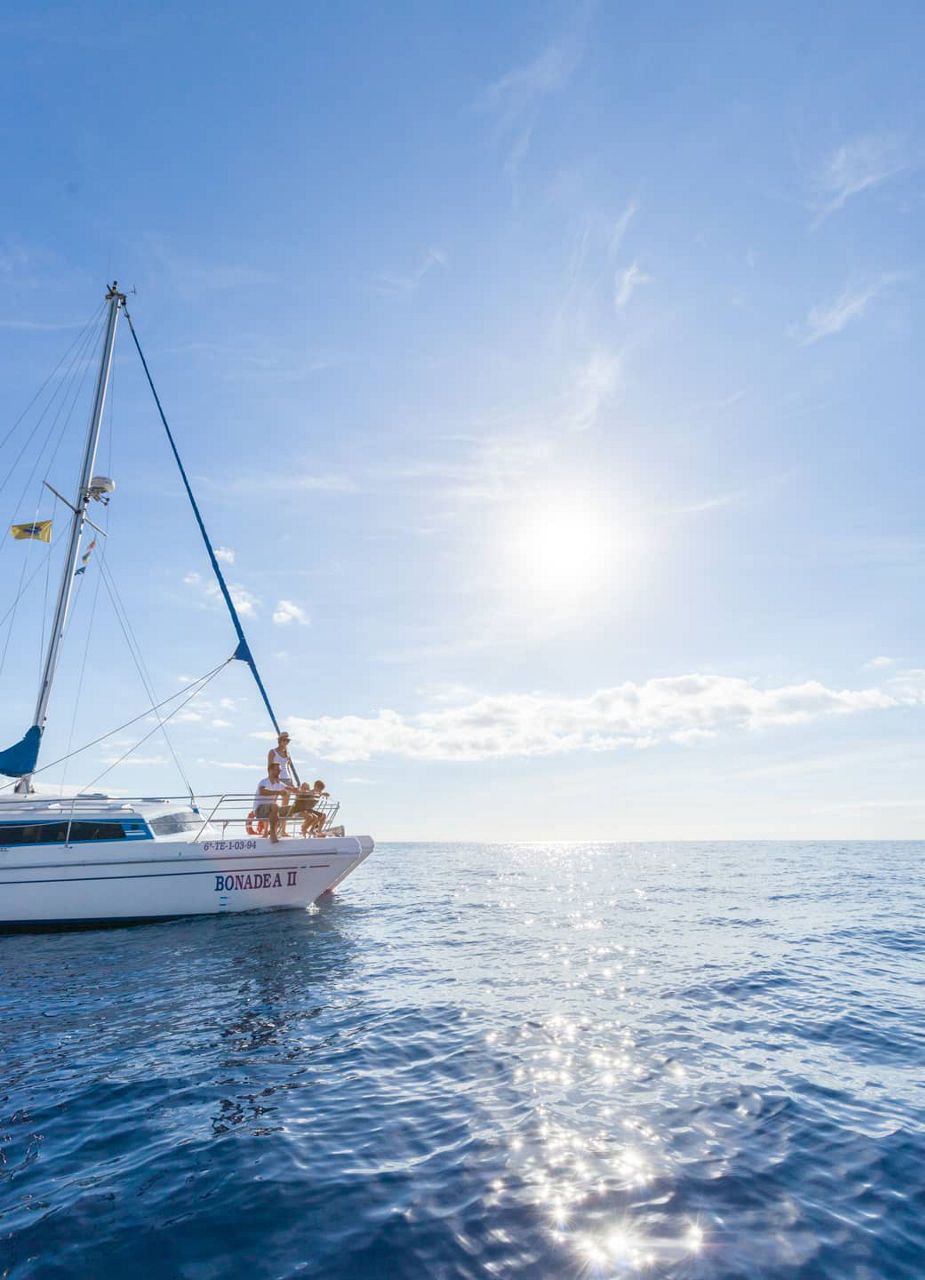 Squid — you like them, one way or another. Visitors to Tenerife love them stuffed, fried, and cooked, often with spicy green chillies and papas arrugadas, the somewhat wrinkly boiled potatoes. Short-finned pilot whales, on the other hand, like them simply in huge quantities. The whales that are part of the dolphin family, consume up to 45 kilos of them a day. To do this, they hunt during a dive at depths of up to 1,000 metres before coming back up to the surface after just under half an hour to catch their breath.
Europe's first Whale Sanctuary
Visitors who book one of the whale-watching tours off the west coast of the Canary Island are nearly guaranteed to spot their small dorsal fins among the waves of the Atlantic: they look like stylised waves with a drip at the end. 200 of these up to five-metre-long pilot whales live permanently in the area, as well as numerous dolphins and even some sperm whales. In early 2021, the internationally renowned organisation 'World Cetacean Alliance' designated the 500-metre-wide Teno-Rasca marine strip as Europe's first certified whale sanctuary and a whale cultural heritage site.
An Island With a Fiery History
The protected area stretches a good 20 kilometres from Teno in the northwest to Punta Salema in the very south. In between are the up to nearly 500-metre-high cliffs that gave the town of Los Gigantes its name, the famous light-coloured beaches of Playa de las Americas and Los Cristianos, and bays with black volcanic sand. Further inland, at 3,715 metres, the Pico del Teide is the highest mountain in Spain, and the third highest island volcano on Earth: when measured from the seabed, it even measures 7,500 metres. Tenerife's fiery past means that the sea bed drops off very suddenly off the coast.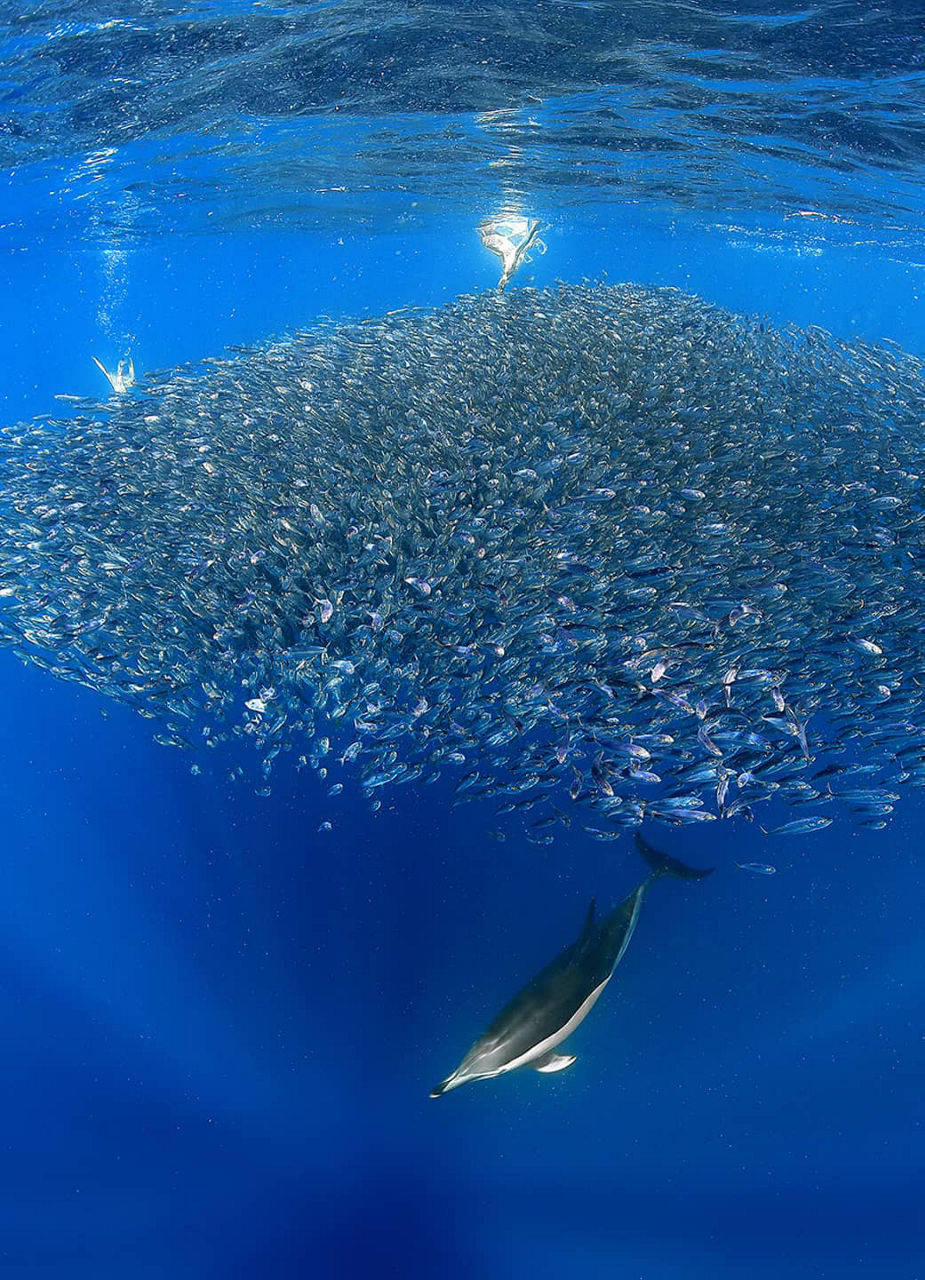 The Sperm Whale's Call
With a bit of luck, you will get to see fin, sei, and Bryde's whales as well as small orcas (a member of the dolphin family) within just 15 minutes of setting sail. Grown orcas (aka killer whales) are a rarer sight. Even the odd blue whale has been spotted. At a length of up to 33 metres and a weight of up to 200 tonnes, it is the heaviest mammal on Earth. But what everyone on a whale-watching tour hopes most is to get the chance to take a photo of a 20-metre-long sperm whale majestically raising its tail out of the water as if in greeting.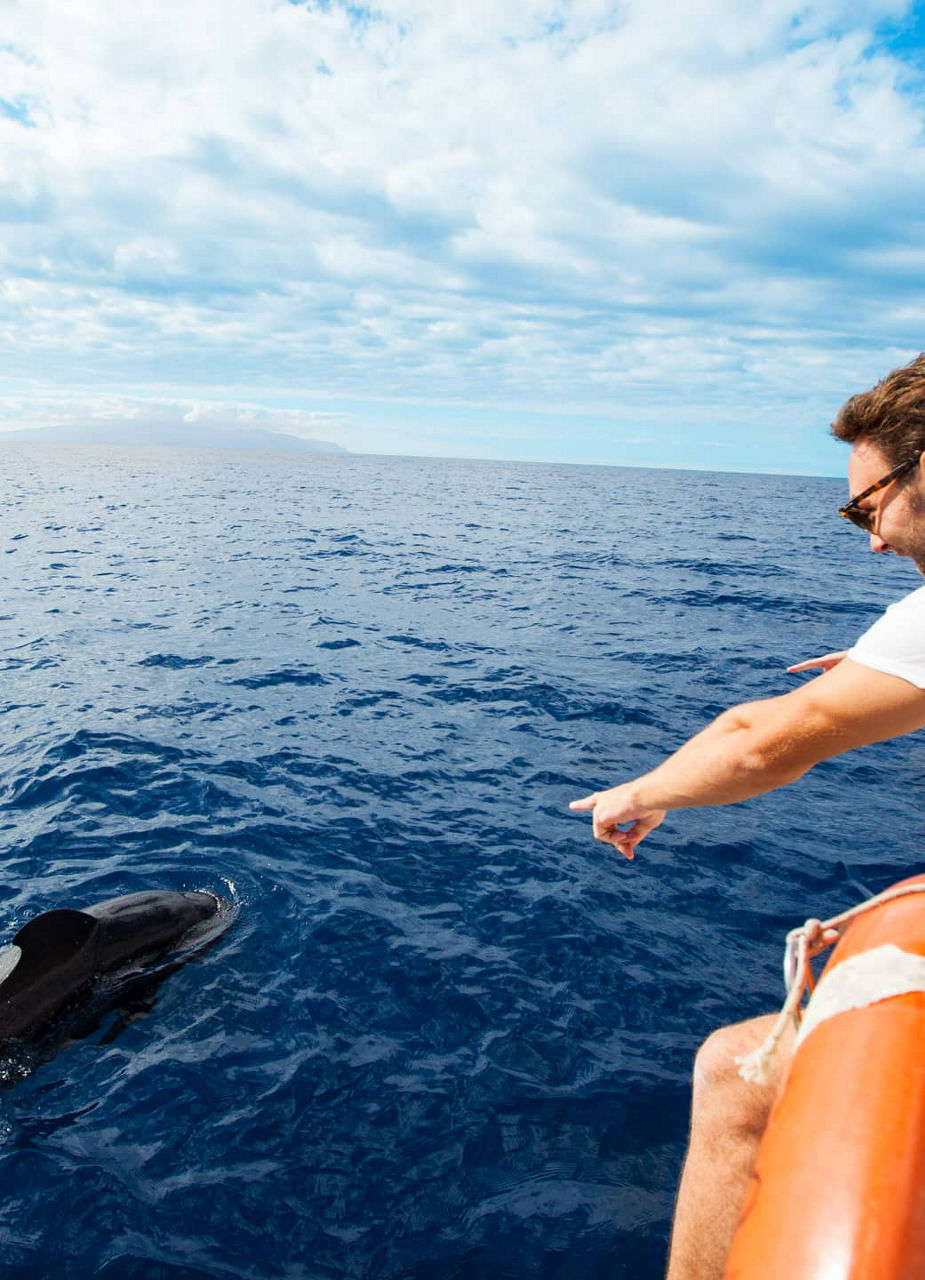 Whales Love Warm Water
In the depths, maritime kelp forests sway on rocky reefs, providing a home to a wide variety of sea turtles. You can see elongated trumpet fish, the blue spiny mackerel, or the spherical, spotted brown-backed hogfish. Also, the sea between Tenerife and the east coast of Gomera is usually calm and the water warm, which regularly attracts migratory species that pause for rest in the strait in spring and autumn. Almost half of all known whale species can be spotted here.
Strict Rules in the Protected Area
Whether it is a catamaran, glass-bottom boat, yacht, sailing boat, or rigid inflatable boat, a strict code of conduct applies to organisers and guests on board to protect both the ecosystem and the animals. There is, for example a limit of three boats at any one time within the protected area and they have to maintain a distance of at least 60 metres from whales. They must switch off the engine as soon as a single animal or even several have been spotted at a distance of 500 metres. No matter how excited they may be, participants are required to remain calm so as not to disturb the sensitive animals.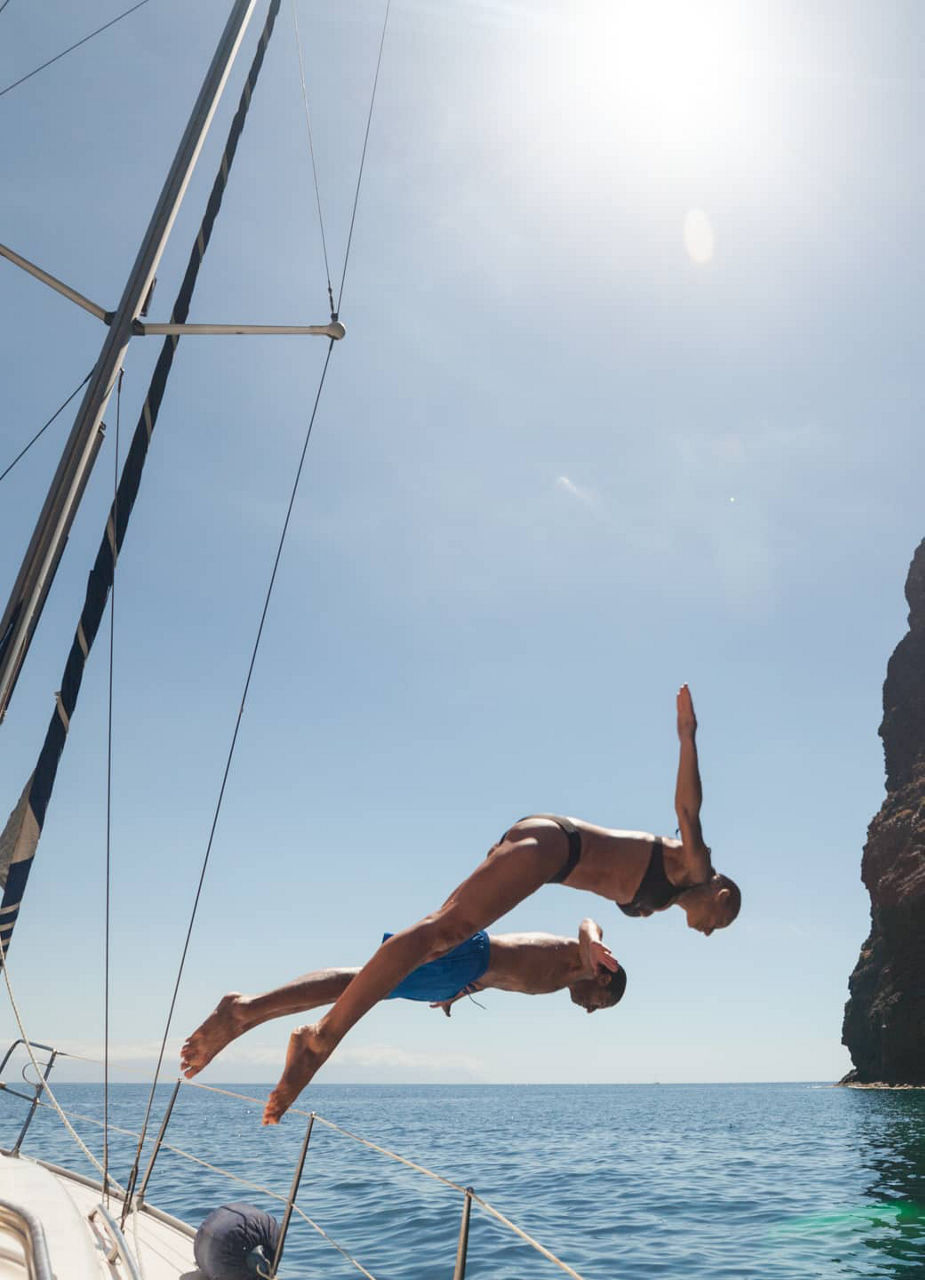 Off The Boat, Into The Sea
Certified tour operators whose boats fly the 'Barco Azul/Blue Boat' flag are sure to observe these regulations. If there are other things you long to do on your holiday, there is good reason to be happy: the tours lasting several hours usually include an extensive stop-off to allow passengers to swim and snorkel as well as have a snack. You may even get to have freshly prepared calamari or squid 'pulpo'. As you surely remember, people like squid, one way or another.
Paragraph 6 - Photo by Reinhard Dirscherl on Alamy
Paragraph 7 - Photo by SPET Turismo de Tenerife S.A.