The Island with the Colourful Reggae Lifestyle
Jamaica's Caribbean joie de vivre and the infectious reggae vibes ensure an incomparable and laidback vacation experience. The island state captivates with a lively combination of inspiring music, multifaceted art, spectacular scenery, and the warm-hearted nature of its people. To discover the positive attitude towards life and the Caribbean flair of the country, Montego Bay is an ideal starting point. There, sport enthusiasts are kept entertained by a round of golf or river rafting on the Martha Brae River.
Jamaica charms nature lovers with impressive jungle landscapes, idyllic waterfalls, and unique fauna and flora. No matter where you are, turquoise waters and paradisiacal sandy beaches are never far away. Moreover, the island's underwater world is colourful, diverse, and has a lot to offer for divers and snorkelers alike. Those looking for action on the water instead can find great conditions for various water sports in Mammee Bay near Ocho Rios.
Facts & figures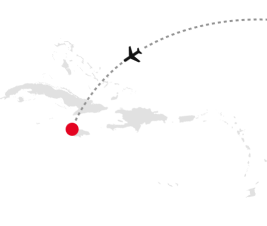 Flight time

11:00 h

Distance

8520 km

Country Code

+1-876

Airport
Language

English, Jamaican Creole

Currency

JMD
Edelweiss tips for Montego Bay
Sightseeing in your Jamaica holidays
Related holiday destinations