Entertaining attractions near spectacular natural wonders
For many, a holiday in Las Vegas can be seen to encompass the following agenda: blackjack – partying – hangover. Although this dazzling city thrives on such clichés, it has plenty of other qualities worth discovering. The casinos, countless attractions and the incredibly entertaining shows make the Las Vegas trip unforgettable. Temperatures in Las Vegas are mild to hot depending on the season. The only time it gets a little chilly is at night.
If you have a more time available, you can use the glittering metropolis as a starting point for excursions in the surroundings or a trip to the USA. The gorges of the Grand Canyon and the Colorado River can be admired by helicopter flight. Afterwards the landscape is explored on foot. The coast of California can be discovered by car on the famous Highway 1 to San Diego. The second largest city of the Golden State invites you to stay.
Facts & figures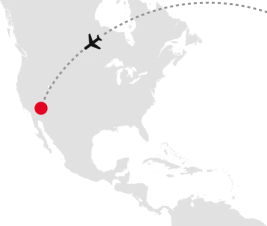 Flight time

11:00 h

Distance

8687 km

Country Code

+1

Airport
Language

English

Currency

USD
Edelweiss tips for Las Vegas
At Ellis Island Casino & BBQ you can enjoy the most tender ribs and freshly brewed beer. A dream - even for a small budget.
Sightseeing in your Las Vegas holidays
Related holiday destinations