Beach time with lots of sun and Cypriot culture
The port town of Larnaca in Southern Cyprus is famous for its lively nightlife right by the sea and is also the oldest city on the Mediterranean island. This fact is apparent not only in Larnaca's wealth of old buildings, but also in the pride the residents take in their city's ancient history.
Around Larnaca and the nearby Ayia Napa you will find beautiful sandy beaches that invite you to swim, snorkel and relax. The year-round mild climate allows for relaxing holidays in Cyprus at any time of the year. The bathing holidays should be between June and October - otherwise the water temperature can drop below 20°C. Those who prefer to stay dry can go on a discovery tour in the hinterland or enjoy a game of golf.
Facts & figures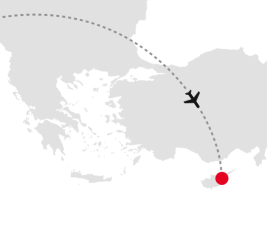 Flight time

03:15 h

Distance

2510 km

Country Code

+357

Airport
Language

Greek, Turkish

Currency

EUR
Edelweiss tips for Larnaca (Cyprus)
Sightseeing in your Cyprus Holidays
In Larnaca's old town there are several sights to discover. One such must-see is the Church of St. Lazarus, which has its origins in the 9th century.

View in maps

Especially beautiful beaches around Larnaca: Mackenzie Beach, Nissi Beach and Fig Tree. The latter is well protected from the wind by a rock formation in front of it.

View in maps

During the winter months there is a special natural spectacle to admire at the salt lake: each year on their migratory passage through Cyprus, hundreds of pink flamingos visit the Larnaca Salt Lake.

View in maps
Flights to Larnaca (Cyprus)
Related holiday destinations