Taking flight in the holiday paradise of Tanzania
Kilimanjaro, the "Roof of Africa", draws nature lovers from around the world to its imposing snow-covered peak. A trek up the highest mountain in Africa has made the bucket list of many a nature and hiking enthusiast for good reason. The area around Kilimanjaro serves as the perfect starting point to discover the vast steppe landscape and the incredible wealth of animals that Tanzania boasts.
In the country's smallest national park, Arusha National Park, you can still enjoy a good view of Kilimanjaro. At the foot of the imposing Great Rift Valley lies Lake Manyara National Park. If you're lucky, you might catch a glimpse of one of the rare tree-climbing lions. A canoe trip on Lake Manyara is also highly recommended. Nearby, you can pay a visit to the Maji Moto hot springs or the Ngorongoro crater. The latter is a wonderful natural monument in the Ngorongoro Conservation Area, home to one of the biggest predator populations in Africa. Finally, you won't want to miss out on an excursion to the Serengeti National Park, famous for its annual animal migration, and the Tarangire National Park. Absolute must-see highlights on a round trip through Tanzania.
Facts & figures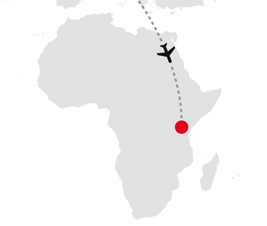 Flight time

08:10 h

Distance

6706 km

Country Code

+255

Airport
Language

Suaheli, English

Currency

TZS
Edelweiss tips for Kilimanjaro
A visit to the Edelweiss Coffee Estate is very worthwhile. The farm is a family-run business with more than 60 years of experience in coffee cultivation and trade. You can also stay overnight at the farm and enjoy the breathtaking views of the Mbulu Highlands and the Ngorongoro Crater.
Sightseeing in your Kilimanjaro holidays
On an exciting safari, you'll have the chance to experience up-close encounters with Africa's "Big Five": lions, leopards, elephants, rhinoceroses, and buffalos. Every one of the many national parks comes with its own unique appeal.

Discover the Big Five

During the natural spectacle of the animal migration that takes place in the Serengeti National Park, more than a million gnus, zebras, gazelles, and big cats make their way from the pastures of the Serengeti to the Masai Mara National Reserve. Outside of the Serengeti, you can find the highest concentration of wildlife in the Tarangire National Park.

View in maps

After thrilling safaris in the northeast of Tanzania, the Edelweiss holiday destination of Zanzibar offers divine beaches and complete relaxation. A great combination for a fascinating and varied round trip through Tanzania.

Zanzibar
Related holiday destinations