The jewel of the French Atlantic Coast
Connoisseurs will really enjoy themselves in Biarritz. The sun-drenched little town in the south of France not only offers blue skies and healthy sea air; the historic town centre and chic beach promenade have many excellent restaurants just waiting to be discovered. This little corner of the world on the Basque coast is perfect for a well-deserved break to enjoy the sea and warm, sunny days.
Holidaymakers can forget their day-to-day lives here with a swim at the sandy beaches, the many cultural events, and the French joie de vivre. Surfers will also find first-class conditions in Biarritz. With the largest waves on the French Atlantic coast, you'll be sure to rack up some unforgettable sessions! Biarritz is not far from our Spanish holiday destination Bilbao. It's the ideal destination to include in your tour of the Basque Country, the border region between France and Spain.
Facts & figures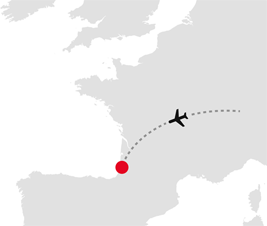 Flight time

1:45 h

Distance

890 km

Country Code

+33

Airport
Language

French

Currency

EUR
Edelweiss tips for Biarritz
Sightseeing in your Biarritz holidays
Long sandy beaches, breathtaking coastal trails and top surf spots. You'll find numerous beaches around Biarritz, surrounded by a dreamlike, scenic backdrop. The Grand Plage with its colourful changing cabins is legendary.

The French Atlantic coast is lined with dramatic cliffs, rugged coastlines, and charming seaside resorts. Whether you're into sports, with your family, or on a gourmet mission, there's something here for everyone looking to recharge and relax.

The rocky reef Rocher de la Vierge is considered the landmark of Biarritz. A footbridge leads you to the famous statue of the Madonna, from where you have wonderful panoramic views of the Bay of Biscay.

Food lovers take note: the market halls "Les Halles" have something to offer for every taste. From fruits, vegetables, fresh baked goods to a glass of wine with a matching apero snack - you can spend hours here and leave the halls satisfied and overjoyed.

View in Maps

In addition to the vibrant coastal town of Biarritz, the French Basque Country is also well known for its peaceful, rolling backcountry. To learn more about Basque culture, we recommended combining your trip with the Spanish city of Bilbao.

Bilbao
Related holiday destinations