UM Service: Ensuring your child arrives safely
The Unaccompanied Minor Service (UM Service) for children travelling alone is intended for children between the ages of 5 and 12, but can also be booked for children up to the age of 17. By the time our crew welcomes your child on board, they will have already passed through all the airport stations in good hands. Your child will receive a shoulder bag at the check-in desk, which contains all the important travel documents they need for the flight. They are not left alone to go through customs and security checks; they are accompanied by a member of the ground staff. We also pamper our young guests on board. When they arrive at their destination, the ground staff will be waiting to meet them and will hand them over to the designated caregiver. Your child will never be left on their own for a moment and can count on a friendly companion. Even in the event of unforeseen flight changes, your child will be well looked after and the contact persons will be informed immediately.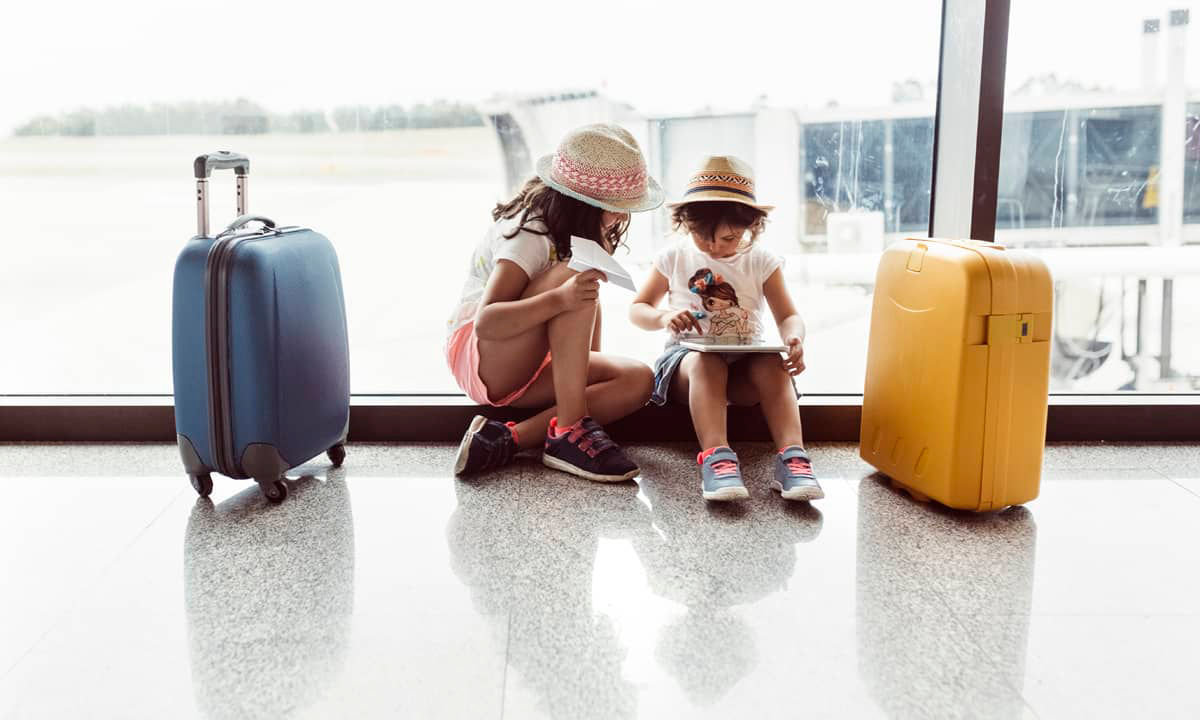 How our service works for your child travelling alone
With our childcare service, your child will be in good hands at all times. Below you'll find all the information about our childcare service before, during, and after the flight.
The following age requirements apply for our childcare service for children travelling alone (UM Service). Some countries, however, have different age requirements. We kindly ask you as a parent or guardian to check the relevant regulations well in advance.
*For travel to/from Pristina, Skopje, and Ohrid, the UM Service is mandatory until the child reaches the age of 14. If the child is accompanied by a person over the age of 15, the UM Service is not mandatory as long as the accompanying person has the same surname. If the surname is different, a legally valid power of attorney from the parents must be provided or the UM Service must be booked.
Age
Requirement
0 – 2 years
May only travel in the company of an adult (at least 18 years old). Our UM Service is therefore not possible.
2 – 4 years
May only travel in the company of an adult (at least 18 years old) or in the company of an at least 16-year-old sibling. Our UM Service is therefore not possible.
5 – 11 years
The UM Service is mandatory for children travelling alone unless they are accompanied by a person over 12 years of age. In this case, the UM Service can be waived.*
12 – 17 years
The UM Service is optional and can be booked, but is not mandatory.
It is not possible to book the flight or the UM Service for children travelling alone online. This must be done by telephone with our Service Center or through your travel agency. The UM Service must be booked with our Service Center by telephone at +41 (0)848 333 593 at least 96 hours before departure.

When making your booking, please specify the adults who will hand over and collect the child. The costs for the ticket and service are charged together. The service is charged per segment of the journey.

Charges in all travel classes per child and per segment
| Flights to / from | Price |
| --- | --- |
| Europe | CHF 95.- / EUR 95.- |
| North Africa and Jordan | CHF 105.- / EUR 105.- |
| Short-haul intercontinental (Muscat) | CHF 105.- / EUR 105.- |
| Medium-haul intercontinental (Orlando, Tampa Bay) | CHF 140.- / EUR 140.- |
| Long-haul intercontinental (all except: Muscat, Orlando, Tampa Bay) | CHF 170.- / EUR 170.- |
Free seat reservation for unaccompanied minors: Passengers who booked their flight on flyedelweiss.com please contact the Service Center +41 (0)848 333 593 or contact form.
Please be sure to have all the required travel documents. Fill out the childcare form below on the computer and print out sufficient copies. Your child will need two copies of the form per flight segment. For example, if your child is travelling the route Zurich-Marrakesh-Zurich, they will need four copies. By signing this form, you confirm that you will pay the costs for food, accommodation, or transfer if the person collecting the child does not arrive at the destination and the child has to fly back.
Please note that special entry requirements apply to children travelling alone who are citizens of South Africa, Brazil, and the Dominican Republic.

At Zurich Airport, your first step is to go to Special Assistance counter no. 122 in Check-in 1 North. Children travelling alone will be checked in there. The ground staff will then arrange a meeting point and time for collecting your child or children by telephone with Checkport.

Abroad, please go to the normal check-in counters.
Your child will be collected by a supervising member of ground staff and brought safely through passport and security control to the gate. As the person dropping off the child, you must remain at the airport until the aircraft has taken off. Good to know: At Zurich Airport, you have the option to bring your child to the gate personally, even if you are not flying yourself. To do so requires that you are the legal guardian and that you have your passport with you. Please register this directly at the check-in counter.
A member of our cabin crew will welcome your child on board and look after them throughout the flight. And thanks to our puzzle book and digital inflight entertainment, the time on board will literally fly by.
Once the plane has landed, the cabin crew will hand over your child to the escort staff at the destination. Your child will be taken through passport control and customs. Any checked baggage will also be collected together. Afterwards, the child is handed over to the person responsible for picking them up. This person must arrive punctually at the arrivals terminal, be of legal age, and be able to identify themselves.
This may interest you too...