Diving Facts
Dive shops within 50 km

7 (northeast), 6 (northwest), 4 (south)

Best time to travel

Recommended diving suit

Flight connections
Edelweiss recommendation
The island of Caprera is located just 30 miles (50 km) north of Olbia, in the heart of the Maddalena Archipelago National Park. It's a diving mecca with an abundance of dive sites suitable for all skill levels, including for pros. Featuring coral reefs and large rocks that form fascinating passages and caves, the area is a magnet for fish and a treat for divers. Caprera Canyon is frequented by fin whales and beaked whales, dolphins, porpoises and other marine life rarely spotted at these latitudes. These gentle giants usually spend the entire summer in this whale sanctuary, which stretches from Sardinia to Corsica and right up to Genova. The Orso Diving Club in Poltu Quatu, located 2.5 miles from Porto Cervo, also has whale watching tours on offer.
Top Diving Spots in Sardinia
Tunnel diving with lobsters, moray eels and more
Nereo Cave, just a few miles from Alghero, is one of Sardinia's most spectacular dive sites. Considered the largest marine cave in the Mediterranean, the site is located under the limestone cliffs of Capo Caccia and features passages and tunnels that stretch for almost 1,000 feet (300 m). The cave hosts virtually the entire range of fauna typically found in the Mediterranean, such as congers, moray eels, lobsters and other crustaceans, and attracts divers from all over the world.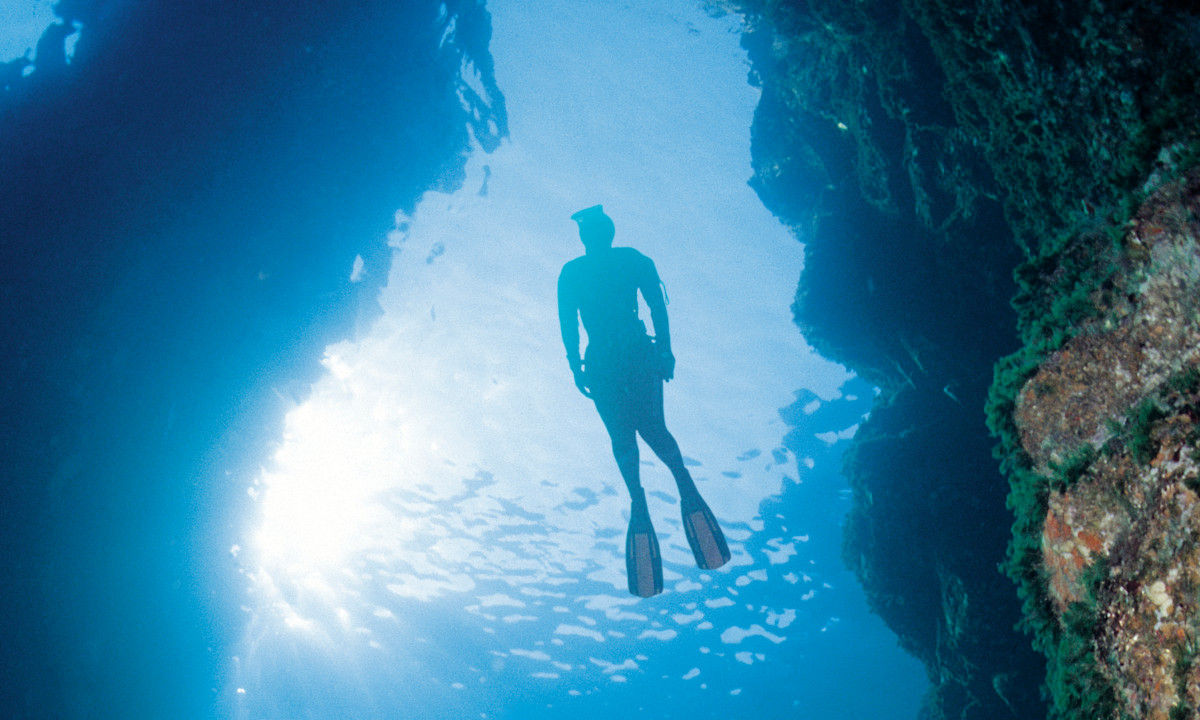 Villasimius: Roman wrecks, flamingos and seals
A paradise for wreck diving, Villasimius in the south of Sardinia is a graveyard for hundreds of sunken ships, largely dating back to ancient Rome. The Isola dei Cavoli, Isola Serpentara and Capo Carbonara are particularly good dive sites. The Capo Carbonara Marine Protected Area provides a sanctuary for a rich variety of animals, both in and by the sea, including flamingos, which can be admired in spring and summer as they wade through the lagoon. Dolphins have been sighted off the coast of the islet of Cavoli – as has the occasional monk seal, which is an endangered species. Boats may only moor in these areas at specifically designated locations.
Grottoes and shipwrecks off the coast of Cala Gonone
Situated roughly 60 miles (100 km) south of Olbia in the Gulf of Orosei, Cala Gonone boasts numerous diving schools and a diving centre that caters to beginners and advanced divers alike. The Grotta dello Smeraldo is a relatively easy dive – and ideal for a first try at cave diving. In addition to caves, several wrecks attract divers and marine life to the site, including the KT12 shipwreck, which sits vertically at a depth of 110 feet (34 m). Nowadays, the German World War II cargo ship acts as an artificial reef and is an ideal habitat for perches, damselfish, eels and morays. Not far from the wreck lie parts of the ship's freight, including some trucks. Several other vessels were sunk off the coast of the island during World War II, among them the almost 150-foot (45 m) Nasello.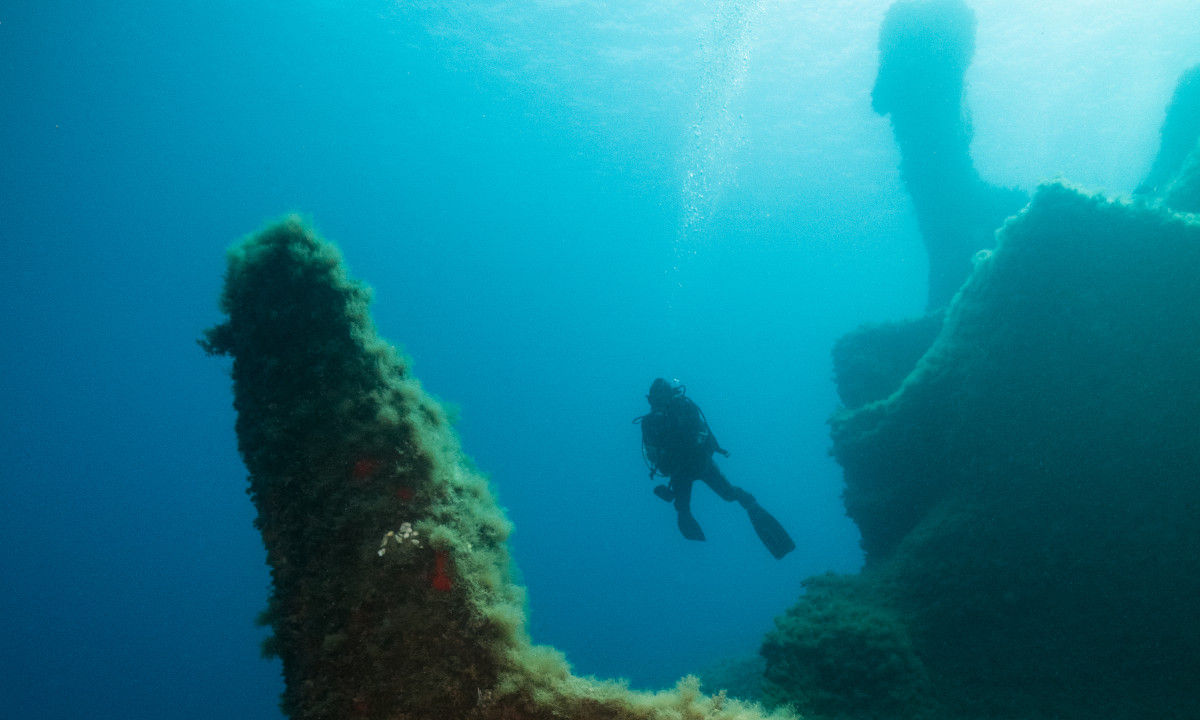 Insider tip in the southwest: San Pietro
Compared to other parts of Sardinia, the dive sites in the southwest of the island are still relatively unknown and thus ideal for scuba divers who are looking for more remote spots. Chiefly famed for the enormous tuna fish that inhabit its crystal-clear waters, the islet of San Pietro is a lovely dive site featuring the old tuna fishery in Le Tonnare as a particular highlight. The Isla Diving centre is located on the islet and operates tours to pristine subaquatic sites and sunken remnants.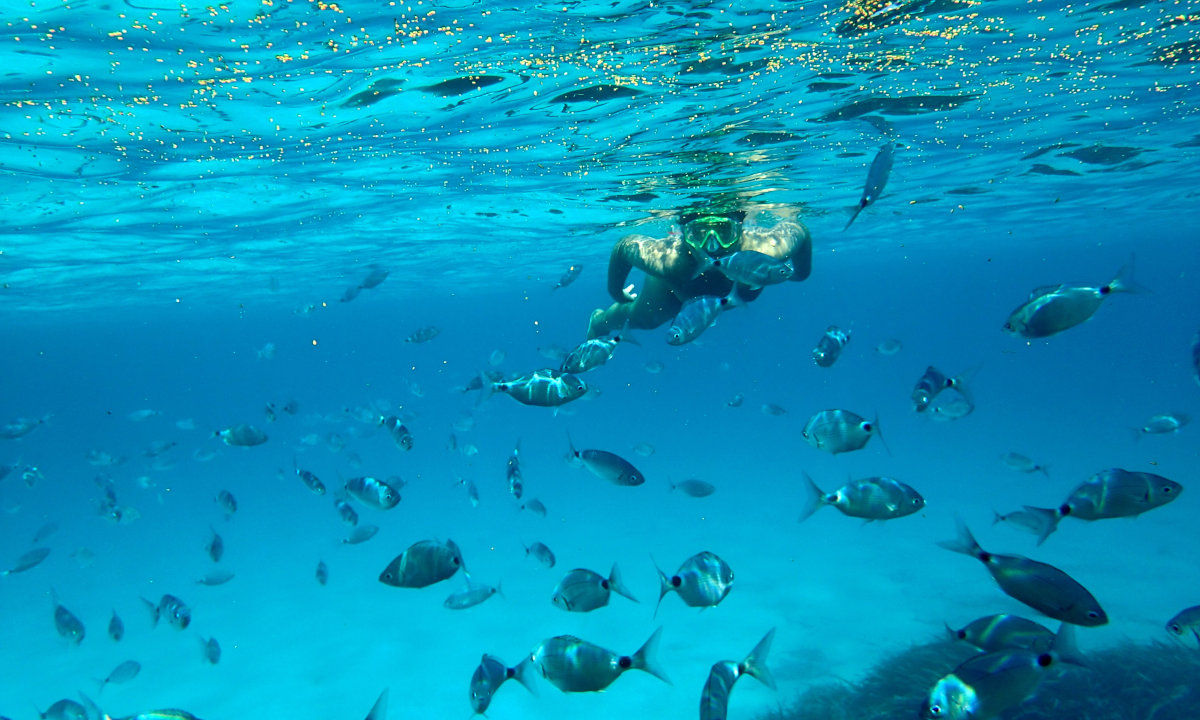 Another Insider tip: Sant'Antioco
The island of Sant'Antioco to the south of San Pietro features seagrass meadows that attract fascinating marine life, including dolphins and manta rays. A spectacular sight! In addition, the natural rock formations are also fantastic dive sites. A top recommendation is the marine world by the hidden cove of Cala Lunga (Calasetta). Situated away from Sardinia's bustling tourist scene, divers can look forward to a heavenly experience in the depths of the sea!
Recommended diving schools
The following schools are the ideal choice for exciting diving lessons and trips:
This may interest you too...