Egyptian jewel on the Sinai Peninsula
The holiday destination on the Sinai Peninsula entices with year-round summer temperatures, warm seawater, and an impressive underwater world. Put simply: Sharm El Sheikh ticks all the boxes for a fabulous beach holiday.
With 365 sunny days a year, there is no such thing as a "bad beach day" in Sharm El Sheikh. Besides relaxing on the beach (in the Naama Bay, for instance), there are plenty of culture troves to explore. An excursion to Mount Sinai and to the Saint Catherine Monastery is a journey back in time, to when Moses received the Ten Commandments.
Facts & figures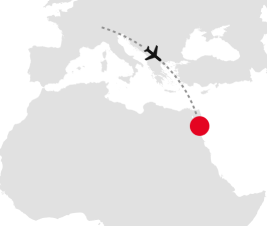 Flight time

04:10 h

Distance

3264 km

Country Code

+20

Airport
Language

Arabic

Currency

EGP
Edelweiss tips for Sharm El Sheikh
Sightseeing in your Sharm el Sheikh holidays
The Red Sea is renowned for its truly remarkable diving and snorkelling spots – and Sharm El Sheikh is no exception. A recommended diving spot is the Ras-Mohammed nature reserve.

View in maps

If you are looking for adventure, hike very early to the top of Mount Sinai at 7,497 feet and be rewarded with an unforgettable sunrise. St. Catherine's Monastery at the foot of the mountain is one of the oldest inhabited monasteries in the world.

View in maps

For a short break from the sun and beach life, you can find a cosy spot in one of the chic beach bars. Or you stroll around the city centre, where you are guaranteed to find some typical local tea, extravagant jewellery or a nice souvenir.

View in maps
Flights to Sharm El Sheikh
Related holiday destinations