Exotic island paradise
From Mahé to paradise: On arrival at Seychelles International Airport in Mahé, onward travel is by sailing boat - to the gorgeous little islands in the Indian Ocean for a holiday of pure relaxation. Graced with year-round sunshine and temperatures almost consistently at 30 degrees Celsius, the best time to travel to this heavenly part of the world is any time!
Snorkellers and divers are enchanted by the Seychelles from the first moment they set foot in the islands because of the incredibly colourful underwater world. The Seychelles' coasts are excellent to explore with hoisted sails. And the white sandy beaches with their typical granite rocks make a bathing holiday a holiday dream come true.
Facts & figures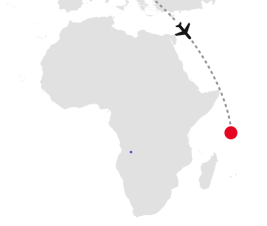 Flight time

9:35 h

Distance

7800 km

Country Code

+248

Airport
Language

Creole,
English, French

Currency

SCR
Edelweiss tips for Mahé (Seychelles)
Sightseeing in your Seychelles holidays
Flights to Mahé (Seychelles)
Related holiday destinations