Bazaar and garden bliss
Morocco's Ochre City tells tales of 1001 nights. Be it in the souks or in the many gardens: Marrakesh's authentic oriental flair is omnipresent.
Whether taking advantage of the mild winter climate or hitting the sun during the summer months: travellers to Marrakesh can expect to experience a culture shock. The city is colourful, loud, hectic – and beautiful. The Medina offers a wide array of local products. Since the risk of getting lost in the maze of alleyways is real, it is advisable to book a guide. After sunset, residents and visitors flock to the famous Jemaa el-Fnaa market square to enjoy snake charmers, jugglers and oriental specialities.
Facts & figures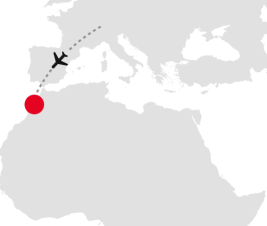 Flight time

03:10 h

Distance

2255 km

Country Code

+212

Airport
Language

Arabic

Currency

MAD
Edelweiss tips for Marrakesh
Sightseeing in your Marrakesh holidays
Intricately adorned with stucco and mosaic, the Ben Youssef Madrasa is one of Marrakesh's most beautiful landmarks.

View in maps

The Koutoubia Mosque, Marrakesh's landmark, is less than a mile away and most definitely worth a visit. Standing 253 feet tall, the Mosque's minaret is visible from almost everywhere in the city.

View in maps

The "Paradis du Safran" is equally fascinating: besides precious saffron spice, mangoes and avocadoes are cultivated in this delightful spot. Visitors interested in traditional Moroccan bread making can attend one of the many cookery courses on offer in Marrakesh.

View in maps
Related holiday destinations