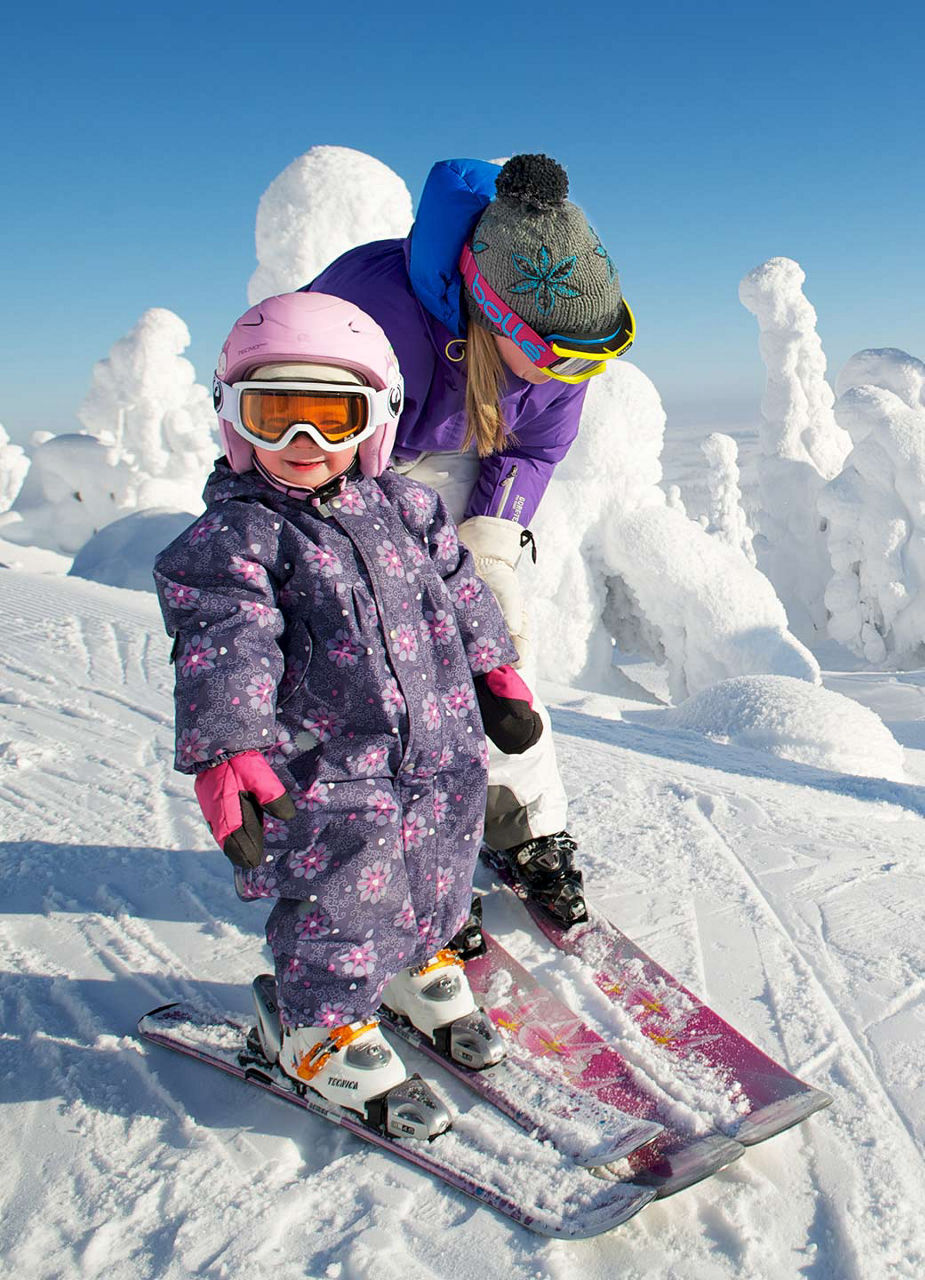 White slopes, unspoiled nature and plenty of action: Ruka-Kuusamo is one of the most popular ski and holiday resorts in Finland. In addition to some 40 ski slopes in the Ruka ski resort, there is a whole range of other sporting attractions. We present you with nine varied offers to turn your winter holidays in Finnish Lapland into an unforgettable experience.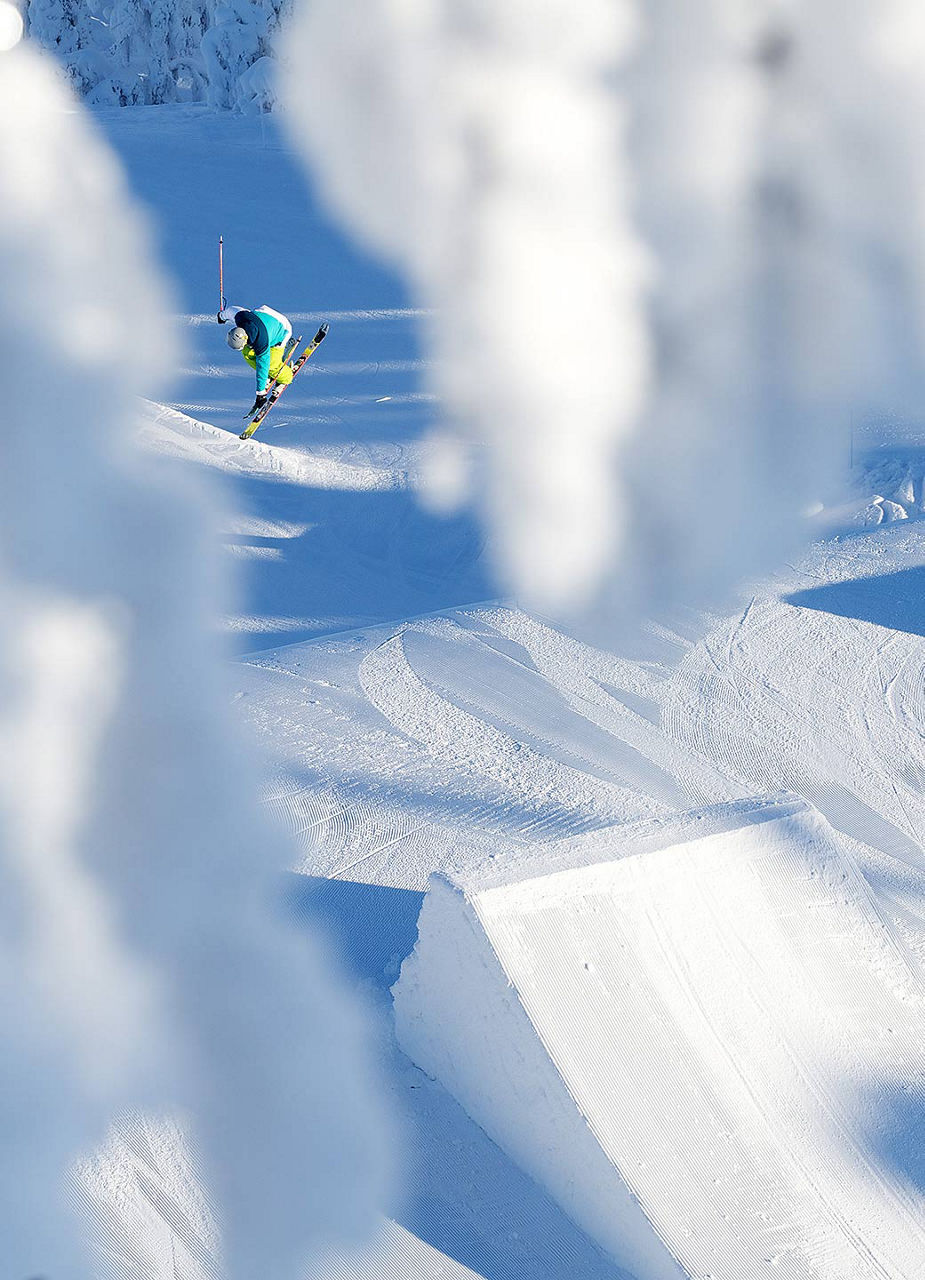 Freestyle at Ruka Park
If you need a short break from skiing on the 39 slopes in Ruka, try your hand at daredevil feats at Ruka Battery Park. The park is Finland's most popular snow park for all freestyle skiing and snowboarding fans. Jump and jib to your heart's content on mini pipes, boxes and rails on four slopes of varying levels of difficulty. The park is regularly redesigned with new obstacles during the season to add variety.
As far as the skis take you...
If you prefer a more leisurely pace, glide through Finland's enchanted nature while cross-country skiing. The Ruka-Kuusamo ski resort boasts a wide range of trails with excellent conditions for this Nordic sport. Let young children join in the fun too - hire all the sledges and equipment you need at Ruka ski resort. One highlight are the many cosy cafés along the routes, inviting you to take a breather with warm cocoa and cinnamon buns.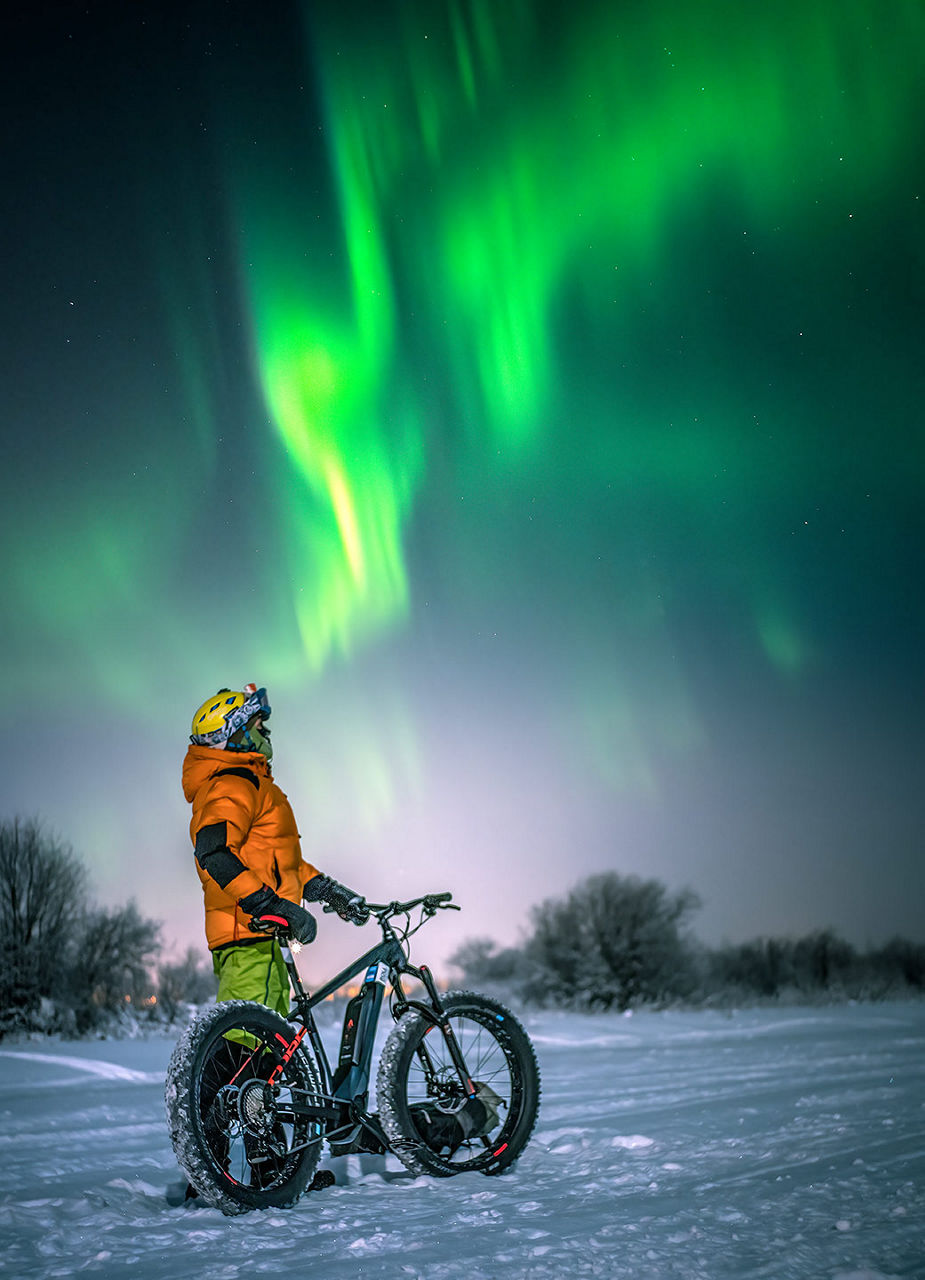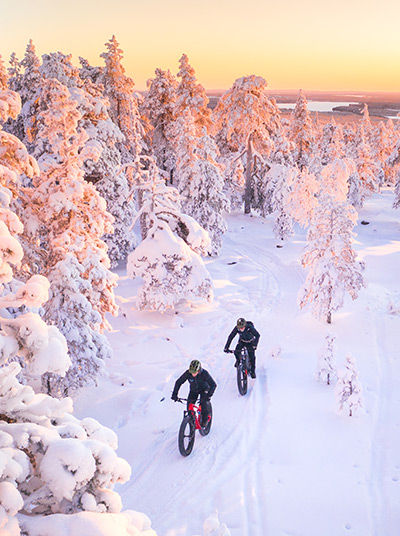 Great fun
Cycling on the snow? You can do that on fatbikes with oversized tyres that provide a secure grip even on the icy paths of Lapland. Throughout the Ruka-Kuusamo region, there are many expert and friendly bike rental shops where you can rent bikes or join guided tours. A truly unique way for you to explore the vast landscape around Ruka and get some exercise at the same time. If you prefer to take things a little easier, you could opt for an e-fat bike with its electric assistance.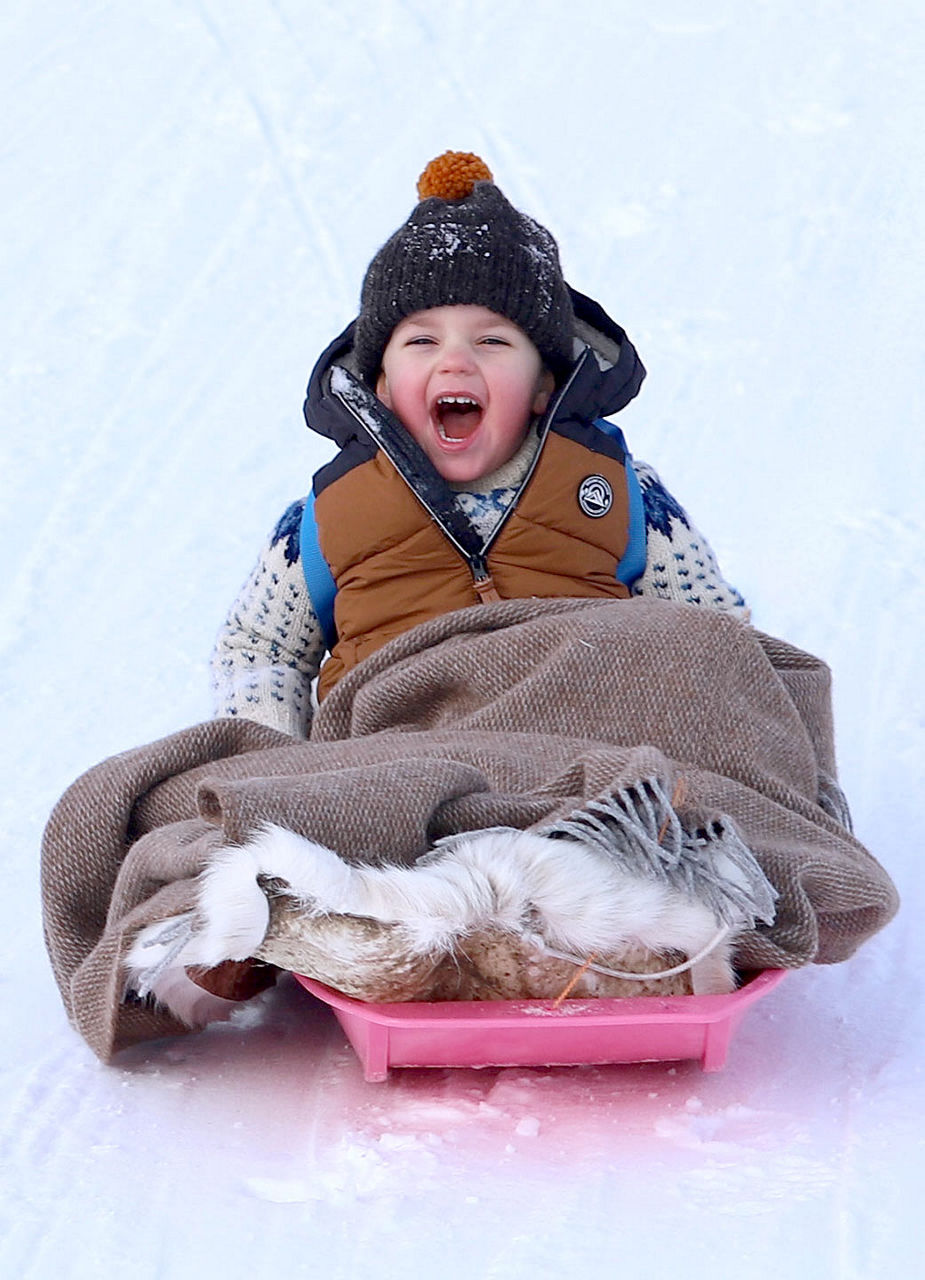 Family fun with sledges & sausages
The Rosa & Rudolf Family Park at Ruka Ski Resort is ideal for the first attempts at skiing and sledging. The easy slopes are perfect for practising and falling down and getting up again and again - and instead of a conventional lift, there is a "magic carpet" that brings the children back up the hill with ease. The whole family can have a snack in the nearby break room or grill a few sausages on the sun terrace. Helmets, sledges and tubes can be rented out on site.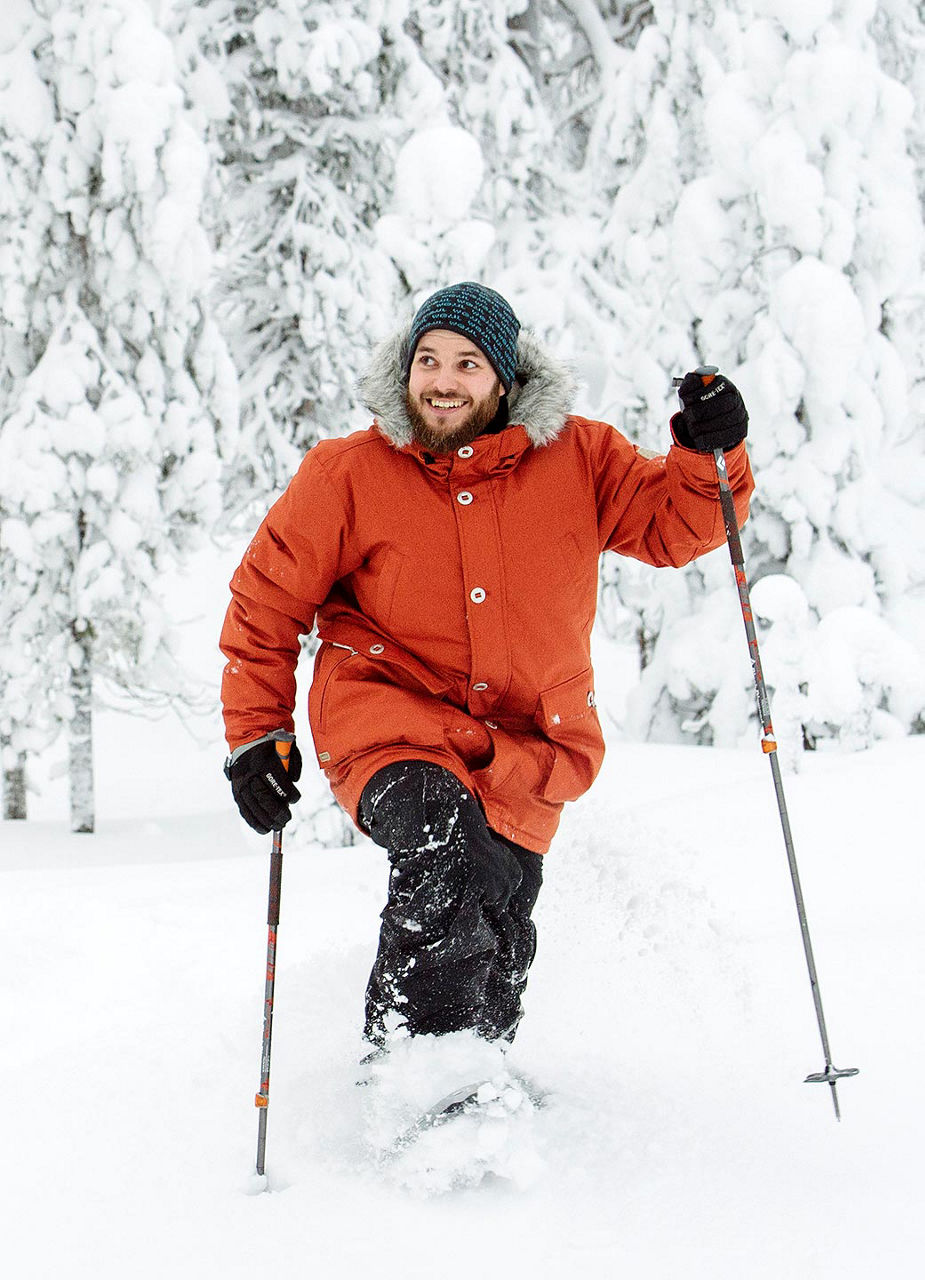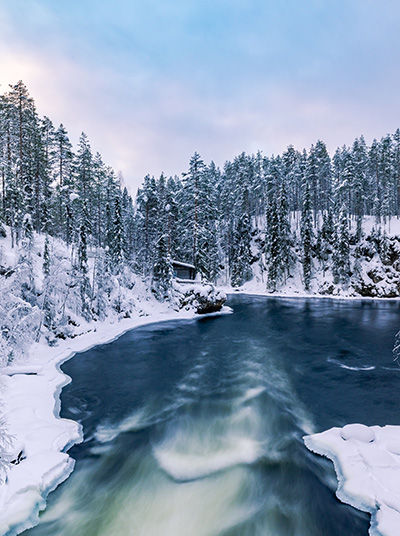 Hiking through the Taiga
Horizontal experiences can also be enchanting: discover the beautiful Oulanka National Park on a snowshoe hike. The track leads past the icy banks of the Aallokkokoski River with its impressive rapids, through the snow-covered forest and to the frozen Jyräva waterfall. Perhaps you will be lucky enough to spot a Siberian jay or otter. The hike takes three to four hours, with the tour guide deciding on the exact route depending on the weather. It includes a break around the campfire with pancakes to recharge your batteries.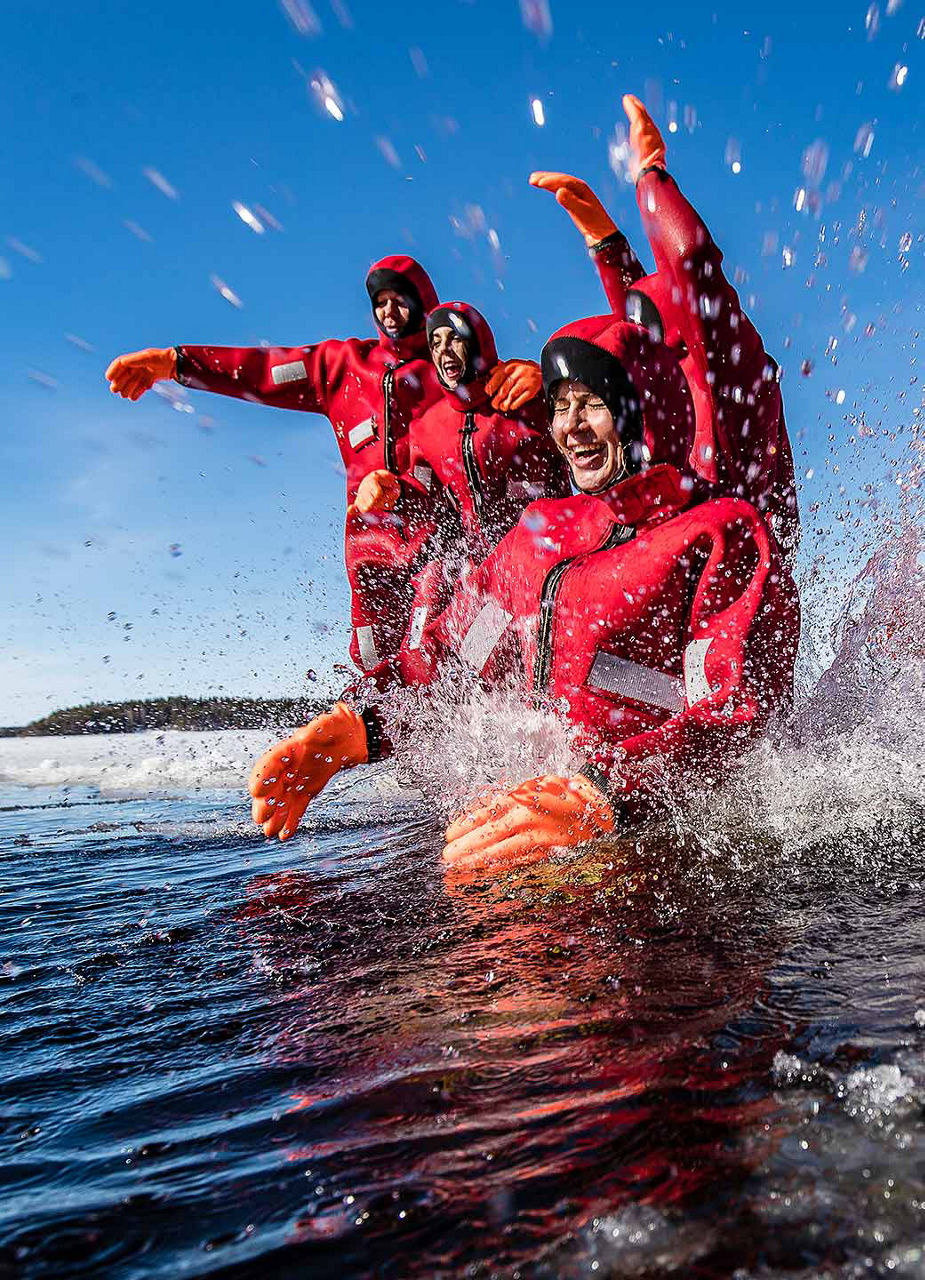 A warming drink included: arctic river floating
Drift almost weightlessly through the water, with a view of the frozen nature of Northern Finland, see the twinkling stars at night or - with a bit of luck - the aurora borealis. Enter the icy waters of Lake Kitkajärvi in a drysuit to keep you warm and dry, and just drift along effortlessly. After a couple of circuits in the water, this unique experience culminates in a hot drink to warm you up.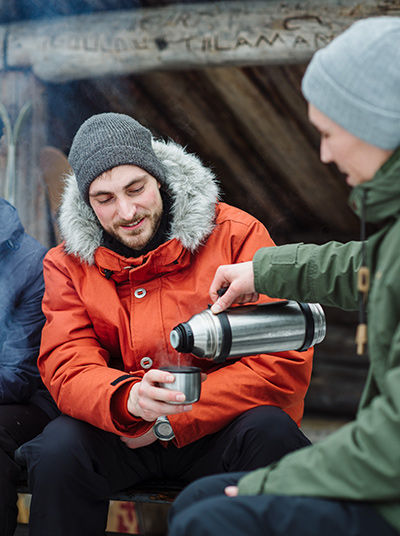 Safari with a difference
In Finland, you don't set out on safari in a jeep, but in a snowmobiles. The Ruka-Kuusamo region offers over 100 kilometres of routes perfect for touring in a snowmobile. Rent a snowmobile or join a guided tour to discover the breathtaking region around Ruka. The trips last about two and a half hours, and there is usually a break halfway through with warm drinks and a snack. Children can ride along in a sled pulled by the guide. Some operators offset all CO2 emissions generated during the safari for the benefit of the environment.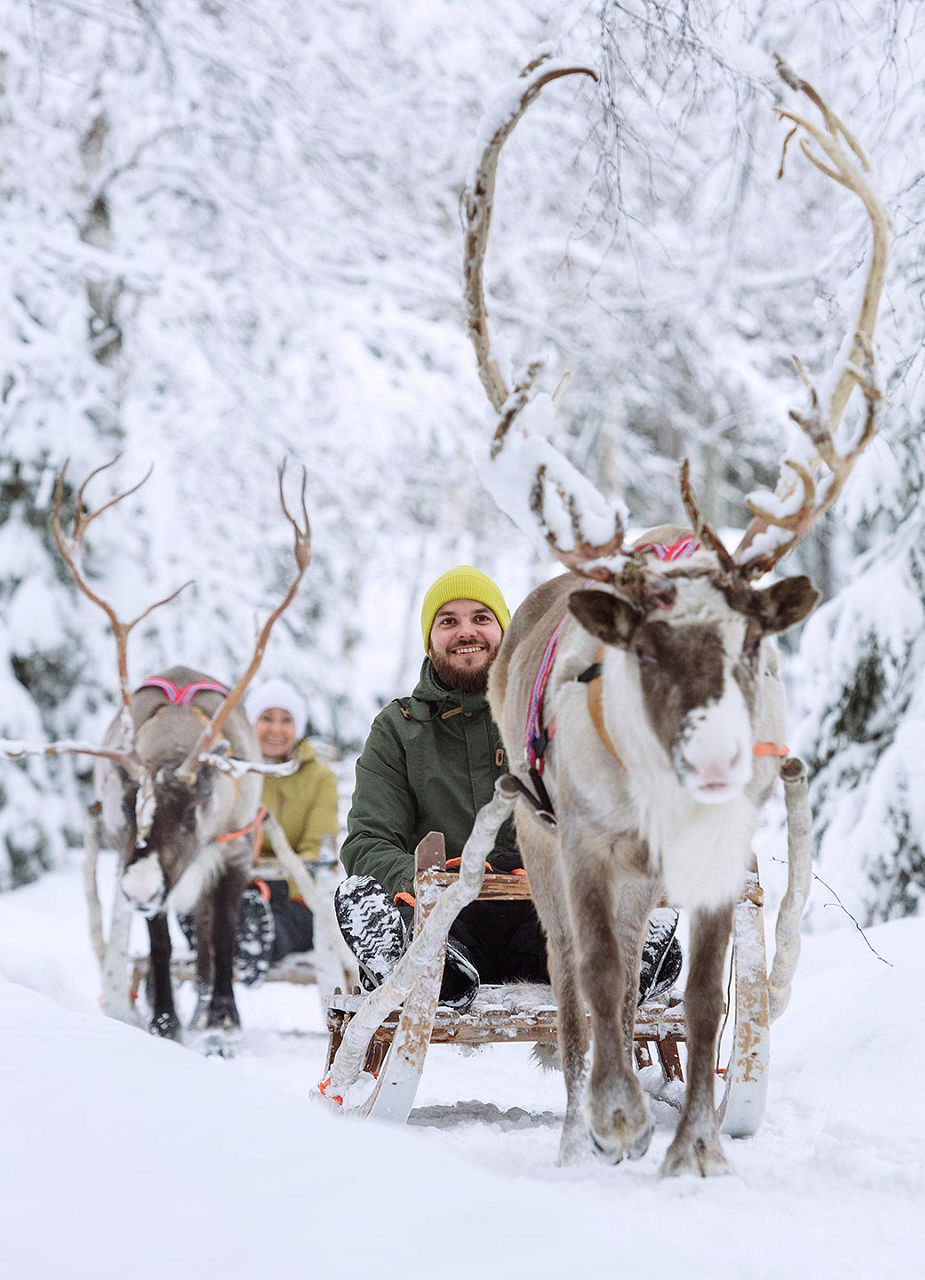 Visit the reindeers
If you want to feel like Santa Claus for once in your life, you should visit one of the reindeer farms in the region. Here you can find out everything about herd farming, the legendary reindeer milk (you may even be able to try your hand at milking) and the art of riding a reindeer sleigh. Friendly Finns will be happy to help you get your reindeer driving licence. Some farmsteads also offer ice fishing in parallel, together with appropriate equipment and clothing. Rainbow trout, grayling, whitefish and pike inhabit the local ponds.