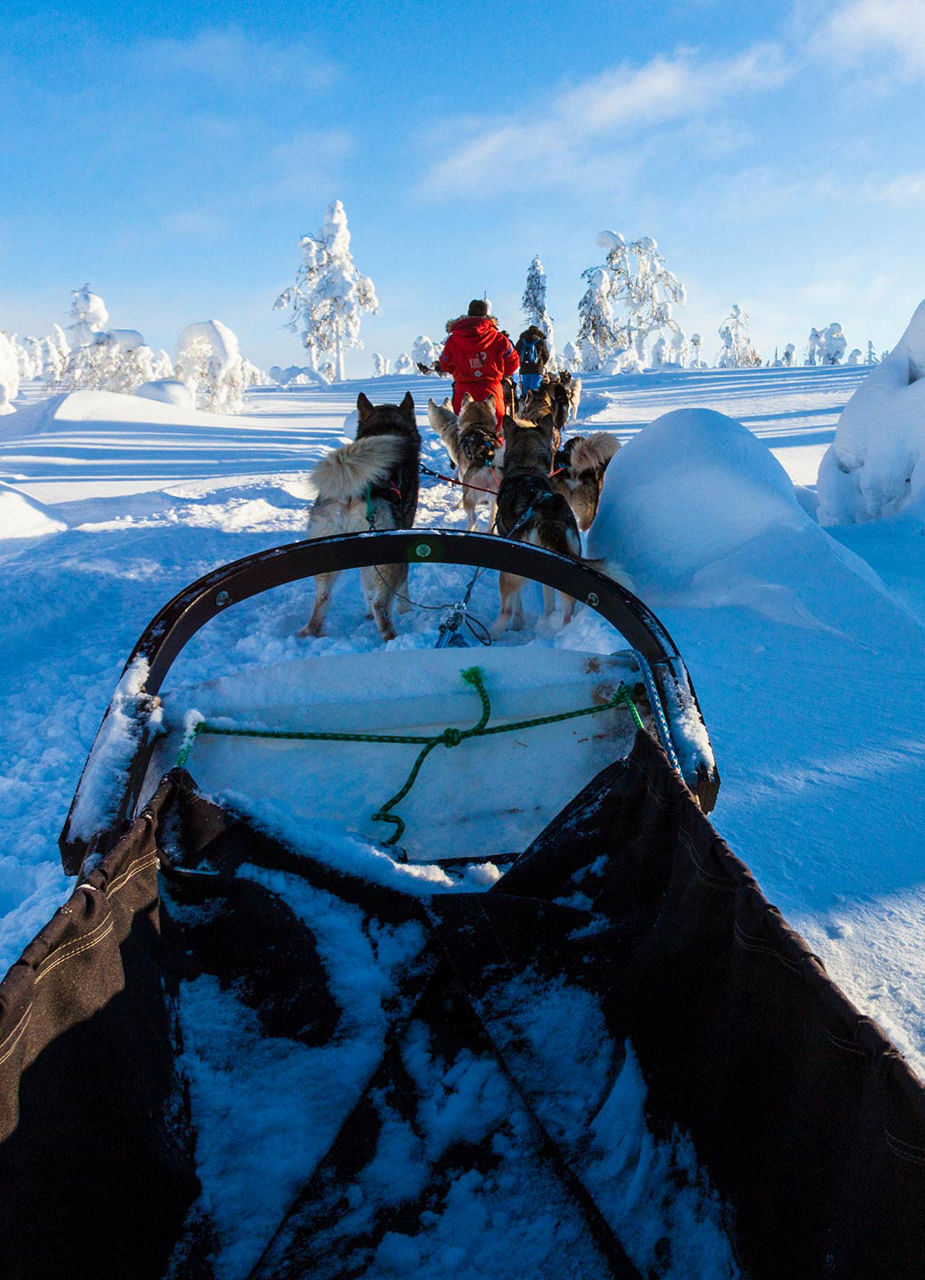 Sounds dreamy, doesn't it? Gliding through the Lapland wilderness on a sled, surrounded by a pack of huskies in crystal clear air ... Husky tours are one of the most popular holiday experiences in Finland. From a short taster tour with these faithful companions to a full-on adventure with an overnight stay in a simple hut - we demonstrate how to feel at one with nature and enjoy that sense of freedom on a husky tour around Ruka-Kuusamo.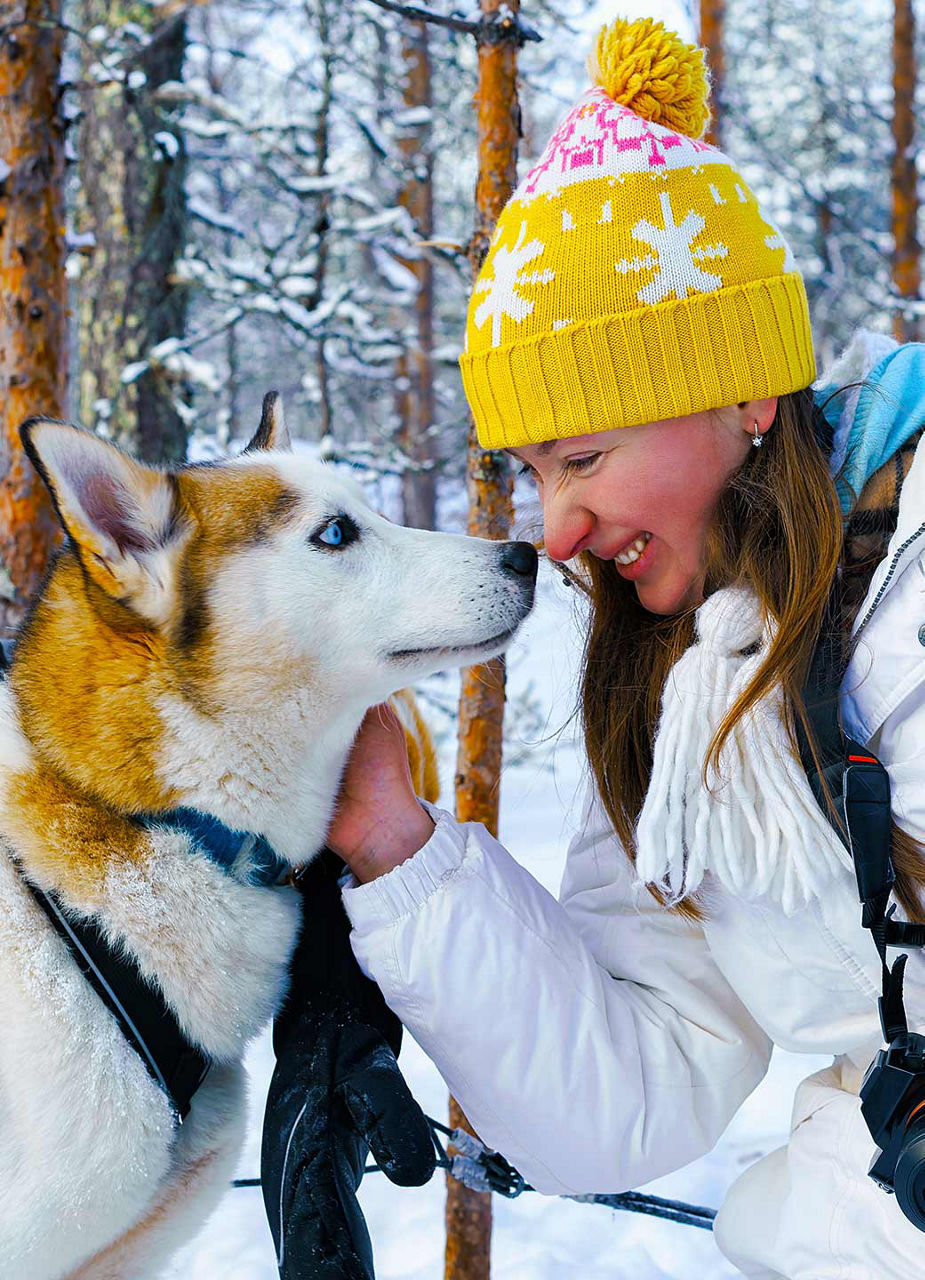 A full programme in Ruka Park
Everything you desire in one place on a Lapland holiday: huskies, reindeer, sledging and campfires. Spend a day packed with winter activities for the whole family at Ruka Nature and Adventure Park. This is where you make your first acquaintance with the adorable huskies and take a short ride on a sled. Get up close to reindeer and feed them. For those who like a faster pace, there is also a snowmobile school.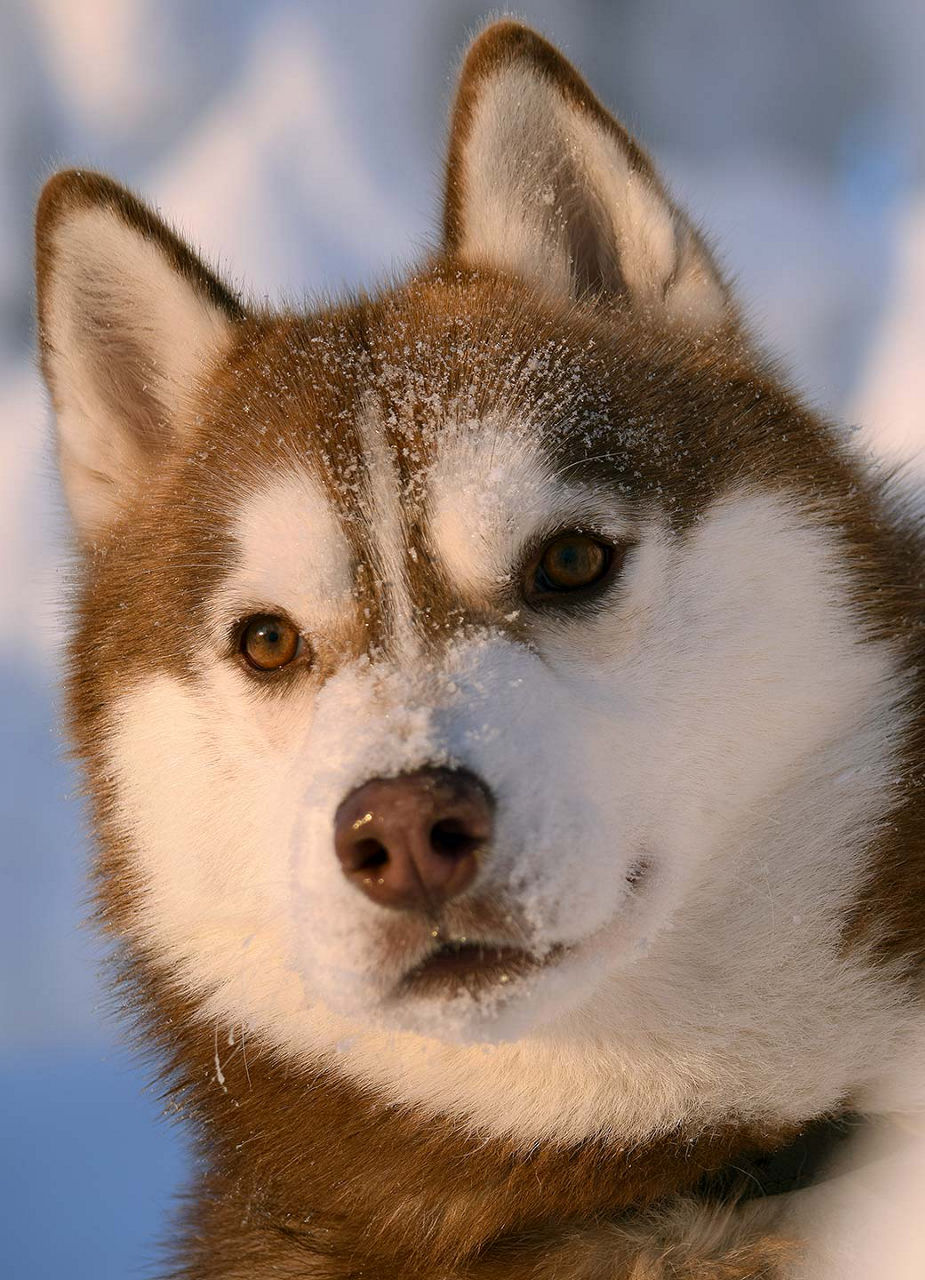 Friendly power packs
A Siberian husky is perfectly equipped for life in the cold. There are two layers to its coat: the water-repellent topcoat and the undercoat, which is made up of fine hairs. These produce heat when the animal moves, which in turn is stored by the topcoat. Once trained, the husky is able to pull nine times its own weight. These dogs have an excellent sense of direction; even under a thick blanket of snow they can feel their way. If you are undecided about a longer tour, try a short, 15-minute husky sled ride. The tours from 11:00 to 15:00 depart daily from the Lammintupa Café in Ruka, no need to make a reservation.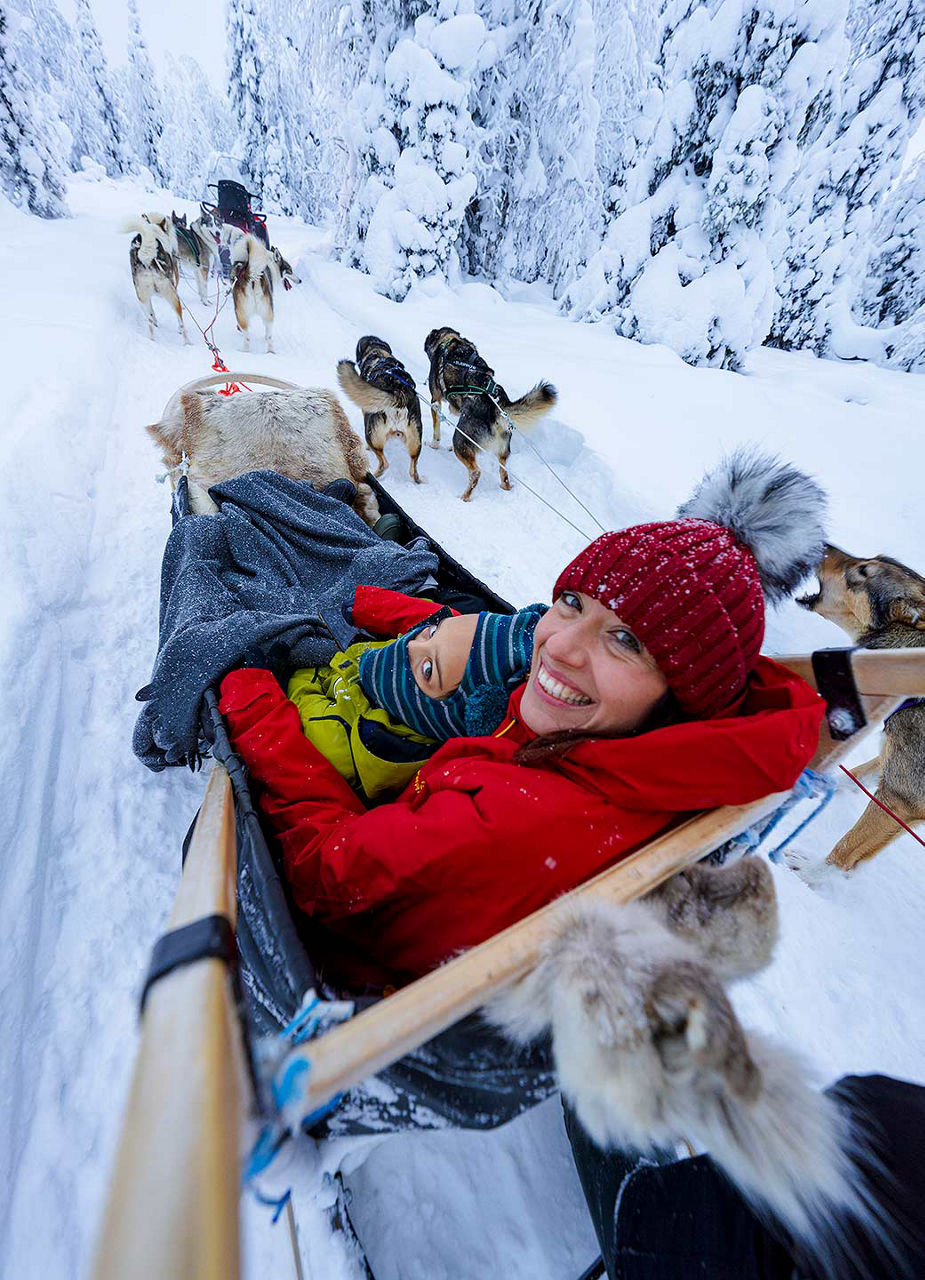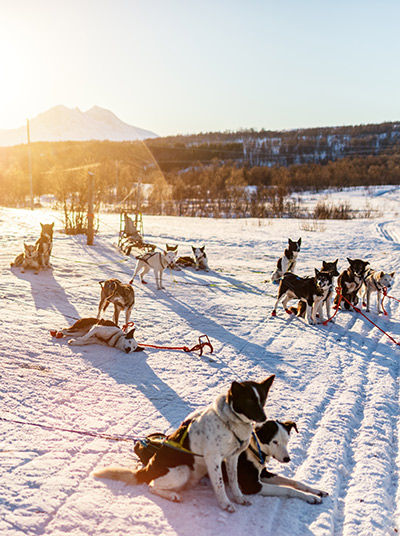 How to get started: one hour on the sled
This one-hour husky tour is ideal for everyone, whatever your age or fitness level. The guide picks you up in Ruka-Kuusamo and takes you to a local husky farm. There you meet the dogs and receive an introduction on how to handle the animals and the sleds. Feel free to ask any questions, as everyone in the team is happy to share their experiences with these animals and talk about the special husky races that take place during the winter season. Then it's time to get sledding: one person drives, the other relaxes and enjoys the view. Snacks and hot drinks are included.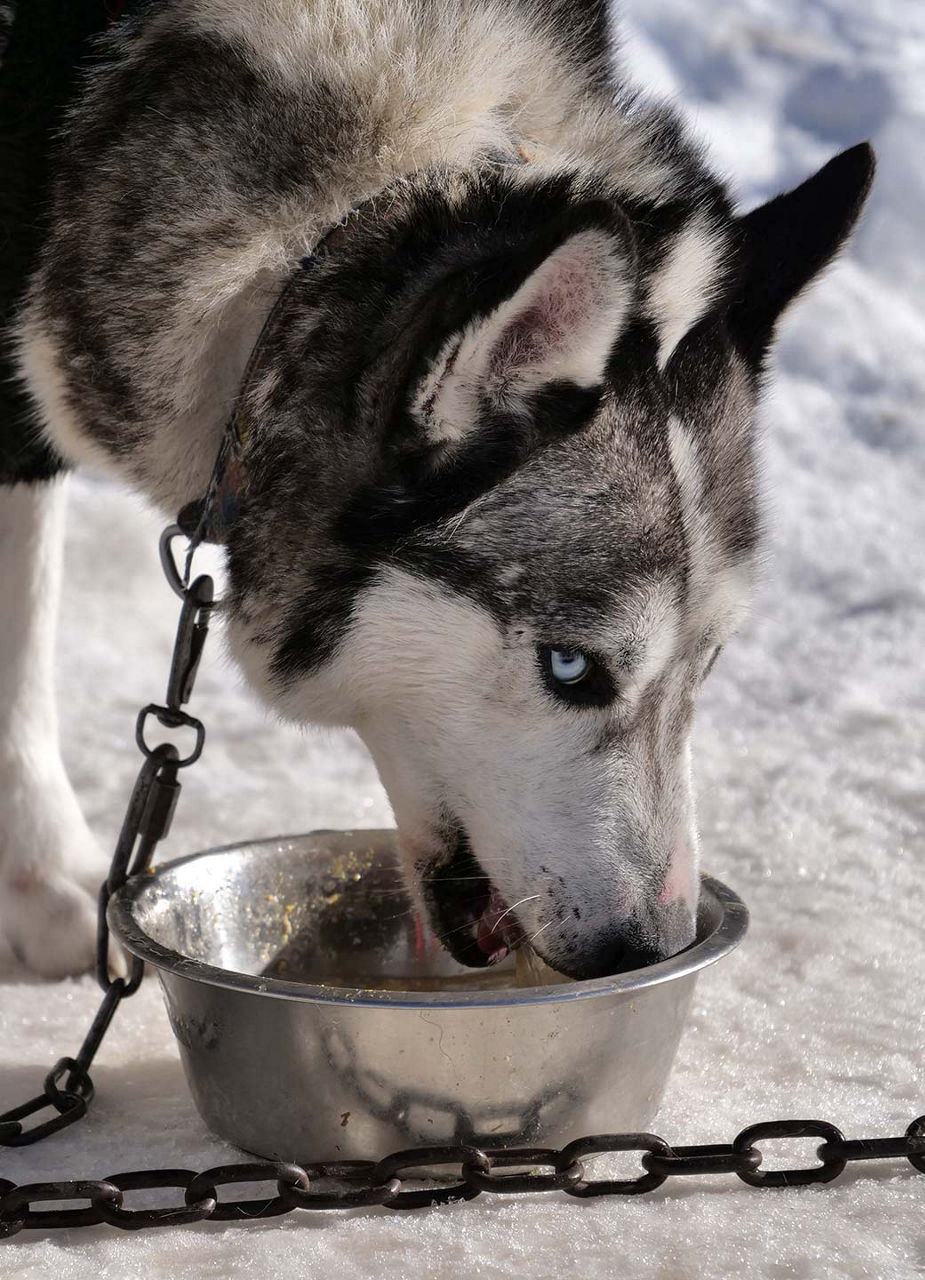 Spend two days as a musher
How about an adventure right out in the Lapland wilderness? Experience two days as a fully fledged musher, driving your own husky sled with up to six dogs under the guidance of an experienced guide. You travel up to fifty kilometres north, past frozen lakes and ancient Nordic pine forests to a simple hut for the night. Together you feed the dogs and make your own dinner - in that order. This excursion is ideal if you want to learn more about these special animals and are prepared to do without luxury.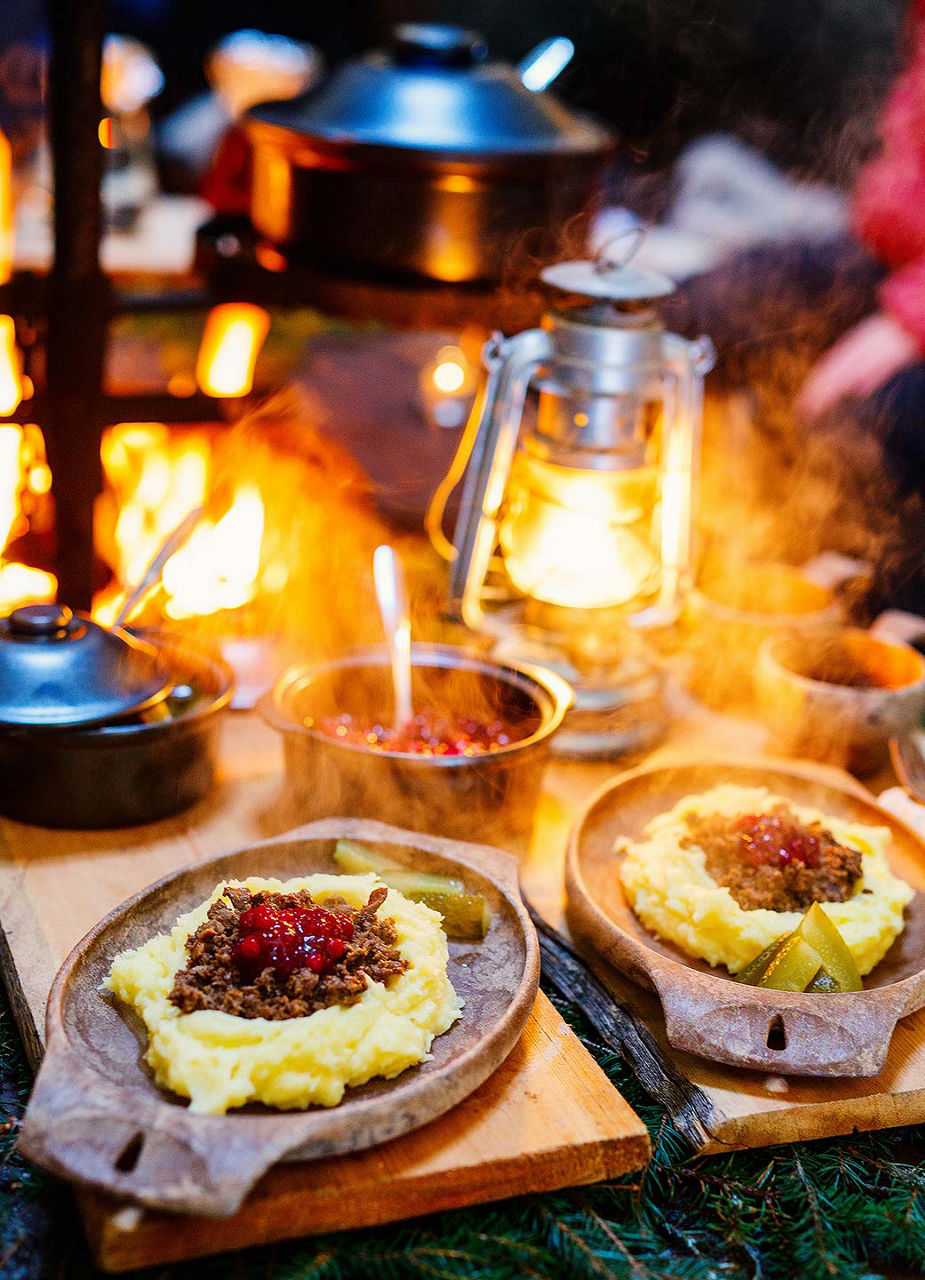 Dinner in the wilderness
Experience an evening with Arctic animals on a husky tour and a ride on a reindeer sleigh. The tour starts in the twilight hours, perfect for gazing at the vast natural beauty of Finland in a magical atmosphere. Take the opportunity to ride on a snowmobile and admire the Ruka lights from afar. To top it all off, dinner is served by an open fire, featuring three traditional Lappish courses with local ingredients.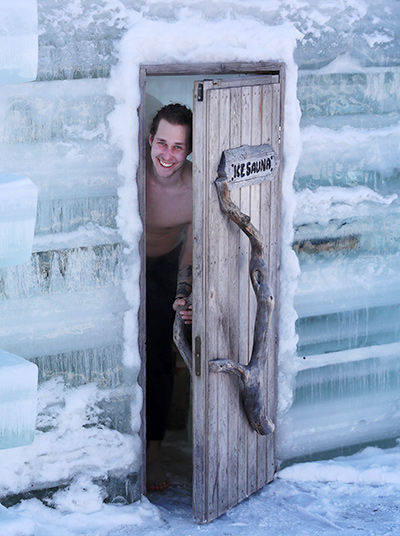 A tour of heavenly wonders
When darkness falls in Finnish Lapland, the dogs are harnessed. The journey through the fascinating Riisitunturi National Park commences. Approximately one hour from Ruka, the husky tour begins under the starry sky and ends with an overnight stay in a hut in the wilderness. The low level of light pollution in the region means that the chances of catching a glimpse of the magnificent aurora borealis are particularly good. Round off the evening at the hut with a session in a classic Finnish sauna.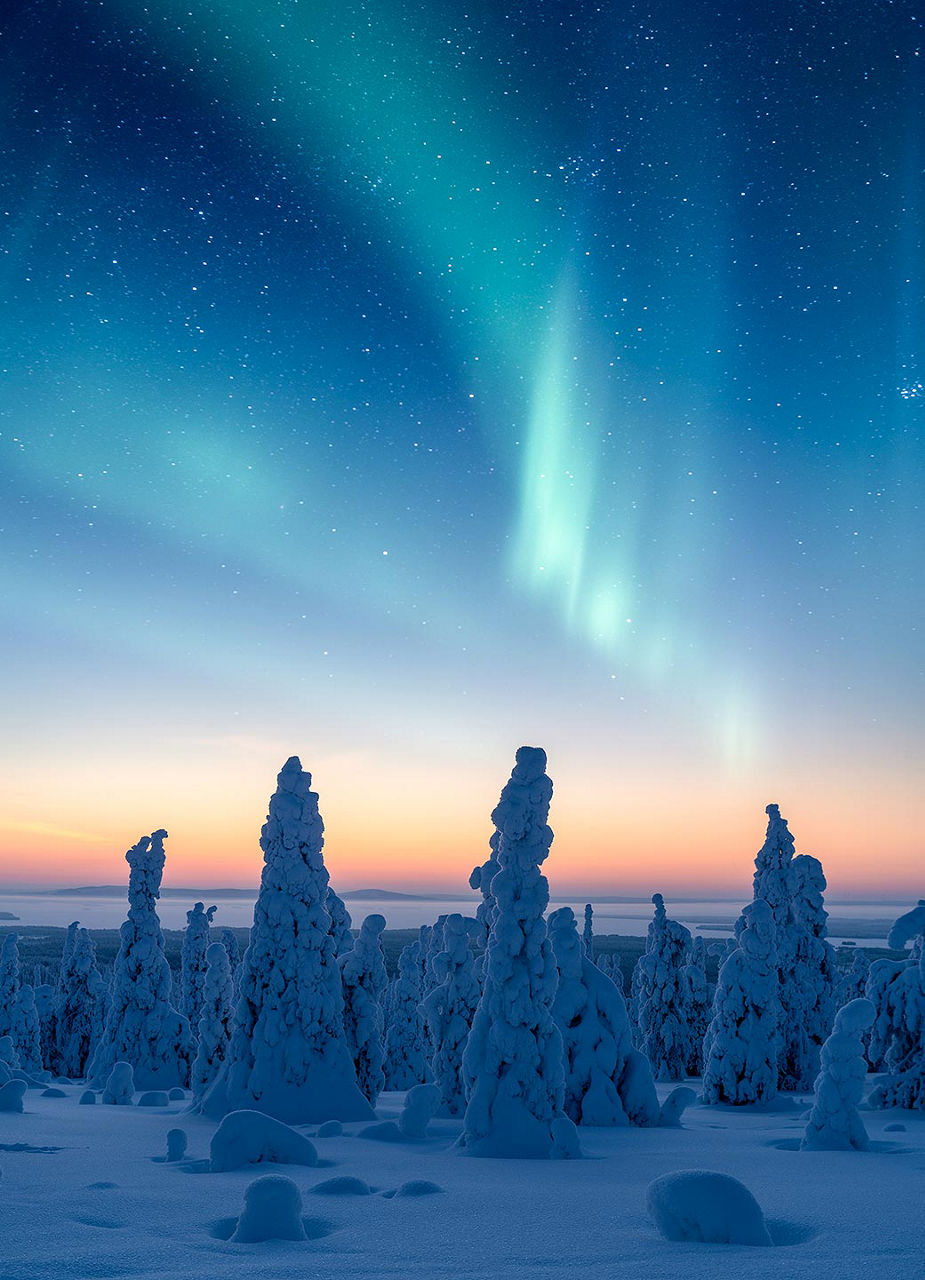 In praise of the lights
Don't spend a holiday in Finland without seeing the aurora borealis. It isn't that easy to find the colourful light spectacle, so do not trust any guarantee promises, no matter how bold - instead, check out the app My Aurora Forecast & Alerts. It shows where and when the aurora borealis is at its strongest, and sends notifications if one is coming your way. That way, nothing can really go wrong in your search for the magical colourful miracle!