Colombia's lively capital
Bogotá is located in the centre of Colombia, which makes the city the ideal starting point for adventure travel. From here, you can explore the diverse country with all its facets. But it is also worth planning a few holiday days in this lively metropolis. Discover the historic colonial buildings and immerse yourself in the colourful hustle and bustle of the city. It convinces with its fascinating mix of historic and modern, skyscrapers and green parks. Especially interesting: On Sundays, the city is best explored by bike, on inline skates or on foot, because Bogotá remains car-free in many places on this day of the week.
Situated 2,640 metres above sea level and surrounded by green mountains, Bogotá offers numerous day trips. Nature lovers follow the numerous hiking trails that lead to beautiful waterfalls, turquoise lakes and breathtaking views.
Facts & figures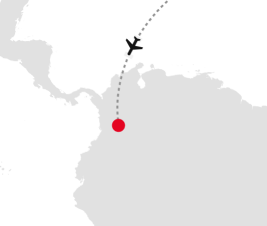 Flight time

11:45 h

Distance

8456 km

Country Code

+57

Airport
Language

Spanish

Currency

COP
Edelweiss tips for Bogotá
Sightseeing in your Bogotá holidays
A visit to the La Candelaria district, the historic city centre, is a must during your holidays in Bogotá. Colourful colonial buildings in narrow streets, charming cafés, street art at its best and exciting museums await you.

View in maps

The local mountain Monserrate with its church Santuario de Monserrate is visible from everywhere in the city and is considered a popular destination for excursions. You can reach the summit by cable car or a 50-minute hike and enjoy a spectacular view over the seemingly endless expanse of the city from here.

Colombia's first wonder of the world is only an hour away from Bogotá. The Salt Cathedral of Zipaquirá lies underground and was once built by miners as a place of worship. A day trip is best combined with a detour to the Guatavita Lagoon.

Fragrant lovers beware: Colombia is one of the world's leading coffee producers. Only Arabica coffee is grown here. The fine variety is the trademark of this coffee stronghold. See for yourself and enjoy sweet nutty aromas directly on site at one of the numerous coffee plantations.
Related holiday destinations