Responsibility for the environment
We are aware of our responsibility for the environment. Wherever possible, we use eco-friendly technology and provide our staff with specific information to raise their environmental awareness. And through our partnership with myclimate, we offer our guests the opportunity to offset their flight emissions already during the booking process.
Offsetting CO2 with myclimate
The partnership between myclimate and the Lufthansa Group has led to the development of an own algorithm that calculates the CO2 emissions generated for every route – from departure gate to arrival lounge. The calculation includes both the route itself and the class the passenger is in. During the booking process, myclimate already calculates the CO2 emissions that will result from the flight and subsequently uses the contributions made by our passengers to support climate protection projects around the world.
Reduced aircraft noise emission thanks to vortex generators
The wings of our A320 fleet are currently being equipped with noise-reducing vortex generators so that our aircraft will fly more quietly. First measurements have shown that the overall noise level of an approaching aircraft, between seventeen and ten kilometres before landing, is reduced by up to four decibels.
This technology is also being used within the Lufthansa Group. For an audio test, follow the following link.
Fuel efficiency
Edelweiss Cockpit Crews are sensitised to ecological aspects of flight operations in courses and trainings. We optimise climb, descent and approach procedures and carefully plan our flights so as to reduce jet fuel consumption. Furthermore, we consciously use our aircraft's own auxiliary systems for producing compressed air and electricity in a sparing manner. The new, ultralight materials used in the aircraft cabin and galley help us fly longer routes using less fuel.
| | | | | |
| --- | --- | --- | --- | --- |
| Aircraft type | Max. range in km | Speed in km/h | Seats | Liters / 100 PAX-km |
| A320 | 4'950 km | 850 km/h | 174 seats | 3.06 |
| A340-313 | 13'700 km | 900 km/h | 314 seats | 3.69 |
Electric vehicle
Every day, our aircraft undergo technical inspections by technicians. Since 2014, Edelweiss has an eco-friendly electric vehicle to transport the aircraft technicians to their workplace within the airport perimeters. This modern means of transport is efficient and ecologically viable.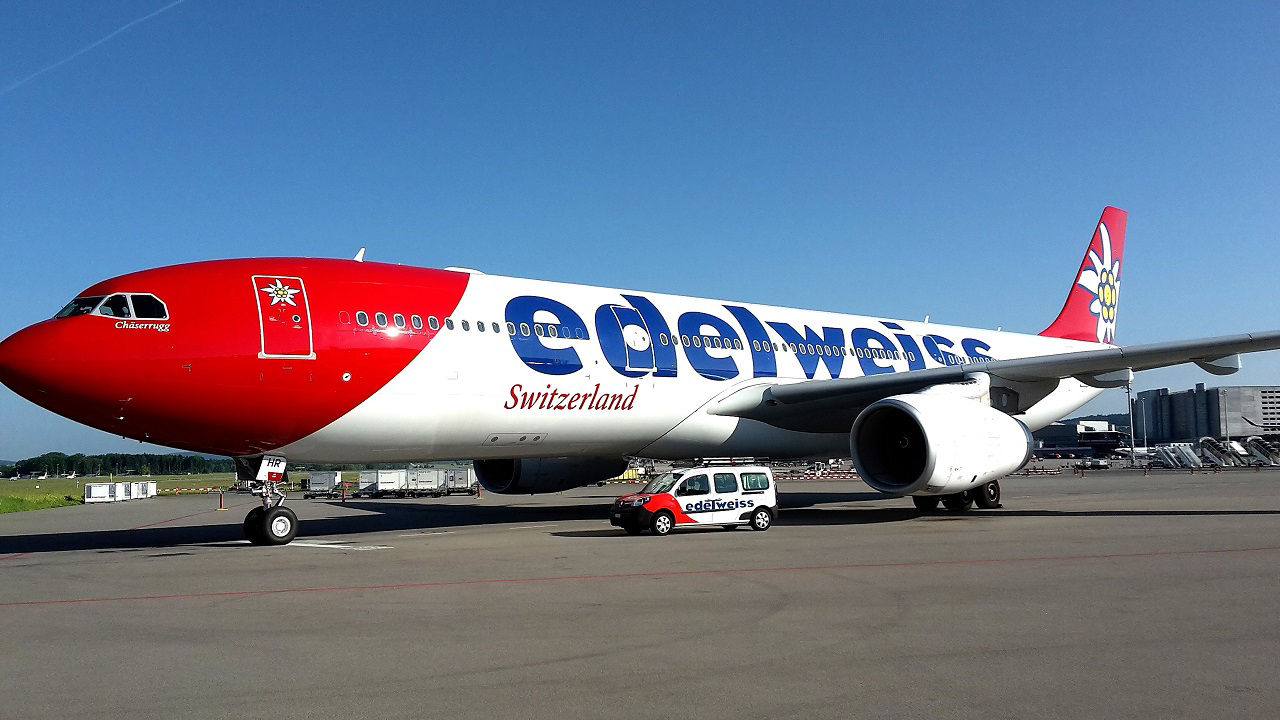 Our office premises at Zurich Airport
Edelweiss' headquarters have been located in the Circle at Zurich Airport since 2021. The new office building was built to the Minergie standard. This is a Swiss construction standard for new and modernised buildings. The focus is on living and working comfort - made possible by a high-quality building envelope and systematic air renewal. The low energy requirement and the high proportion of renewable energy via geothermal probes and photovoltaic systems also play a central role in this context. In our office, we benefit from the use of grey water for our toilets, an automatic shading system that controls heat generation and cooling requirements, and ceiling baffles made from 100% recycled PET to dampen sound. In addition, the photovoltaic system on the building roofs is an important natural energy source.